Following his amazing fourth place finish in the second round of the 2016 MotoGP season, Eugene Laverty's fantastic form has continued at the fourth round in the Circuito de Jerez in Spain.
Laverty finshed in ninth position overall and as the second fastest independent on his Aspar MotoGP Ducati behind the top independent rider Pol Espagaro (Monster Tech 3 Yamaha). At one point he was ahead of Espargaro, whilst it proved difficult for the Spaniard to pass on his home turf, but soon enough Laverty was passed on the inside in a clean move. Despite this, Laverty finished as the top 'British' rider.
The Irishman admitted his brother had advised him previous to the fourth round in Spain saying, "This isn't like the other ones!" Laverty said his brother had warned him, "There isn't going to be as many crashes" as there was in Argentina which helped to lead to gaining his best ever MotoGP finish. He told him to "Pull his finger out!"
Laverty feels new clutch helped his success
Ahead of the race Laverty had a new clutch fitted to the Ducati which he feels helped to make the difference in the race, he said, "The start made a big difference" and knows that this new addition in the future "means a lot."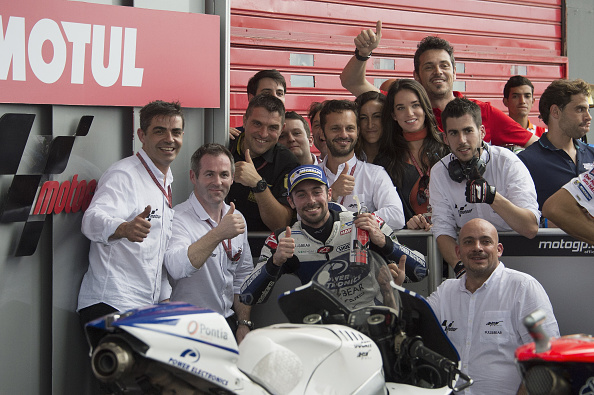 Following his success in Argentina where Laverty felt like he and the team "We're still finding our feet" and "got a bit of luck on our side", he described his ninth place finish as "A 'real' result!"
He admitted he and his team "Worked damn hard" and felt that although he lost a position to Pol Espargaro; he was able to close in on the Spaniard in the final quarter of the race but thought that "the clutch was slipping" however he was not entirely sure. Overall Laverty said, "It was a great race, the bike was working well!"
Laverty is looking forward to the fifth round in Le Mans
The next round of the MotoGP season will take place in Le Mans, France on May 8. Speaking ahead of the race in two weeks Laverty said, "Looking forward to Le Mans, last year it was almost like learning the circuit again so I've done the groundwork and hopefully we can start fresh on Friday."
Laverty is ninth in the championship
Finishing ninth at Jerez means after four rounds Laverty is ninth overall in the championship with 28 points. Taking into consideration only the independent riders within the elite class, Laverty is behing Pol Espargaro who has 38 points and Hector Barbera (Avintia Racing) who is in second with 31 points.