Many teams stayed back after the Spanish GP at the Circuito de Jerez to complete a day of testing. The Honda teams including Repsol Honda riders Marc Marquez and Dani Pedrosa were present, as well as LCR Honda rider Cal Crutchlow, and Jack Miller and rookie Tito Rabat were there to test for the Estrella Gallacia 0,0 Marc VDS team.
Intense day of testing for Repsol Honda
Repsol Honda had an "intense" day of testing as they worked on the new swingarm, experimented with a new fairing with new winglets, and they also tested the three new tyre options supplied by tyre manufacturers Michelin. Marc Marquez said they were "satisfied" after their day of testing, after they "did a lot of laps to try to understand or rule out different set ups".
Marquez said, "The most striking thing for people was our testing the three different winglets" that the Repsol team decided to introduce; three pairs of small winglets down each side of the front of the bike. Speaking of the aero dynamical aspects, the Spaniard described it as having "untapped potential" and that there "seems to be no limit to what you can do with it" and so the team plan to work a lot on this aspect until they are banned at the end of the season.
Speaking briefly about the tyre options Marquez acknowledged testing the three options but said, "The one we used this weekend was working well too". Marquez completed ninety-one laps over the day and managed to lap at the fastest time of 1:39.313 which was almost a second faster than his quickest time on race day.
Pedrosa had a 'strange' day of testing
Marquez's teammate Pedrosa finished fourth in the race on Sunday after difficulties with the rear tyre which prevented him from chasing his teammate down to gain a podium place. Test day, Pedrosa said, was spent trying to "improve on the feeling we had in yesterday's race". Pedrosa described the day as "strange" saying the "weather was fantastic" and spoke of how the "asphalt offered a very good level of grip".
He felt that the "lap times were not much different" to that that we witnessed during the race. He also completed ninety-one laps and his fastest was 1:39.646 which left him fifth fastest on test day; he improved on his quickest lap time from the race by just over one second.
Pedrosa spoke of how after "different suspension options" that the team were able to fins "some solutions" that he felt allowed him to "have more grip when riding out of corners". He spoke of how he also focused on "corner entry" saying how they were "trying to get the bike quicker both in the fast turns and on entry to the slower corners".
Positive tyre improvements for Pedrosa
Also speaking briefly of the tyre options provided by Michelin, Pedrosa said, "At the end we tested three different front-tyre compounds and one of them was clearly better than what we currently have, which is positive."
Big improvements on race lap times during test for Crutchlow
LCR Honda rider Crutchlow also put in a lot of work on test day having completed eight-two laps with his quickest time of 1:39.812 coming at the end of his session (lap 79); it meant he finished seventh fastest overall which was four higher than he placed at the fourth round of the season.
The Honda rider feels that he "got a bad tyre in Sunday's race" and is trying to approach the next round of the MotoGP season "with an open mind". After a day of testing using the same tyre as he did during the race for the majority of the day, he was disappointed as he does not think he "did a lap slower than my fastest yesterday". His fastest time was 1.536 seconds fastest than his fast lap time in the race.
Crutchlow feeling confident over tyre improvements
Crutchlow spoke of his efforts saying, "We had a lot to do", and overall he said "We had a good day and a good test" after completing what he described as "some very competitive lap times". Crutchlow spoke highly of the tyres and spoke of how he completed his fastest lap "and most of the other quick ones" with the hard compound rear tyre. Crutchlow did complete part of the test on the soft compound rear, but said, "It was when I was trying the new Michelin front tyre so wasn't pushing so hard at that point".
The British rider feels Michelin have "done a good job" and said that he felt it was "a positive outcome with the new front". When speaking of the compatibility of the tyre with the LCR Honda he said, "They perhaps don't suit our bike so much but they definitely made a step forward in one area".
Crutchlow influenced by Spaniard Marquez
Crutchlow always speaks admirably about Marquez who he feels "rides in such a special way" and is able to do amazing things with the Honda. During the test day he "tried a setting very similar" to the Spaniard, but concluded saying "my own setting felt better".
Crutchlow also tested the aerodynamic winglets during the morning sessions. He felt that they are something "difficult to understand" at a "circuit like Jerez", however he does feel that they "definitely improve the wheelie". He feels that this is a good thing and that "maybe they would work at some other tracks". Speaking of the safety aspects of the addition to the fairing he said, "They are small which is good for other riders". He said that this is because "they don't create too much turbulence like some of the other bikes in this championship".
Every day on the bike counts for the young EG 0,0 Marc VDS team
The Estrella Gallacia 0,0 Marc VDS Team are in their second season of the MotoGP championship as they joined in the 2015 season with British rider Scott Redding who almost won the Moto 2 Championship aboard their 600cc machine. They decided to expand their team this season, Redding moved to the Octo Pramac Yakhnich Ducati team, and so they decided to replace him with Jack Miller (in his second season of MotoGP after jumping straight from Moto3 after winning the championship) and introduced rookie Tito Rabat who won the Moto2 championship last year.
Unlucky start so far for Miller
Unfortunately for Miller he crashed during the winter injuring his right leg. A recent crash during practice at the Circuit of the Americas meant he had to forfeit that round but returned for the fourth round in Jerez.
This crash is one of many, only this one caught him out. Miller has only managed to complete one of the three races he has competed in so far, finishing fourteenth at the season opener in Qatar and claiming his only two championship points. He and his team rightly felt it was important to get through the race weekend and test without a crash in order to be stronger for Le Mans.
As the temperatures increased on test day Miller appeared to struggle more and so said, "We need to understand why I'm faster when the track temperature is cooler". The Australian said, "We found some steps to get more comfortable and faster without any incidents so it was a positive day".
After missing some pre-season testing due to his original injury, and the third round at COTA, Miller feels "really happy" as now he feels he is able to "understand the latest Michelin front tyres" and said that they "help with turning and to finish off the corner". He managed to improve by over 1.5 seconds.
Positive test for rookie Rabat whose has grown in confidence
Rookie Rabat felt that it was a "positive test" as it allowed him to improve his lap time and he felt he had a "very good rhythm alone". The Spaniard managed to improve his fastest lap time 1.312 seconds and said, "It was good to make a lot of laps on the Honda RC23V especially to build confidence in my rookie season." Concluding about the test he said, "I think the work we did here will be a good platform for the next race in Le Mans."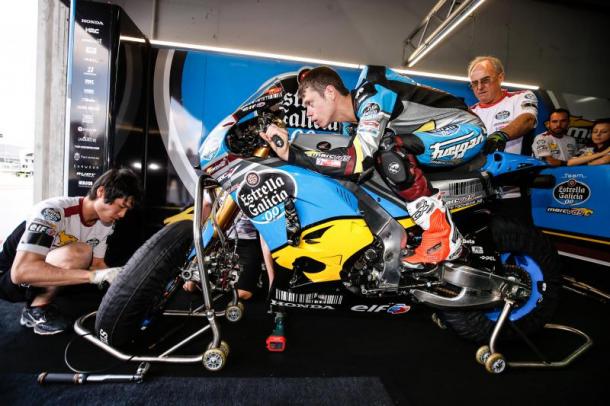 Team Principal Michael Bartholemy confirmed both riders improved on test day which was helped by the weather conditions. He said, "Both riders had some very positive feedback from some of the new parts we had to test and also the new specification Michelin front tyres."
Knowing that the team is young and very much learning he said, "Every day on the bike counts for Tito as a rookie and for Jack who is working hard to get back to 100% fitness." Looking ahead of the fifth round in France he said, "We have a good base to work from at Le Mans next week."