Following his success at the Circuito de Jerez, Spain, Valentino Rossi (Movistar Yamaha) is hoping to claim a consecutive win at Le Mans. Describing the circuit as a "difficult track" he is anticipating the weather during the weekend which he feels can "change a lot". The Italian is hoping that the weather is as good as the last two rounds here during the 2014 and 2016 season. Rossi said he "always finish second" and confirmed that his target is to win as he was "quite strong" despite not claiming the top podium spot.
Rossi hints about future teammate
At the pre-race press conference Rossi added to speculation of who his new teammate will be after Jorge Lorenzo (Movistar Yamaha) signed a two year contract with Ducati commencing in 2015. He spoke of how there are a lot of rumours around the paddock surrounding Dani Pedrosa (Repsol Honda).
He said that, "For the second rider Movistar want a Spanish rider" and he went on to say he thinks "Vinales or Pedrosa are the most possible". However he confirmed he is not entirely sure and directed questions to Yamaha saying, "For me it's the same."
Rossi hoping for repeat of success in Jerez
Rossi feels that, "Le Mans is a track where the YZR-M usually goes very well". As he tries again this year to beat Lorenzo, he said that in Jerez they "found a good setup on Friday" which he felt allowed him to be "competitive in the race". The Italian said, "We will do our best also in Le Mans!"
Lorenzo fond of Le Mans
Lorenzo won at Le Mans in 2015 at what he declared to be one his "favourite tracks" since the 125cc era, and is where he claims to be "one of the fastest". He spoke of how he has experienced "a lot of victories here" after some difficulties over a couple of years which resulted in his 2015 podium.
Only managing to finish second at the Circuito de Jerez, Spain in the previous round behind teammate/rival Rossi, Lorenzo appeared extremely disappointed in parc ferme due to the performance from his rear Michelin tyre. He claimed the tyre felt like it was 'Spinning' and that along the straights when changing gear it felt like he was riding in wet conditions.
Remaining optimistic Lorenzo was happy to "add one more podium to our tally". He feels it is "crucial" this season to "keep scoring the maximum number of points every race". Despite the "tricky" weather his target at Le Mans is to "try to get another podium and be constant at the front".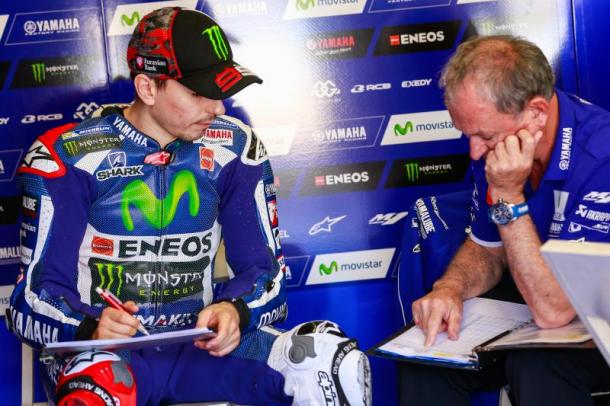 Lorenzo on tyres
Ahead of Le Mans he said, "Michelin is working hard after the problems that most of the rider in the Jerez race". Teammate Rossi had no complaints whatsoever as he dominated from start to finish after qualifying in pole position and setting the fastest lap of the race. Out of the three tyre options Michelin bring to the race, Lorenzo is hoping to "see if one, which is quite different from the other two, solves the problems a little in the straight."
Marquez aims to be consistent in mature approach
Marc Marquez (Repsol Honda) completed the podium in Jerez and was also present at the pre-race press conference ahead of Le Mans. He is continuing with his new mature approach to the championship saying, "I must be consistent" as at the moment he does not feel that he can "attack" or that he has "the best feeling with the bike". He said that he and Honda are "working hard to improve this" and spoke positively saying "it looks like step by step we're getting better".
Speaking of Le Mans Marquez said, "It's not an easy track but it's one of the tracks I like". He described it as "stop and go" and said how the layout has "many slow turns where braking and acceleration are crucial"; still he feels that it suits his unique riding style. He is hoping not to have a repeat of the front tyre problems here in Le Mans last year, and in the previous round in Jerez.
Le Mans a track with many variables
The Spaniard does enjoy riding at Le Mans and said "It requires that you be ready to deal with many variables". These variables include the weather which may be rain or high temperatures in sunny conditions. When discussing the bike he is hoping to be in a similar situation to Austin "where acceleration out of slow corners was a lot better than expected" and is hoping not to "face a bigger challenge".
After the last round in Jerez riders completed a day of testing at the circuit where Marquez said they were able to "work a lot on electronics and the chassis setting to find more grip". He also said they worked on "the balance of the bike to reduce wheelieing", something he feels is a "compromise". He feels that the team have "gathered useful info" ahead of Le Mans which has left him feeling confident.