South African Brad Binder did what has previously been unheard of among the Moto3 class, starting from the back of the field and going on to win the race.
Usually a Moto3 race consists of groups of riders that form across the field which then in turn battle for the lead position of that group with many abreast heading into a corner, and several places changes at the end of longer straights at possibly several locations around the track.
Binder penalised for illegal mapping
Red Bull KTM Ajo rider Binder was penalised after qualifying second on the grid for "illegal mapping" and so was forced to start the race at the back of the grid. He made a fantastic start immediately gaining places and then continued on his pursuit to smash through the field to get to the front near the leaders. No-one expected him to gain thirty-five places and go on to win with a lead of a few seconds.
This was not only a fantastic achievement in itself, but it was a brilliant way to achieve his first victory in the Moto3 class, a feat that even he admitted that "actually managing it was incredible". Binder is extremely grateful to his family saying, "I have no words to thank them (parents) for all the effort they have put in to make this possible."
Binder's achievement followed a restless night
Binder felt "strong all weekend" and knew that, although people doubted their abilities, he felt "very sure" of himself and the team and said "I knew I could win the race" after going fastest in the majority of the sessions when he felt he was able to "show great pace".
He admitted that the night previous to the race he only managed to sleep for three hours due to nerves due to the "possibility of fighting for my (his) first win". Despite receiving his sanction that meant he had to start from the back of the grid, the South African felt "prepared".
First South African to win in 35 years
In what Binder described to be "a great day", he became the first South African to win in thirty-five years, what he described as "a great day for my country". He feels he "receives great support from there" and said that "although it took a long time to get this first victory, to do it this way was spectacular".
Binder said his preparation started on the warmup lap where he "looked at how to ride the first lap", something he felt was "very important". He felt he "did not have a great start" but despite this he said: "I pushed my hardest". He described the first three laps as "difficult" however he "had a great time". He felt the riders were riding at a "slow pace" and said that he experienced "twenty five riders all taking different lines".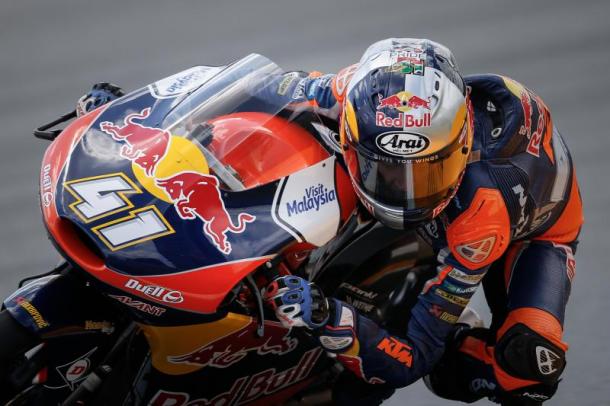 "My brother almost knocked me down!"
Laughing, he spoke about coming across his brother Darryn Binder (Platinum Bay Real Estate Mahindra) and said, "My brother almost knocked me down!" Brad Binder feels that, "One of the strengths of the KTMs is braking" and he feels that this was significant in allowing him to catch the second group in plenty of time. However, he said he "found it hard to escape" from the second group in the race despite being faster and having a "steadier place".
Seeing "the front three pulling away" added to his determination. Because of this he said he put his "head down and pushed", this allowed him to "gradually cut the distance" enabling him to catch the lead group. He said he used the next few laps to "analyse my three rivals" determining their "strengths and weaknesses". The excitement of his crew members on the pit wall who were displaying his lap times gave him the confidence to push more and he said, "With five laps I decided to escape!"
Binder still felt he could give more
A mature Binder knew that when he caught the front group that it was "time to make sure not to do stupid things", this included, "pushing beyond the limit". He felt that at this stage he was "giving 80% and had more left" and so said that his final push was, "not about taking a risk, it was about putting in 100%".
Despite his amazing achievement, Binder felt the race pace was slower than previous years which he felt was due to the asphalt that "wore out tyres a lot". He felt that his rear tyre was "already worn" after the first four laps but then it seemed to settle.
Binder feels weight is off his shoulders after first win
Binder speaks highly of his Red Bull KTM Ajo team saying they are "doing a great job" and that they are providing him with "a bike that works incredibly well". Binder said he feels "very comfortable" and said that claiming this first victory has "taken a weight off my shoulders" as although it was hard to get he hopes it is the first of many and he hopes to "continue in the same way" for the rest of the season.
Despite this being the South African's first win, Binder continues to lead the championship with seventy-two points, fifteen points ahead of Jorge Navarro (Estrella Galicia 0,0) in second place. He did not complete his first lap at Le Mans last year and so is hoping to continue his success and claim his first win at the French circuit.