Despite his amazing achievements in the fourth round of the Moto3 at the Circuito de Jerez, Spain, championship leader Brad Binder (Red Bull KTM Ajo) had a slow start to the Free Practice sessions at Le Mans, France ahead of the fifth round on Sunday. He ended up finishing the first day of Free Practice on top of the timesheets despite troubles early on in the day.
Troubles for Binder
The South African made his presence felt again early on in the session and took the lead, but then after experiencing issues on the straights he was forced to enter the pits where his team worked on his bike for the majority of the session. They managed to get him out in time for the closing stages of FP1 however he was unable to lap as fast as Jorge Navarro (Estrella Galicia 0,0) who set the pace in FP1 with a time of 1:43.959 aboard his Honda.
Navarro almost as fast as pole time already
Navarro was the only rider to beat the 1:44 minute barrier, his time was approximately 1.5 seconds slower than the lap record, and just 0.196 seconds slower than the pole position time in 2015 by Fabio Quartararo (Leopard Racing).
Rookie Nicolo Bulega (Sky Racing Team VR46) continued his amazing form in the Moto3 field and was not far off Navarro's time; he finished just 0.166 seconds slower with a time of 1:44.125. Teammate to Bulega, Romano Fenati who won the 2015 Le Mans round of the Moto3, finished just 0.57 seconds slower above his KTM.
Behind these two was five more Honda riders including Livio Loi (RW Racing GP BV), Niccolo Antonelli (Ongetta Rivacold), Aron Canet (EG 0,0), Jakub Kornfeil (Drive M7 SIC Racing Team) and Hiroki Ono (Honda Team Asia). They finished ahead of the fastest Leopard Racing KTM rider Quartararo and Brad Binder was 10th fastest, just outside a second a lower than Navarro.
The fastest Mahindra was Francesco Bagnaia (Aspar Mahindra Team Moto3) in 15th lapping 1.350 seconds slower than Navarro. Alexis Masbou (Peugeot MC Saxoprint) was the fast Peugeot behind Bagnaia 1.384 seconds slower than the leader. The only female Maria Herrera (MH6 Laglisse) was 1.946 seconds slower than the leader in twenty-fourth.
Two riders out of Le Mans due to injuries
Two riders are unable to compete in the fifth round at Le Mans due to injuries sustained recently. Enea Bastianini (Gresini Racing Moto3) fell whilst completing training off-road. He fractured his right wrist and had to undergo an operation and so has no choice but to miss this round. Wildcard Davide Pizzoli (Procercasa – 42 Motorsport) has also been forced to withdraw due to an ankle injury.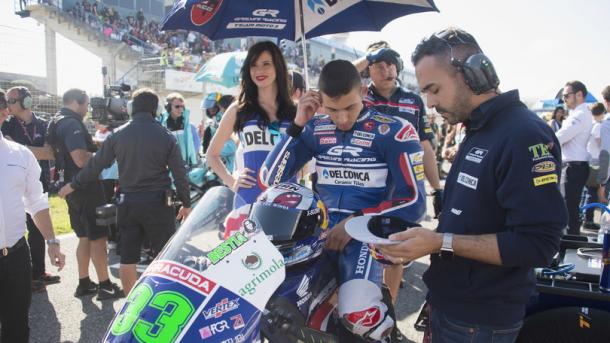 Anotonelli first to fall in FP2
Riders made their way out onto track for FP2 where it was not long before Antonelli crashed out at turn seven. He slid into the gravel trap and his airbags went off in his leathers forcing him to return to the pits; he was unharmed. Twelve riders were able to lap under 1:44 minutes by the end of FP2 with 24 managing to beat the lap time that gained Quartararo pole position in 2015.
Fenati dominated early on by setting the fastest lap however when pushing he found himself having to use the run off areas to avoid an incident; he returned to the pits to make changes. However his fastest time of 1:43.441 was beaten by Brad Binder who finished 0.076 seconds faster with a time of 1:43.665. This time is still approximately a second faster than the record for the Moto3 class at Le Mans.
Results are as follows
Jules Danilo (Ongetta-Rivacold) finished third fastest pushing Navarro down to finish fourth overall fastest after day one. Bulega finished fifth ahead of Ono, Andrea Locatelli (Leopard Racing) and Bagnaia again as the fastest Mahindra.
Kornfeil finished ninth fastest ahead of Loi, Antontonelli and Navarro's teammate Aron Canet in twelfth. Joan Mir (Leopard Racing), Juanfran Guevara (RBA Racing Team), Khairul Idham Pawi (Honda Team Asia), Quartararo, Andrea Migno (Sky Racing Team VR46), Fabio Di Giannantonio (Gresini Racing Moto3) and Bo Bendsneyder (Red Bull KTM Ajo) who all finished within a second of leader Binder.
Huge highside for Valtulini
British rider John McPhee (Peugeot MC Saxoprint) took the crown as the fastest Peugeot rider in 24th, beating his teammates fastest time from FP1 by over a second. Herrera dropped to 30th fastest by the end of FP2. Stefano Vultulini (3570 Team Italia) experienced a huge highside at turn 14 of the circuit however the Italian was able to return to his feet immediately; he remained at the bottom of the timesheets by the end of day one.