It appeared to be a difficult day for the MotoGP class as they took to the track at Le Mans, France ahead of the fifth round of the 2016 MotoGP season.
Lorenzo satisfied with a good start to weekend
Jorge Lorenzo (Movistar Yamaha) was fastest overall after the first two practice sessions that allows riders to become aware of the surroundings and settings that will be competitive for race day. It is the last chance in a way to finalise things, or to get comfortable quickly as the third session is what determines who will go through to qualify for the top twelve grid positions.
Lorenzo felt "satisfied" at the end of day one which he described as "a very good start to the weekend". He felt he "started with a good setting and was relatively fast, quite comfortable". During FP2 Lorenzo said they "improved the bike a little bit" and he was able to lap faster improving his fastest time by 1.256 seconds. He commented on how it was "quite a big difference" compared to the other riders as there remained "a couple of tenths to the rider in second place".
Lorenzo is hoping to "increase the pace a little bit more" in time for FP3 and Qualifying ahead of the race. His other objective is to "prepare for the race to our best capabilities." Lorenzo's time is still half a second off the pole position time set by Marc Marquez (Repsol Honda), the Spaniard won at Le Mans however and his hoping to continue his success here on race day.
Iannone is getting to grips with bike's behaviour
Ducati rider Andrea Iannone finished second fastest at the end of day one 0.339 seconds slower than the fastest time set by Lorenzo. His strength on the bike is needed at a time when Ducati have to decide who to keep on the team alongside Lorenzo who is set to join at the end of the season. Iannone said his improvements came after "getting to grips with the behaviour" of his Desmosedici GP and "adapting it to the characteristics of the circuit".
Despite finishing second fastest he said they have still "got some work to do tomorrow" and is planning on continuing in the same direction however he remained satisfied with his performance on day one.
Michelin have introduced tyre options for Le Mans
Michelin brought some new soft and medium compound tyres to Le Mans that are well suited to the track and will work well in te 'cool' conditions that may arise in France. Iannone spoke of how he feels the French manufacturers are proving to be "very responsive" as the additions "were not necessarily expected" to manage to "work better than the standard option provided by the company."
Despite the 'pleasant surprise', Iannone confirmed that his "bike still moves about a bit coming out of the corner" and he said that he is still experiencing some "spinning", however he said, "The situation has improved a lot over Jerez and so we now have to continue to work to try and resolve these problems".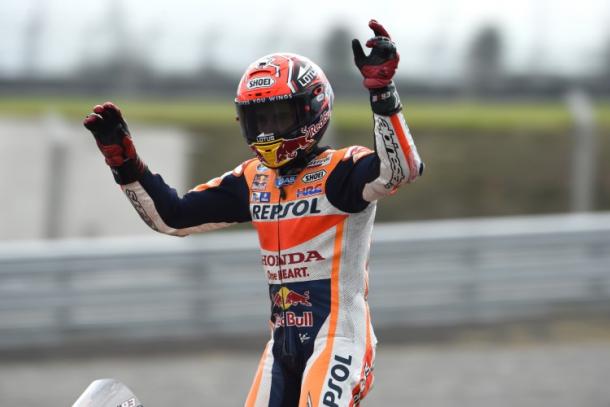 Marquez admitting struggling at demanding circuit
Marquez described day one at Le Mans as "demanding" and admitted that "We knew this circuit would cause us to struggle a bit", however, the Repsol Honda rider felt like they were "overcoming things fairly well".
Finishing third fastest just under half a second slower than Lorenzo Marquez remains positive as he feels he has a "good pace" and admitted he himself is "feeling good", he also admitted that he feels they are "losing some time on both of this circuit's hard acceleration points" something that he feels is "difficult to recover from afterwards".
Marquez hopes to "take a step forward tomorrow" concerning this aspect and he hopes to improve the electronics and the setup of the bike. Referring to the tyre options available he knows it will be "important to make a good decision" ahead of the race and was complimentary of Michelin saying, "Both of the compounds we have available are pretty good".
Rossi admits he was not fast enough
Valentino Rossi (Movistar Yamaha) could only manage tenth fastest after day one after only managing to improve his fastest time from FP1 by half a second to finish with a time of 1:33.974. The Italian admits he "wasn't fast enough" after trying many varieties of settings.
He felt that in the afternoon the "situation was worse" and that they "didn't find the right way". He said that his lack of speed meant that he was unable to try the third tyre option from Michelin but is keen to get to test this on day two during FP3 and FP4 ahead of qualifying at Le Mans.