Despite it being cooler at Le Mans, France as the Moto3 class took to the track for the final Free Practice session ahead of qualifying, riders were able to improve significantly on times.
Kornfeil dominates after FP3
Jakub Kornfeil (Drive M7 SIC Racing Team) was the one to top the timesheet at the end of the final practice session with a time of 1:42.832 which is close to the records set here by Enea Bastianini (Gresini Racing Moto3) who is unable to complete this round due to a fractured right wrist, and Efren Vazquez who is now in the Moto2 class. Kornfeil was the only rider able to make it under the 1:43 minute barrier however by the end of the session twenty-nine riders were running faster than the pole lap set in 2015 by Fabio Quartararo (Leopard Racing).
Antonelli overcome yesterday's crash
Niccolo Antonelli (Ongetta-Rivacold) was running well after his crash yesterday at turn seven, and lapped just 0.22 seconds slower than Kornfeil. Aron Canet (Estrella Galicia 0,0) also improved significantly and finished third fastest ahead of his teammate Jorge Navarro who led after FP1.
Championship leader Brad Binder (Red Bull KTM Ajo) finished fifth fastest head of Livio Loi (RW Racing GP BV), Quartararo, Romano Fenati (Sky Racing Team VR46) and the fastest Mahindra Jorge Martin (ASPAR Mahindra Team Moto3). Rookie Nicolo Bulega (Sky Racing Team VR46) completed the top ten.
Crash for Bagnaia
The session was not without incidents as Francesco Bagnaia (ASPAR Mahindra Team Moto3) experienced a massive highside at turn 14 when he exited the turn. Luckily he was able to get up immediately returned to pits by courier as he was unable to get his bike going. His incident left him twenty-seventh fastest.
Maria Herrera (MH6 Team) finished 22nd fastest after losing her sponsorship with Laglisse. She is still able to continue in the championship until the end of the year thanks to her father; Marc Marquez (Repsol Honda) and Alvaro Bautista (Aprilia Team MotoGP Gresini) from the MotoGP field are working towards helping the fellow Spaniard gain more sponsorship in the future.
She finished ahead of the fastest Peugeot Alexis Masbou (Peugeot MC Saxoprint) and his teammate, the only Brit in the pack, John McPhee in 24th. It is the home race for the Peugeot manufacturer and Masbou, so both riders are hoping to do well.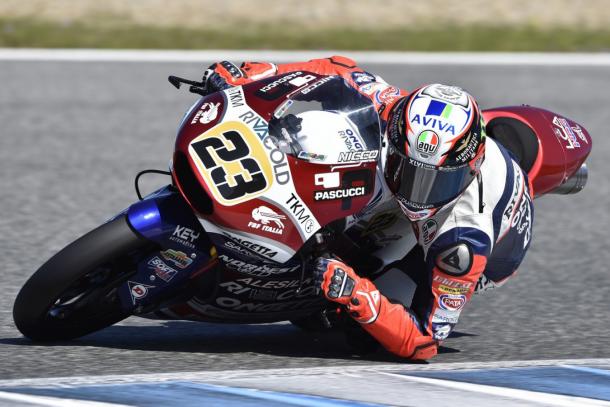 Time for Qualifying
Conditions were great for qualifying with a 40 percent chance of rain expected later on in the afternoon. Kornfeil returned to his spot at the top of the timesheets like in FP3 to set the target time to beat of 1:43.241 aboard his Honda. It was not long before Fenati made his presence felt shaving a 10th off the time set by Kornfeil.
At one stage Brad Binder was pushing to get his fastest time so far and went wide which meant his lap time was cancelled due to over use of the track. A few riders who were following him in the hope of earning something from the championship leader, who won his first race in Jerez after starting from the back of the grid in an amazing feat, also went wide. However for them it would have been worth losing a lap time if it meant they learnt a thing or two from the South African.
Adam Norrodin (Drive M7 SIC Racing Team) crashed out in the first half of the session from his Honda, it took a while for the bike to return to the pits and so the Malaysian now how his work cut out for him.
Vital pit stops under Binder's giudance
Just under half an hour remained in the session and all riders returned to the pits to make vital changes. Aron Canet (Estrella Galicia 0,0) made his way to the track alone first to improve on his current third position. He was soon joined by the two Red Bull KTM Ajo teammates who went out in an attempt to work together to improve their time, Bo Bendsneyder was currently placed in the second half of the timesheet. It appeared that Brad Binder was the one to watch as many more riders hurried to the track when they witnessed Brad Binder return.
A litter of crashes in Qualifying
Gabriel Rodrigo (RBA Racing Team) crashed out at turn seven with just over 20 minutes remaining and looked winded as he tumbled into the gravel trap. Soon after Joan Mir (Leopard Racing) crashed out at turn four during a busy time meaning many riders had to act to avoid him as he refused to let go of his bike; he was able to quickly pick his bike up and continue straight away. Kornfeil also then crashed at turn twelve after the rear slipped and threw him over the bike, he had to be escorted off track by medical staff but appeared OK.
Rookie Bulega soon arrived at the top of the timesheet with a time of 1:42.888, knocking his teammate down to second. Binder soon improves and Canet who pushed the young Italian down the running.
Jules Danilo crashed at turn 12 and unfortunately limped away from the incident, he appeared to be in pain at the side of the track. Bulega was thrown over the bike at turn four when he touched the paint with the rear of his KTM, he was clearly in pain and nurturing his left arm as he was supported to the side of the track. A later shot shown the Italian looking a lot more comfortable.
Quartararo crashed at turn seven but could return to the track when he was forced to pick up his bike and run into the gravel trap, he returned to the track with dirty tyres in a last stitch attempt to improve his qualifying time.
Failed dummy pit stop for teacher Binder
It was quite comical when Brad Binder decided to venture out with his brother Darryn Binder (Platinum Bay Real Estate) on his Mahindra in a hope to improve his time. The Binder brothers were being followed by a line of 250cc riders hoping to learn from the championship leader also. It was comical when he signalled to his brother that he was returning to the pits in an attempt to lose the pack that followed, and Darryn followed him in, but so did the learner riders, and so the whole lot of them just ended up riding through the pits and returning to the track to continue qualifying.
Dramatic end of qualifying courtesy of Antonelli
Antonelli pinched the pole position on his last lap after the flag was waved to signal the end of the session. His time of 1:42.756 meant he finished just 0.067 seconds ahead of Brad Binder who was now in second place on the grid ahead of the race. Canet completed the first row.
Navarro is in fourth ahead of Sky Racing Team VR46 teammates Fenati and Bulega. Guevara leads the third row ahead of Quartararo and Pawi in ninth. The fourth row is inhabited by Fabio Di Giannantoni (Gresini Racing Moto3), Kornfeil who was unable to return to track after his crash, and Livio Loi (RW Racing GP BV), they are ahead of the fastest Mahindra rider Tatsuki Suzuki (CIP-Unicorn Starker), Andrea Locatelli (Leopard Racing) and Masbou who completes the fifth row in front of his and Peugeot's home crowd.
Darryn Binder finished in 22nd on the grid despite his brother's support. The British representative John McPhee was 25th on what he is considering to be like a home GP as he also riders for French manufacturer Peugeot. Wildcard Enzo Boulom (Procercasa – 42 Motorsport) finished in 29th ahead of Herrera in 30th, and his teammate Davide Pizzoli has been advised to to race following a previous incident.