The final Free Practice session is a last chance for MotoGP riders to pick the best settings ahead of qualifying. Riders tend to take the track with full tanks of fuel and work to 'scrub in' the tyres ready for the qualifying sessions that followed.
Jorge Lorenzo (Movistar Yamaha) dominated again as several riders began to lap under 1:34 minutes. Ducati rider Andrea Iannone had a huge wobble in the closing session and Marc Marquez (Repsol Honda) ran into the run-off areas at one point to avoid crashing ahead of qualifying. They, along with Valentino Rossi (Movistar Yamaha) and Andrea Dovizioso (Ducati) made up the top five riders ahead of the fastest independent rider who remained to be Pol Espargaro on his Monster Tech 3 Yamaha; it is the home GP for both the sponsors and the team.
Qualifying one was underway
Danilo Petrucci (Octo Pramac Yakhnich Ducati) makes his return following his injury sustained at Qatar which forced him to miss the following rounds after needed surgery on his hand. His determination continued to show as he led the leaderboard in the early stages of the first qualifying session for the riders who did not progress to Q2 as a result of FP2. This weekend is the first time Petrucci has come near a bike since his incident as he focused on his rehabilitation.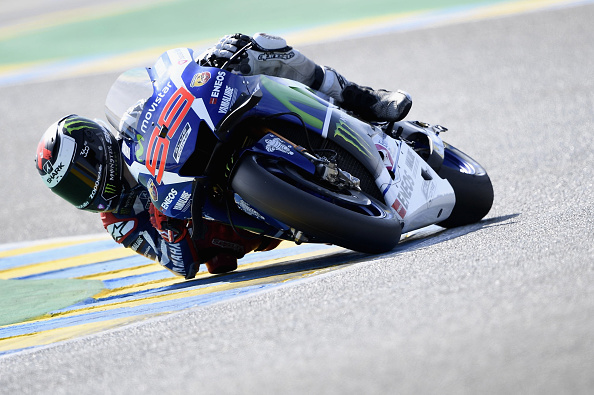 He held the top spot followed by Aleix Espargaro (Team Suzuki Ecstar) who soon beat Petrucci's time to claim the lead. Aleix crashed out in FP3 and so his chances of automatically gaining a place to Q2 were prohibited.
Hector Barbera (Avintia Ducati), Aspar Team MotoGP riders Eugene Laverty and Yonny Hernandez and Scott Redding (Octo Pramac Yakhnich Ducati) were working towards potentially going through to contend in Qualifying 2 for better positions but they were unable to come close and so Aleix and Petrucci progressed.
Nerves before the final qualifying session
The top ten riders from FP3 took to the track straight away for the short fifteen-minute session to determine the grid ahead of the race at Le Mans, they were now joined by Petrucci and Aleix Espargaro.
Lorenzo was a man on a mission setting a fast time of 1:32.437 in the first five minutes; he soon reduced this time by 0.2 seconds. Iannone slotted in behind him on the leaderboard in fourth ahead of Rossi and Pol Espargaro.
Nothing but bad luck for Repsol Honda
It was a difficult time for the Repsol Honda team as Marquez struggled on track having to run wide and use the run off areas. Not long after Dani Pedrosa crashed out at turn four as the front folded on the left-handed corner and he was narrowly missed by riders who had to swerve to miss him . Marshals struggled to remove his bike from the centre of the track as Pedrosa bolted back to the pits as they were past the halfway stage of the short session. Flags were waved to indicate something on the track at the turn which caught Pedrosa out last year.
With just five minutes to go Iannone crashed at turn twelve on his out lap. His bike was now in the gravel and he also began to run back to the pits to claim his other bike that his crew were now frantically preparing. It took him less than two minutes to run all the way back to his garage where his bike was ready he had three minutes left to improve on his time where he was still currently in second.
Pol Espargaro continued to shine at Le Mans, the home GP for his team and sponsor and made it to third with a few laps to go. However, Dovizioso was improving and knocked him back. His teammate Bradley Smith was also progressing and made it up to fifth with one minute to go as Jorge Lorenzo ran wide before he completed another flying lap.
The checkered flag went out
Lorenzo completed his last and fastest lap just after the checkered flag went out. His time of 1:31.975 smashed all previous records here. Marquez completed a flying lap at the end to claim second on the grid, and Iannone's previous time from before his crash claimed him third.
Both Pol Espargaro and Bradley Smith made the second row for their teams' home GP at France, the duo are split by Andrea Dovizioso who placed fifth. Rossi could not improve on his time and has been forced to start the race from the front of the third row in seventh ahead of Vinales and Cal Crutchlow (LCR Honda) who complete the third row.
Petrucci crashed on his last lap but his hard work previous paid off and he qualified in tenth ahead of Pedrosa and Aleix Espargaro in twelfth. Barbera is in thirteenth ahead of Redding and Aspar Team MotoGP teammates Hernandez and Laverty. Next on the grid is the fastest Aprilia rider Stefan Bradl (Aprilia Team Gresini) in seventeenth ahead of Jack Miller (Estrella Galicia 0,0 Marc VDS) who are followed by their teammates Alvaro Bautista and Tito Rabat in nineteenth and twentieth.
Despite being very familiar with the track having grown up here, French man Loris Baz (Avintia Racing) will start from the back of the grid on his Ducati.