The Moto2 field took to the circuit at Le Mans for the third Free Practice session ahead of qualifying for the fifth round in France.
Riders did not hand around in fighting for the fastest times and it was not long before Thomas Luthi (Garage Plus Interwetten) was within a tenth of his own lap record set in 2015 of 1:37.281. He appears to be back on form after dislocating both of his shoulders at the season opener in Qatar.
Rollercoaster of a weekend so far for Folger
After a short contest on track between Luthi and Jonas Folger (Dynavolt Intact GP), who announced his collaboration with MotoGP team Monster Tech 3 Yamaha for one year for the 2017 season, both riders briefly topped the timesheets before pitting briefly.
Whilst in the pits British rider Sam Lowes (Federal Oil Gresini Moto2) looked strong on the first two sections and it seemed possible he could steal the lead having lapped faster. However, he was weaker in the final two sections and had to settle for fourth.
Folger returned to the track for the second half of the session and it was not long before the German rider experienced his second crash of the meeting at turn nine. The front gave way from under him on the left handed corner, Folger was OK but it meant that he was now restricted on time to get back out for the rest of the practice.
More crashes followed in FP3
Moments later Takaki Nakagami (IDEMITSU Honda Team Asia) crashed at turn three. The rear of his Kalex had wobbled throwing him down and he banged his head off the surface however he was unhurt and able to get to his feet straight away. He attempted to get back on track but the Marshals had to push him off the track.
Not long after Danny Kent (Leopard Racing) made sure the Marshals at turn three were kept on their toes when he crashed out on the left handed corner of turn three however his bike slid across the track and landed in track at turn three. Kent was up and thought about recovering his bike but refrained due to where it landed.
Overall the times were so close
Luthi was back out on track working on improving his own time as he led, he was pushing so hard that he went wide, however he was able to recover. Combining practice times, Johann Zarco (Ajo Motorsport) was still the fastest man having set a time 1:37.370 in FP2; this time was just 0.001 seconds faster than Luthi, however with eight minutes remaining Luthi took this crown having completed a lap of 1:37.358.
Luis Salom (SAG Team) crashed at turn ten with less than ten minutes to go he was able to get back on his Kalex and return to the pits to see what his crew could do.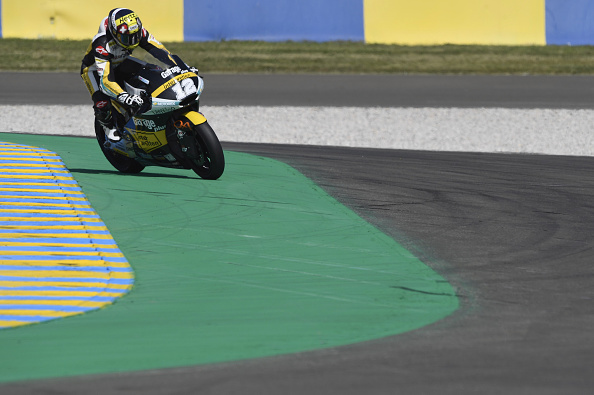 In the closing stages Folger had made it back out and when crossing the start-finish line experienced a huge moment that almost threw him out of his seat. Luthi finished fastest ahead of Zarco, Folger, Lowes and Marcel Schrotter (AGR Team). Simone Corsi (Speed Up Racing) was sixth despite being fastest in FP1, he was ahead of Lorenzo Baldassarri (Forward Team), Nakagami, Franco Morbidelli (Estrella Galicia 0,0 Marc VDS) and Xavier Simeon (QMMF Racing) who completed the top ten after FP3.
Qualifying was underway
Conditions had cooled as Alex Rins (Paginas Amarillas HP 40) chose the start of the session to set his fastest and the fastest time of the whole weekend so far. As the track cooled it was not long before Luthi took three-tenths of a second of his own fastest time to lap at 1:37.059. Luthi looked to improve on this soon after however he caught a slower rider and had to abandon his efforts.
Another crash for Folger
Folger crashed for the third time this weekend at the fast turn seven and looked heartbroken as his bike was destroyed in the gravel. He had to make his way back on a scooter as his team did what they could to retrieve the bike and fix it so he could improve his qualifying time.
More crashes in Moto2 Qualifying
Xavier Simeon crashed at turn nine as the front end folded underneath him when he was still trailing the brakes as he approached the apex, he was unhurt but again looked disappointed.
Ratthapark Willairot crashed out not long after and the Marshals struggled to get his IDEMITSU Honda Team Asia Kalex out of the gravel. Then Xavi Vierge crashed at turn seven as he entered the corner; he slid as the bike destroyed itself when it catapulted into the gravel trap.
The clock was now ticking away as the teams worked so hard to repair the bikes and make them fit for the track so riders could return to the track to try and improve on their qualifying times. Just over twelve minutes remained when Vierge was able to return shortly followed by Folger.
Luthi breaks the record
In the meantime, Luthi managed to continue to improve on track and lapped under 1:37 after he completed a lap of 1:36.847. His time gained him the new lap record at Le Mans for a Moto2 bike as he was over three-tenths of a second quicker than the previous records of his and Rins.
With just five minutes remaining Miguel Oliveira (Leopard Racing) crashed out a turn eleven, he looked frustrated as he walked further into the gravel trap towards his bike, his session was over. Soon after, local man Zarco fell off at turn four and his bike continued to run up the track before parking itself in the gravel. Vierge also crashed again at turn nine also ending his session early and at turn eight Mattia Pasini (Italtrans Racing Team) crashed just before the flag was waved to end the session.
The results are in
Unfortunately, the crashes occurred more than any changes on the leaderboard as riders struggled to improve as the track cooled. Luthi remained on top to claim pole position with his record breaking time ahead of Rins and Baldassarri who completed the front row.
Simone Corsi (Speed Up Racing) was the fastest Speed Up bike and will start the race from the front of the second row in fourth ahead of Morbidelli and Nakagami. Folger seemed disappointed with eighth position despite all of his and his teams' efforts following a disastrous weekend so far; he finished ahead of championship leader Lowes in ninth who has also struggled so far at Le Mans.
Luca Marini (Forward Team) leads the fourth row in tenth ahead of AGR Team teammates Axel Pons and Marcel Schrotter. Dominique Aegerter (CarXpert Interwetten) is another one who appears to be struggling at Le Mans and unusually qualified thirteenth ahead of Oliveira and Simon. Alex Marquez (Estrella Galicia 0,0 Marc VDS), Hafizh Syahrin (Petronas Raceline Malaysia) and Luis Salom (SAG Team) complete the sixth row.
Pasini and Simeon make up the seventh row with British rider Kent who could only manage twenty-first at Le Mans. Vierge is next ahead of Wilairot, Robin Mulhauser (CarXpert Interwettin), Alessandro Tonucci (Tasca Racing Scuderia Moto2) and Jesko Raffin (Sports-Millions-EMWE-SAG). Injured Efren Vazquez's replacement Danny Eslick (JPMoto Malaysia) completes the grid aboard the only Suter as Sandro Cortese (Dynavolt INtact GP) is unable to compete in the fifth round at Le Mans.