Since the 2015 MotoGP Champion, Jorge Lorenzo (Movistar Yamaha) announced his collaboration with the factory Ducati team for two years at the end of the current season, attention has focused on the Italian camp as they made a decision as to who would have to give up their place in order for him to join.
Currently Italians Andrea Iannone and Andrea Dovizioso compete for Ducati in the MotoGP and after a difficult start to the season they have finally announced who will remain.
Unfortunate start to season for Dovizioso
Dovizioso, who has ridden for the team since 2013, will now stay and partner up with the champion. Since the beginning of the season luck has not been on his side as after he claimed a second place finish in Qatar, his current teammate crashed and took him out in Argentina where he finished in 13th to claim points when he pushed his bike across the line, he was then forced to retire in COTA, Dani Pedrosa (Repsol Honda) crashed into him in Jerez and he was again forced to retire in Le Mans due to another techinical fault.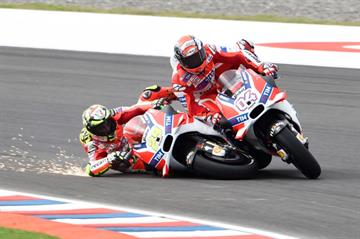 Dovizioso's luck has changed
However his luck has changed as Ducati have confirmed they remain faithful in him by extending his contract for two years; in a way this is only fair as the incidents have not been his fault. Dovizioso is said to be "very pleased" with his contract extension that will see him remain with the factory Ducati team until the end of the 2018 season. He is looking forward to being "able to contuinue their adventure which begain in 2013."
Dovizioso said: "over the years we worked hard and managed to bring the Desmosedici GP to a great level of competitiveness." and he remains optimistic for the future saying, "I am convinced that soon we will get all the rewards we deserve."
Iannone will have to make room for the Spaniard
In order for Dovizioso to stay it means that Iannone unfortunately has to leave. It appears to be a case of last in first out as he joined in 2015 after racing for Pramac Ducati, since then he has lived up to his name as 'The Maniac' on track. Iannone has been involved in many incidents including that where he 'took out' his teammate when he crashed losing a double podium for them and their team.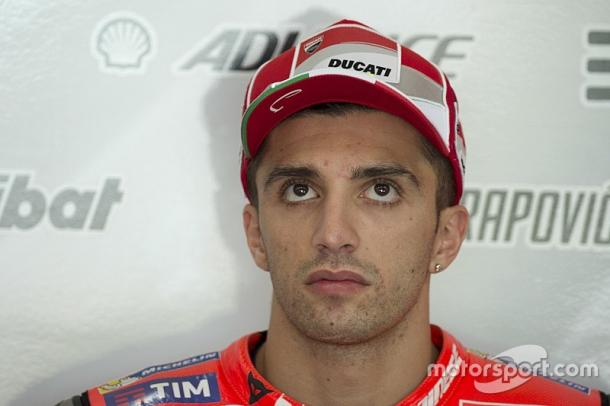 Iannone is "obviously disappointed" that his time with Ducati will climax at the end of the season, however he remained "grateful for the opportunity that the company from Bologna" have given him over the years. Since he made his debut in MotoGP with Ducati and feels with them he "grew up being able to obtain even better performances".
Iannone remains focused on remainder of season
His journey is not over yet though, as thirteen more rounds still remain in the 2016 season. He said, "In the next races I will give my best" as he is "convinced" that "thanks to the competitiveness of the Desmocedici GP we can achieve great results."
The Italian is great friends with Valentino Rossi, who remains at Movistar Yamaha for the next two years after being the first in the field to announce his future plans. A space is still available there as it has not yet been confirmed who the replacement of Lorenzo will be. Will the friendship help to build an even stronger Movistar Yamaha team?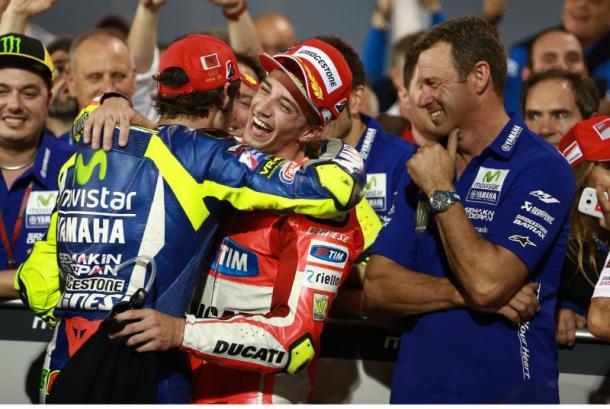 It Was not an easy decision
Luigi Dall'Igna, Ducati, expressed how it is "never easy to make a decision like this, especially when you have two great riders in the teams." Despite he said they are "very pleased that Dovizioso has agreed to stay" and plan that with him they can "continue the successful work started four years ago to achieve the ambitious goals we have set."
Speaking highly of their future former rider he said he was "sorry for Andrea Iannone", and spoke of how he "has done important work over the years and has contributed significantly to the development of the Ducat Desmocedici GP."
Grateful for the input the Italian has had, he said, "For this we wish to thank him and we will do our utmost with him, in the next races of the championship, to get important results that are definitely within his reach."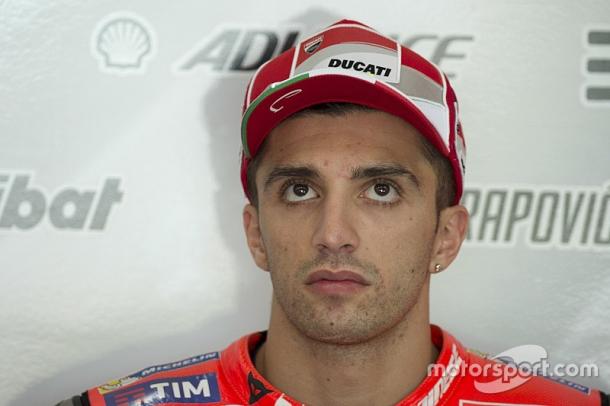 What are Iannone's options?
The place at Movistar Yamaha may not be given to Iannone, as rumours currently have the spot earmarked for Team Suzuki Ecstar rider Maverick Vinales. However the Spaniard's move to Yamaha will leave a place available at Suzuki and so he may be considered to fill that position.
Vinales decision about his future is likely to be announced during the weekend of the sixth round of the MotoGP at Mugello, a track which is the home GP for both Ducati and their current riders. Iannone surely will hope to claim a spot on the podium on an Italian bike for what may be his last chance at home.