Movistar Yamaha rider Jorge Lorenzo heads into the sixth round leading the 2016 MotoGP championship and looking to extend his lead at what he says is probably his "favourite track".
The Spaniard has won four out of the last five races here over the years. He said, "There are tracks where you can find your limits or take more profit from your strengths, Mugello is obviously one of these." He favours the "surface and layout of the track" which he said has "a lot of chicanes."
The 2015 MotoGP Champion spoke of the "movement during the last three or four days" regarding changes among the paddock. Lorenzo confirming his move to the factory Ducati team triggered a chain reaction as his face needed to be filled, and a place had to be made for him at Ducati as either Andrea Dovizioso or Andrea Iannone had to make way to make room.
Lorenzo's move shook the paddock
Team Suzuki Ecstar rider Maverick Vinales took his seat aboard the M1 at Movistar Yamaha, Dovizioso remained at Ducati and Iannone became the 'first rider' at Suzuki in place of Vinales.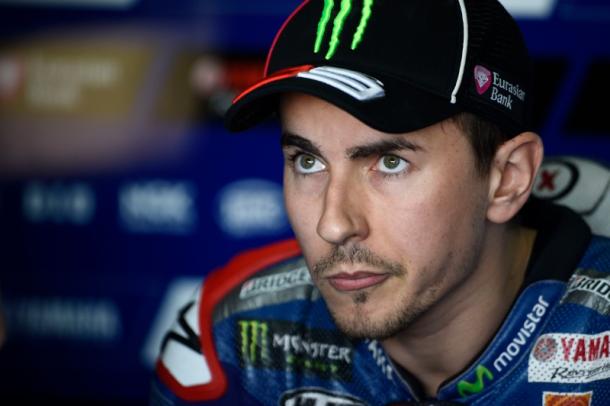 Lorenzo spoke of how he thinks "it's good to have Dovizioso as a teammate," speaking highly of the Italian he said, "He has always been a very clever and logical guy and I hear that he's very good in testing the bike." Remaining diplomatic Lorenzo spoke of how he would have been "OK" if Iannone had remained as he described him as "very fast and his riding is very similar."
Marquez aware of another tough weekend ahead
Also looking to win at Mugello is Repsol Honda rider Marc Marquez who last won here in 2014 after securing pole position on the grid. Marquez spoke of how they "have another tough weekend ahead" having "suffered a lot" in Le Mans. Speaking of his "suffering" he felt that last year at Mugello, things were difficult up until the race on Sunday when he said they "found something that was much better."
He is hoping to return to the former position he found himself in last year and is focused on "how the tyres work here" saying, "After the mistake in Le Mans I want to come back with a great race".
Marquez gives insight to his MotoGP future
Marquez's teammate Dani Pedrosa was rumoured to be joining Movistar Yamaha in place of Lorenzo but instead announced that he will remain at Repsol Honda for another two seasons, which will see him up to the end of 2018 with the team who he debuted with.
Marquez referred to this in the press conference saying, "Dani already signed a contract, I haven't signed yet but I hope it's close."
Confirming what team bosses said earlier in the season that they do not plan to make any changes, Marquez said that it "looks like we will keep the same team, I think it's important."
Special weekend for Rossi
Movistar Yamaha rider Valentino Rossi was also present at the pre-race press conference ahead of what will be his home GP at Mugello. He spoke of how it is "Always a special weekend and race in Mugello." Despite not winning since 2011, he feels that "it's one of the best and the atmosphere is always good."
The nine times world champion seemed motivated as he said, "We have to try to be strong and competitive because in the last years I was never fast enough to fight for victory and I never had a good Qualifying."
Petrucci remains humble when speaking of success in Le Mans
Also competing ahead of his home GP at Mugello, Octo Pramac Yakhnich Ducati rider Danilo Petrucci was also present at the press conference. He made his return to MotoGP in the previous round in Le Mans after severely damaging his hand in an accident at the season opener at Qatar, and after sustaining more damage when he tried to return too soon, he was forced to rehabilitate.
Still, despite the exhausting pain, the Italian finished an amazing seventh position; he was also the second fastest independent rider. Speaking of his success, he remained humble saying, "I only managed to stay up in the race, unluckily for the other riders there were a lot of crashes and I'm clear that if there weren't a lot of crashes I would have been 12th."
Petrucci spoke of how his "target was to finish the race" after having "missed a lot of time on the bike."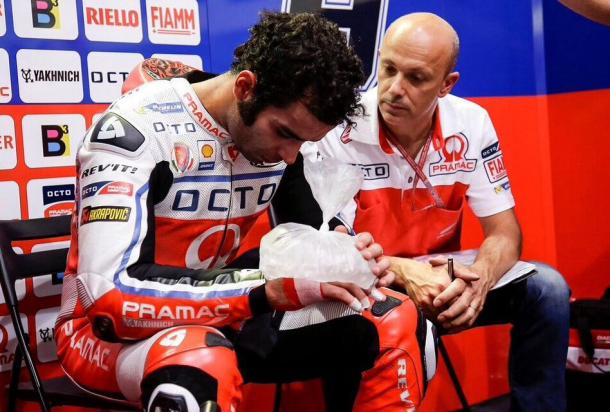 Petrucci expressed his love for the MotoGP and everyone involved
Petrucci is a huge personality in the paddock and always manages to put a smile on peoples' faces. He spoke of how he missed all of the riders because he "enjoys racing in MotoGP". He said, "I miss the riders, the paddock people, the mechanics and even the journalists! It's like asking which is your favourite nightmare!"
Speaking about his injury he compared it to having a "weather forecast station." He feels his hand is "getting more tense and some pain," and declared that "it won't rain tomorrow." The Italian said his "hand is full of pain so tomorrow the weather will change" and so he feels he has to "focus on the positives of the injury!"
The riders will take part in two Free Practice sessions on Friday, ahead of Free Practice 3 (that determines who automatically enters qualifying) and 4 before two Qualifying sessions on Saturday followed by the race on Sunday at 1:00pm Local Time.