The pre-race press conference ahead of the sixth round of the MotoGP at Mugello, Italy, was a chance to catch up with the riders who have just made career decisions about their future in the MotoGP.
Chain of events triggered by Lorenzo
After Jorge Lorenzo (Movistar Yamaha) announced his move to Ducati for the next two seasons beginning in 2017, this began a surge of movement. In order for Lorenzo to move on of the current riders had to make way for him. Recently it was announced that Andrea Dovizioso would be keeping his seat and that Andrea Iannone would be the one to go. Yamaha also needed a replacement for Lorenzo and approached Maverick Viñales (Team Suzuki Ecstar).
After an intense wait, Viñales confirmed today that he would in fact be joining the Movistar Yamaha team alongside Valentino Rossi. He will be competing over the next two years on a championship winning bike and will leave a team with a bike that is still evolving as Suzuki only rejoined the MotoGP in 2015 in Viñales' rookie year.
Viñales finally made a decision
Viñales said: "Finally I decided to move, to go to Yamaha Factory." His decision he feels is a "really important part" of his career and he feels the change will help him to "grow up a lot." He is "really grateful to Suzuki" as over the duration of them working together he feels they trusted him a lot, and that they did "a great job" in trying to give him "the best bike they can."
Iannone to replace Vinales at Suzuki
Viñales leaving Suzuki next year means that a space now became available with Team Suzuki Ecstar, and the space was quickly snapped up by Iannone who was now without a ride. He will take to the GSX-RR for the next two seasons in what he described as "a big change." The Italian said he was "very happy" as feel it is important for him "to be the first rider in a factory" and he also feels "Suzuki show a good project."
Iannone may join Aleix Espargaro presumably who will remain with him however the Spaniard spoke of how he felt he "deserved more respect" when referring to his involvement in decisions made by Suzuki, and he although he will be happy with Iannone as a teammate he is unsure about his own future.
Was Iannone Ducati's first choice?
Reliving his time with Ducati, Iannone said: "In these four years I lived very great moments in Ducati" and he spoke of the support they have shown to him "from the beginning in 2013." Iannone revealed that he "had the possibility to remain in Ducati" but confirmed that, "some parts of the contract" did not "satisfy" him totally.
He proposed changes to Ducati which he said "wasn't possible" however he was in demand already as he said he "had a very good opportunity and proposal from Suzuki." Iannone is still determined to "focus at 100% in this season," however he felt that it was "better" for him to take on what he described as "a new adventure." Iannone gained pole position last year at Mugello aboard his factory Ducati and is surely hoping for a repeat in front of his home crowd.
At what point speculation surround Dani Pedrosa (Repsol Honda) who was rumored to possibly be joining Movistar Yamaha in place of Lorenzo. However as Honda bosses said previously, they had no plan to make changes, and Pedrosa will remain at Repsol Honda for the next two seasons having extended his contract up to the end of the 2018 season.
Finally it is clear for Pedrosa
Pedrosa spoke of how "It was true in the last two races there was a lot going on but finally it's clear." Pedrosa will stay at the team where he made his MotoGP debut and is about to complete his 250th race with them. The Spaniard said he was: "Very happy because it's been a long, long career and I'm very happy to stay." He felt it was "great news" and that the "history is important" that he shares with the team and said: "At this time with Repsol Honda we've been together so long and it gives stability and length."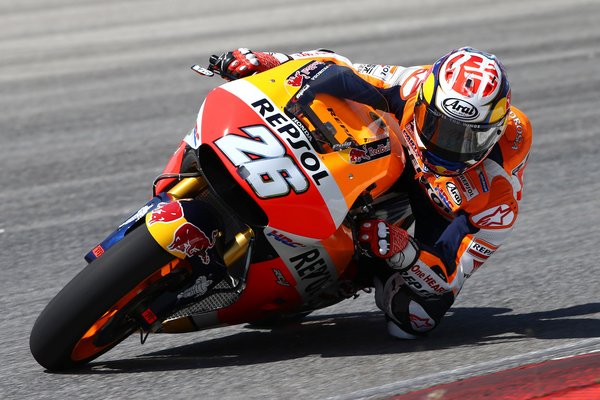 Feeling optimistic about his future he said: "The future is looking good because we have a strong team and we're always looking for the highest technology in the team." Speaking of completing so many starts with the team he spoke of how he was "surprised" as it was a "high number" and he is "Still happy to be lining up with these guys." Pedrosa started from pole position at Mugello in 2012 and 2013.
Is this the end of movement with the MotoGP paddock?
All the commotion has almost been exhausting as rumors and speculation has surrounded the paddock. Some riders are still to confirm contract agreements as they are currently in negotiation stages, but as for now it seems that there may not be any more major changes coming to shake up the paddock.