It was a quiet opening Free Practice session at Mugello ahead of the sixth round of the Moto3 championship. Miserable weather conditions followed on from a storm the previous night and so the lightweight class were forced to venture out on wet tyres, unless they opted out of going on the track altogether.
Pawi continues to dominate in the wet
Honda Team Asia rider Khairul Pawi seems to prefer the wet conditions almost, as he continued to thrive as he did in Argentina when he claimed his first victory in the Moto3 in a fantastic performance where he finished with a twenty-six second lead on Estrella Galicia 0,0 rider Jorge Navarro; Navarro did not take to the track for the first session in Mugello.
Pawi was the only one who managed to lap under 2:10 minutes finishing the session with a fastest time of 2:09.992. He was just 0.009 seconds faster than his teammate Hiroki Ono who followed him closely and used the slipto complete a lap of 2:10.001.
Francesco Bagnaia (Aspar Mahindra Team Moto3) finished as the fastest Mahindra in third just 0.151 seconds off Pawi's pace and the fastest KTM was rookie Nicolo Bulega (Sky Racing Team VR46) who finished in fifth behind Platinum Bay Real Estate Mahindra rider Karel Hanika, Bulega's time was 0.296 slower than the leader.
Alexis Masbou (Peugeout MC Saxoprint) was the fastest Peugeot in ninth 0.746 seconds off the pace. His teammate, British rider John McPhee was down in twenty-third just ahead of Maria Herrera (MH6 Team).
Caution on the track
The riders took a cautious approach to the first session, they are way off the pace of the fastest lap set by the 2015 Moto3 Champion Danny Kent who completed the best ever lap in 2015 with a time of 1:56.615. Enea Bastianini (Gresini Racing Moto3) returned after fractured his wrist and having to miss the fifth round at Le Mans, he was extremely cautious and was over five seconds slower than Pawi.
Ono becomes fastest in drier conditions at Mugello
The weather improved significantly in time for the second session of the day. Riders were able to dramatically reduce their times with this time Ono finishing on top. The change in conditions meant that the Honda Team Asia rider was able to take over eleven seconds off his previous time ending the session with a fastest time of 1:58.489. This was much closer to the lap record of Kent.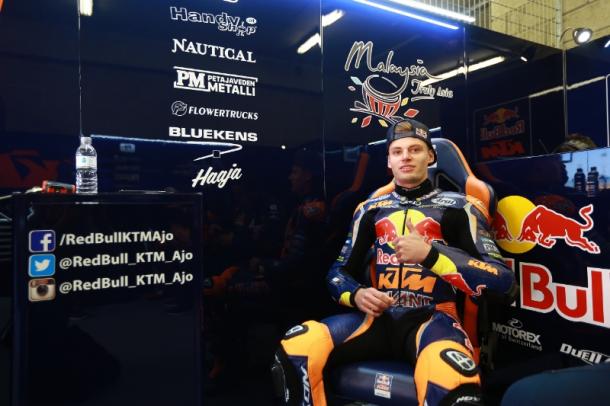 Brad Binder the fastest KTM
Bagnaia's form continued and he finished as the fastest Mahindra in second at the end of day one; his time was 0.271 seconds off that of Ono. Fabio Di Giannantonio finished third fastest ahead of current championship leader Brad Binder (Red Bull KTM Ajo) who was also the fastest KTM with a time of 1:58.935.
Navarro ventured out this time and was just 0.078 seconds slower than Brad Binder. Romano Fenati (Sky Racing Team VR36) became the fastest out of the academy riders hoping to do well at their home round. He finished sixth fastest ahead of Juanfran Guevara (RBA Racing Team) Niccolo Antonelli (Ongetta-Rivacold) and his teammate Bulega who finished in eighth ahead of Bagnaia.
Dalla Porta replacing injured Oettl
Phillip Oettl (Schedl GP Racing) is unable to compete this round due to injuries sustained previously and so he has been temporarily replaced by Lorenzo Dalla Porta who finished fifteenth at the end of day one with a time of 1:59.864. Pawi slipped down to twentieth in the warmer conditions, he still improved his time by approximately ten seconds and finished with a time of 2:00.247.
McPhee finished as the fastest Peugeot at the end of the day in twenty-first and the only female Herrera finished thirty-first. Davide Pizzoli is making another wildcard appearance with Procercasa – 42 Motorsport team and remained slowest after day one aboard his KTM.