Movistar Yamaha rider Jorge Lorenzo continued his domination at the Italian circuit in Mugello for the sixth round of the MotoGP season. The Spaniard who 'favours' this track has won here four out of the last five years, and despite missing out on pole position to his Italian teammate, Valentino Rossi who who was desperate to win at home, he won again after stealing the lead on the first corner error, remaining in front until an amazing battle with Marc Marquez (Repsol Honda) where he beat him by a fraction of a second.
Fantastic start for Lorenzo
Lorenzo started from the second row on the grid yet he launched to the front on his Movistar Yamaha M1. As the field pushed and shoved their way round the first turn Lorenzo got in front of Rossi and they headed into the yellow haze caused by Rossi's fans who surrounded the Autodromo del Mugello (and set off yellow flares).
Big crash in the MotoGP
Not everyone made it through it turn one, the first incident of the race involved three riders who did not make it through turn one. Loris Baz (Avintia Ducati), Jack Miller (Estrella Galacia 0,0 Marc VDS) and Alvaro Bautista (Aprilia Team Gresini) were left tin a pile at the side of the track, all riders were unable to continue in the race. Baz is now having to undergo surgery on his foot.
Rossi wanted home win
Rossi was determined to win at his home track and most of his attempts to giant the lead came at the end of the start-finish straight at turn one. He managed to outbrake Lorenzo at the start of the second lap but missed the apex and went wide and so lost the lead he had briefly. This had almost a 'domino affect' as he was one of four riders who all made through same mistake. Rossi set the fastest lap so far during lap two as the news came through that Yonny Hernandez (Aspar Team MotoGP).
Important round for Ducati at their home track
At their home track, the Ducatis soon started their pursuit for podium spots as the Italian riders aboard Italian machinery began to make their way through the pack. Andrea Iannone who is in his final season with Ducati must have had a point to prove; he qualified third but after a poor start had work to do. His teammate Andrea Dovizioso who was chosen to remain with Lorenzo as of next season, only managed to qualify in thirteenth so his work was also very much cut out for him.
Wildcard Michele Pirro, who replaced injured Danilo Petrucci (Octo Pramac Yakhnich Ducati) for a few rounds, made an appearance at Mugello, his home GP. He qualified ahead of Dovizioso in eleventh position. British rider Scott Redding (Octo Pramac Yakhnich Ducati) managed to over take fellow Brit Bradley Smith (Monster Tech 3 Yamaha) as Dovizioso made his way past Dani Pedrosa (Repsol Honda) and set the fastest lap after lap three. In pursuit of vital points was Maverick Vinales (Team Suzuki Ecstar) who had fell down the leaderboard at the start despite qualifying second on the grid. By lap three he had overtaken Petrucci to gain ninth place.
Marquez needed the championship points
Marquez, who qualified fourth had muscled his way to the front at the start of the race and was in behind the two Yamaha riders. He was gaining advantage from Rossi's attempts to get past Lorenzo which was allowing him to close the gap. Rossi was trying every way to get round Lorenzo mainly at turn one after applying the brakes as late as he could after using the slipdown the start-finish straight. He tried to fool Lorenzo by overtaking on the outside however he went wide.
On the sixth lap Rossi went wide again at turn one, this time Marquez was able to catch right up to the determined Italian but he himself went wide and missed the apex.
Meanwhile, Vinales and Redding were battling on track, Vinales passed Redding to take seventh position but they became distracted with each other and Iannone was able to overtake the two cleanly. Iannone now had Pedrosa in his sights who sat in sixth position.
Disaster for the Italian
Lap nine of his home GP in Mugello and Rossi was forced to sit up, several riders passed him as his M1 started to smoke. As he tried to continue to nurse the bike around the track it blew, the second time this had happened with an M1 in one day. The Italian was forced to retire, he would not win at home again despite all of his efforts and much to the disappointment of his fans.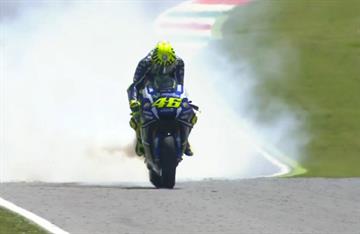 Another retirement soon came, once again for Redding. Again for the Brit, he was forced to return to the pits with a fault with the Octo Pramac Yakhnich Ducati which he has ridden since the start of the season; making this his third DNF so far this season. This is another disappointing result for him despite him having the pace to be competitive.
Things were hotting up at the front
With Rossi now having withdrew from the race Marquez was in pursuit of Lorenzo and by lap thirteen he was right up behind the Spanish 2015 MotoGP Champion. By this stage the two main Ducati riders, Dovizioso and Iannone had made their way up through the pack to third and fourth position.
On lap seventeen, Iannone was looking for a way past his teammate. At the start of the lap at turn one, he attempted to go around the outside of Dovizioso however he was forced to retreat. But later on in the lap, Dovizioso went wide allowing Iannone to slip right past and gain third position. However on the next lap Dovizioso fought back and took back third position. This battle allowed Pedrosa to catch up to the two as the battle changed the momentum for the Ducati riders.
Iannone soon got back past Dovizioso who later went wide at turn one of lap nineteen, this meant that Pedrosa was able to take advantage and he slipped straight through which meant the pressure was off slightly now for Iannone. With three laps remaining though, Pedrosa made his move and overtook the Italian, however on the next lap Iannone retaliated, he wanted that podium in front of his home fans for the last time on an Italian Ducati.
The battles were not over
In the final stages Marquez had caught Lorenzo and was determined to stop the Spaniard from winning and extending his lead in the championship. On lap twenty, Marquez made an attempt to overtake Lorenzo on the inside however he went wide and this allowed Lorenzo to regain the lead for another two laps. However just two laps now remained and as they began the penultimate lap, Marquez benefited from the slipof Lorenzo but again he went wide at turn one.
Marquez nearly came into contact with Lorenzo as they began the last lap and a few corners later he was able to overtake. Lorenzo soon responded and he threw his M1 back past Marquez, he retaliated and the battle continued.
Dramatic finish to the sixth round at Mugello
It was Marquez who led out of the final corner, he was set to take the win with Lorenzo right behind. It still was not over though, and tactfully Lorenzo remained in the slipstream of Marquez until they came to the line, Lorenzo came out from behind and had the power to just get past him and crossed the line just 0.019 seconds ahead of Marquez. He did it again, another win at Mugello and another twenty-five points to extend his championship lead to 115 points, ten points ahead of Marquez in second who only claimed twenty points at Mugello having just had the win stolen from him.
Iannone finished in third position to claim the last spot on the podium in front of his home crowd. The Italian set the fastest lap of the race on lap twenty-three with a time of 1:47.687 which was just under 1.2 seconds slower by the quickest time here set by him in 2015. (The official fastest lap time - completed during a race - is held by Marquez with a time of 1:47.639.) Pedrosa was fourth ahead of Dovizioso and Vinales was the top Suzuki in sixth position.
Smith the fastest independent rider
The highest placed independent rider was Bradley Smith who has managed to turn things around and finished seventh on his Monster Tech 3 Yamaha as the second placed Yamaha in the field. He finished ahead of an emotional Petrucci whose efforts in rehabilitation were focused around being able to compete at his home GP in Mugello.
Aleix Espargaro (Team Suzuki Ecstar) finished in ninth despite being near the front towards the start of the race. He finished ahead of Pirro who was tenth on his wildcard appearance at his home GP.
British rider Cal Crutchlow (LCR Honda) was in 11th ahead of Hector Barbera (Avintia Ducati), Eugene Lavery (Aspar Team MotoGP), Stefan Bradl (Aprilia Racing Team Gresini) and Pol Espargaro (Monster Tech 3 Yamaha) who finished with a shocking result of 15th claiming the last point towards the championship. Hernandez was the only other rider to complete the race in 16th, he was unable to recover time lost through his ride-through penalty for his jump start.
Rabat had to undergo surgery
Rookie Tito Rabat (Estrella Galicia 0,0 Marc VDS) did not compete at Mugello as a crash in Free Practice left him needing surgery on his wrist and so he had to watch the race from his home in Barcelona after successful surgery.