Both Avintia Ducati riders had a "weekend to forget" at the sixth round of the MotoGP at Mugello, Italy as, while Loris Baz crashed out and received injuries so severe he needed surgery and will miss the next round, Hector Barbera seems deflated with the capabilities of the Desmosedici 14.2 GP and is pleading for better machinery.
Difficult weekend and disappointing result for Barbera
Barbera finished in twelfth position at Mugello after a difficult weekend, the highest he was placed all weekend since FP1 claiming four championship points. He now sits in eighth in the championship after a race where he feels "we were not able to show our real potential". So far this season the Spaniard has been very competitive, among factory and independent riders. He has been one of the highest placed independent riders which is evident by the fact he is the second placed independent in the champion, as he is five points behind Pol Espargaro (Monster Tech 3 Yamaha) who is in seventh.
Barbera expresses concerns with current machinery
Since the race Barbera has expressed his concerns with old machinery. Although he mentioned that his crew chief feels results are positive and has reminded him that they are "racing with a two year old bike", Barbera feels that "doing the same lap times that the factory team did in the past" is not enough.
Barbera wants to be on the podium, however he is frustrated that his "rivals have better machinery than them" and so he now feels that "to beat them in fast tracks like this (Mugello) is almost impossible". He appears worried explaining that, "It's difficult to go more on the limit than the factory team and we have reach(ed) the same lap times or even improved them."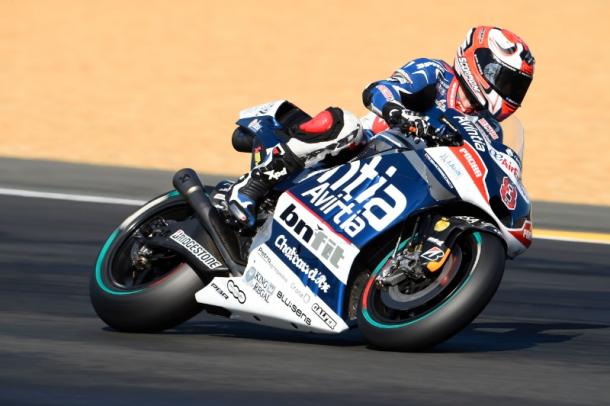 Avintia Ducati achieving results they "could not even dream about"
Trying to remain positive Barbera clarified that he is content with the fact that they "finished another race" and that they are "still the best Ducati in the standings" which he said is "something that we could not even dream with when we started the season". Yet he remained frustrated and exclaimed, "We can't do more with the bike we have and I think that the team and myself deserve to have a chance, because we always want more."
Is he right to be frustrated?
It is understandable why Barbera is so frustrated, as he is currently placed higher than the Octo Pramac Yakhnich Ducati team who run the Desmosedici GP. However, this team have had so many challenges thrown their way so far this season. First Danilo Petrucci crashed and was injured causing him to miss several rounds; he was replaced by Michele Pirro who has since made a wildcard appearance after his success whilst covering for Petrucci during his rehabilitation. British rider Scott Redding has also struggled; he was the centre of controversy concerning tyres as he experienced one delaminating in Argentina. Since, he has collected many DNFs due to faults with the bike.
Ducati currently have four teams competing within the MotoGP, the most out of all of the manufacturers. Both Avintia Ducati and the Aspar MotoGP Team are running with the Desmocedici GP 14.2. In 2014 the bike was ridden by current factory Ducati rider Andrea Dovizioso and Cal Crutchlow who is now with LCR Honda. Dovizioso finished fifth in the championship that year behind the factory Honda and Yamaha teams whereas Crutchlow could only manage thirteenth. Andrea Iannone who was riding for Pramac Ducati at the time managed to place higher in tenth.
The Ducati rider deserves a chance
Barbera's plea is coming at a time when many career paths for the riders have changed. Factory riders have switched teams, Jorge Lorenzo to Ducati, Maverick Vinales to replace him at Movistar Yamaha and Iannone to replace Vinales at Team Suzuki Ecstar. KTM will join the MotoGP in 2017 and Bradley Smith (Monster Tech 3 Yamaha) will make the move to them next season, his teammate Pol Espargaro is rumoured to be joining him. This means that unless Suzuki replaces Aleix Espargaro, or Aprilia Team Gresini make changes, then a factory ride is not available for the Spaniard and so in able to contend with these riders who he has proved more consistent than so far he needs the machinery. Are Ducati expecting him to work miracles? Or achieve something that the factory team were unable to do two years ago?
It is understandable why he is so frustrated and maybe soon he will be provided with a more current bike in order to be more competitive. He will have been disappointed to have only finished twelfth on the Ducati at Mugello in Italy, the home of the manufacturer. Surely it will only benefit Ducati if they trust in the Spaniard and give him the opportunity to develop on a more current bike. Imagine the effect it will have on the race…