Tensions have been building since last season surrounding the MotoGP, following rivalries that were re-ignited and new ones that developed.
What does it mean to be a biker?
I have witnessed on several platforms of social media, different videos and images that portrayed emotions of hatred towards several of the riders. Being part of many 'bike groups', or following these pages has opened my eyes to the world of 'bikers'; or should I say exposed me to 'bikers' that I never thought existed, traits that I was probably too naive to see before.
Great to be part of the biking family
Being the daughter of a former club champion racer, I grew up wanting to chase my father, Norman Overend, through North Wales; something I regularly cross off my bucket list nowadays. I have spent all of my life around motorbikes and attended many local race meetings as a spectator and an official (unfortunately not a competitor).
Maybe it is because they have known me since I was young, but all the people at these meetings have always helped to make it such a good atmosphere, supportive and friendly, and the likes of Aintree Motorcycle Racing Club is like a little family to me.
There were and still are rivalries which were no more than a bit of good, strong competition, and tales told of how a bike may have been unfairly modified for example, yet at the end of the day everyone was there for the racing and the welfare of all those there was key. Nobody wanted anyone to be hurt no matter what may have gone on in the past. We are all there for the love of the sport.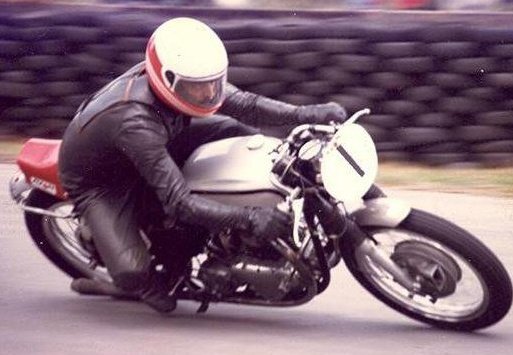 Now I always presumed this extended to the more elite classes rather than just club level. Social media confirmed this to me in a way as riders would exchange these tales, memories and jokes for all the fans to see. The fans, I thought, would watch in admiration and laugh along as if they knew the riders on a personal level - maybe this was just me.
Come to the MotoGP class and I always thought 'bikers' of all types would admire these people. Yes, they have much bigger stakes which means more competition and understandably more rivalry, but what I have seen which has exaggerated a lot recently and it is disgusting.
Significant events have tarred the sport
Competition has heated up, riders who were once friendly and expressed their joy of riding alongside their idols, now barely make eye contact in parc ferme as previous events have formed 'barriers', probably not helped by the media.
When I was younger, I would watch in awe when I saw these riders whizzing around a track. I did not understand how hard it was to achieve what they are doing until I learnt to ride myself. Trying to master my favourite roads in North Wales following in my father's tyre tracks, (and wondering does he ever brake), I would think how the hell are all of these people making it look so easy at much higher speeds.
There are different risks involved on the track; at club level or elite levels especially in the MotoGP, the riders are achieving amazing things. As bikers we are all aware of the risks when taking to two wheels, and surely everyone who watches the MotoGP can see how brave and heroic the riders are as they reach the highest speeds possible as they try to find 'the limit'. The only way to discover 'the limit' sometimes is when they are hurtling into the track's safety areas, with only leathers with airbags and a helmet to protect them from impact, and to prevent serious injuries or possibly even worse.
The cause of all the recent behaviour
A lot of the fans' behaviour recently has evolved from Sepang GP 2015.
Valentino Rossi (Movistar Yamaha) forced Marc Marquez (Repsol Honda) wide, he in turn tried to lean in to still make the apex leaning on the rear of Rossi's M1 who nudged his Honda off him to avoid. Rossi did not touch the rear brake of Marquez. Think of the speeds they ride at, he would have to be pretty accurate to achieve something like that. Marquez crashed instead of picking up his bike and losing momentum, Rossi still had some of the extra track left and used it to make the turn and continue in the race.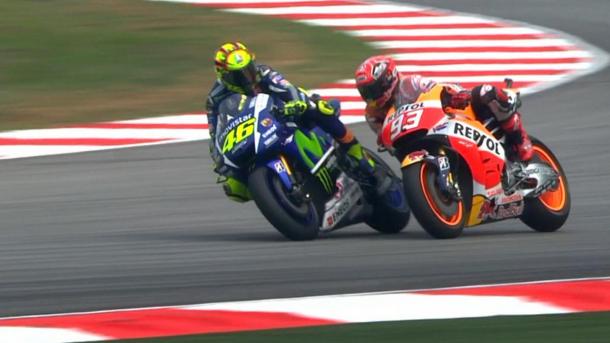 Following on an appeal was made by Resol Honda to have Rossi penalised. His penalty was so severe, probably made worse by demands made by his own teammate Jorge Lorenzo (Movistar Yamaha) who felt his input was needed in the officials' office after the race. Rossi had to start the final championship-deciding race from the back of the grid, despite finishing fourth Lorenzo won the race and the championship; some say it was won off the track when it should have been left to be decided on it.
Many feel the penalty for Rossi was too harsh and undeserved. Rossi should not have forced him out, he admitted that himself, but what happened afterwards was out of his control. 'Rubbing is racing' and Marquez was not penalised for his actions in what could be considered to be much more dangerous incidents than in Sepang that could have caused injury to both riders.
MotoGP riders – the superheroes of the biking world
Anyway, back to the point, which is that everyone who calls themselves a 'biker' should admire each and every one of the riders on that track. Everyone has their favourites, but you must respect and appreciate every single one on that track no matter where they finish; they are the best in the world and are doing an amazing job, they all deserve the applause.
So maybe some of these fans who are displaying ludicrous behaviour are not 'bikers'. Maybe they have never even sat on a bike never mind ridden one. To create a 'dummy' of a rider and torch it beside the track is such disgusting and vile behaviour it makes me wonder why they are there.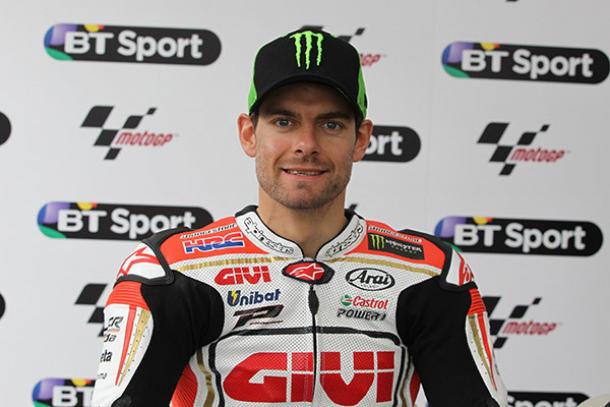 To point out that a certain rider falls off all the time and does not deserve the seat, and to mock and ridicule them as they walk away after unfortunately discovering 'the limit' was before they expected, is so disrespectful. These people should ask, can they do what that rider is doing? If they can do better, then why are they not there doing it?
This is a point that was emphasised recently by Cal Crutchlow (LCR Honda), one that he had every right to make and one he made well. There are more 'keyboard warriors' than ever out there that are quick to type abuse, even with the audacity to do it straight to the riders no matter how big their accident may have been, no matter what the damage to the bike and the rider was, but are they really fans if they can criticise these people who are in fact risking their lives?
Rossi the 'Marmite' of MotoGP?
Valentino Rossi is a MotoGP legend. The Italian has claimed the title of world champion in several classes nine times in his career. He learnt from some of the best; he worked closely under the guidance of Australian legend Mick Doohan. He has a huge, magnetic personality and has done a lot for the sport. Like him or hate him you have to admit that he has achieved so much and made things interesting. He has helped to promote, make sales and to turn the sport into what it currently is.
At Mugello, Italy, the home GP of Rossi, the place was surrounded by a sea of yellow; fans, flags and flares all dawned in yellow creating an amazing atmosphere. Deep in the sea of yellow fans though, some of those there were acting extremely unacceptably, almost like hooligans in football. However I do not feel that this small minority of attendees are a fair way to judge the rest of those there, the rest of those showing their allegiance to 'The Doctor'.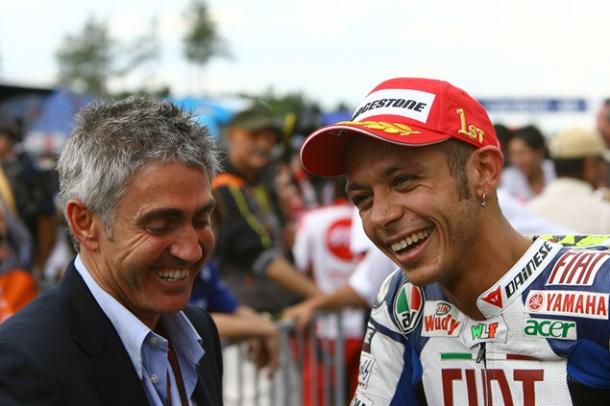 What is the sport coming to?
Unfortunately, the name 'Valentino Rossi' and the fans associating with him are getting a bad name. Some MotoGP fans who favour other riders refer to him as 'Rosie', describe him as a 'bully' (to use a kinder word) and these people are under the impression that Rossi fans are deluded and falling for some form of conspiracy theory that Rossi is in control of the MotoGP.
There are rumours that Marquez and Lorenzo were to absurdly receive bodyguards for the race meeting at Mugello to protect them from the 'fans'. Is this seriously what this has all come to?
Some people are calling to Rossi to plea to these 'fans' to stop the behaviour. They should not be jeering when other riders are announced or when they make it onto a podium. Yes, their favourite may not have won, and yes there is a history of a series of events where they feel their favourite was unfairly treated, but did they not just see what that rider did to achieve that spot on the podium?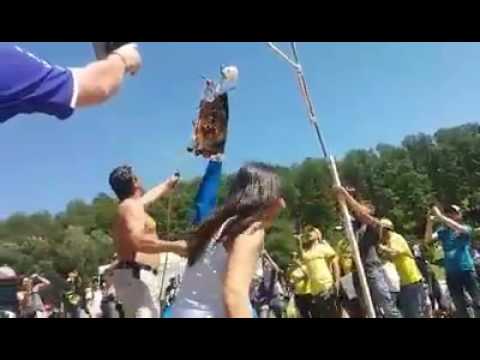 Is it down to the man himself?
What affect will Rossi acknowledging and addressing these people have? Are they really 'fans'? Should they be associated with him? Or are they just hooligans who happen to be donning a yellow '46' and are 'jumping on the bandwagon' to hurl abuse at riders and ignore the fact that they have just achieved something just as great as their 'hero'.
Should Rossi have to accept responsibility of the behaviour of these 'fans' who probably have no idea what it means to be a 'biker'? What if he did say stop does this mean that all the non- Rossi fans will start to respect him?
I personally think it is unfair. That man is going out there and doing his job, he is risking his life just like all the others. He has many fans worldwide and I am sure he too does not appreciate and/or condone the behaviour of those acting like this in his name. So why should he mention them? He cannot guarantee this will not encourage them even more if he acknowledges them. They may respond even worse after receiving attention from the person they claim to be a fan of.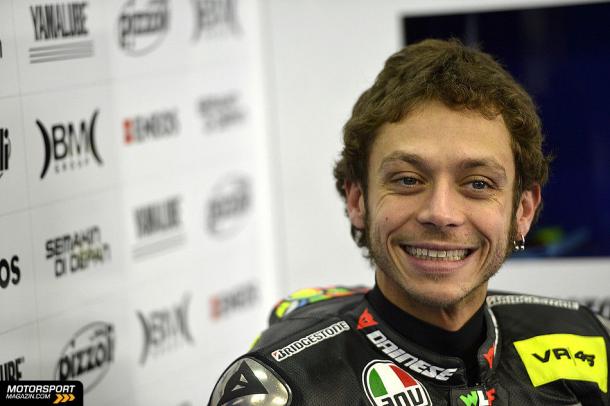 Will things change?
My favourite may not even win; he may not even finish. He may have done something I do not agree with but, after following the sport for so long, I accept that sometimes 'rubbing is racing'. It does not make me hate another rider, or wish that something extreme happens to him. No-one should want to see a rider hurt, they are doing this partly for our entertainment after all.
BT Sport Presenter Gavin Emmett recently dedicated a part of a recent broadcast to the reception fans are giving certain riders. His efforts seem to have fallen on deaf ears, or maybe it did not reach those it was aimed at. However he and the rest of the presenters, and those they have interviewed, have also expressed their fear, disgust and highlighted the lack of appreciation shown towards the riders by certain fans.
Yes I want my favourite to win, and I want him to get the title, but no matter what the result I will always admire each and every one of them. I will always respect them and be amazed by what they have just achieved. I do not condone the behaviour of some of these 'fans' and I do suggest they have a decent think about what it means to be a 'biker'.
There is enough footage going around that is clear enough to identify those involved and, in my opinion, they should be stopped from attending the sport and given a possible lifetime ban, like in other sports, as an indication that this behaviour is not condoned.
The jeering needs to stop, the 'banter' should remain as banter, what can be seen as threats to those who are simply doing their job needs to stop. Let's be a biker family again.