More announcements were made concerning riders' contracts ahead of the seventh round of the 2016 MotoGP season at the Catalunya GP at the Circuit de Barcelona, Spain. Marc Marquez (Repsol Honda) confirmed his contract extension of two years with his current team, and the Espargaro brothers spoke about their futures ahead of their home GP.
Marquez renewed contract with HRC
Prior to the press conference Marquez announced a renewal of his contract with HRC; it has been extended by two years which will see him through to the end of 2018. Describing the "very strong relationship" he has with them, he spoke of how he "always wanted to continue being a part of the Repsol Honda Team".
The 23-year-old has been with the team since 2013 when he claimed the MotoGP title in his rookie year, and he spoke of how since their collaboration they have "enjoyed some unbelievable moments". Memories he described as "great victories" and "a few challenging moments", as well claiming two world titles he feels this has made them "stronger".
Marquez feels it is a "great honour to be a part of the Honda family" and that he is "glad to remain with this special group of people for another two seasons". The Spaniard has been very open about how they are finding it difficult to get to grips with the acceleration of the Honda among other problems and ahead of the press conference he spoke of how they are "working very hard this year to regain the title".
At the press conference he spoke of how he was happy to announce his news ahead of his home GP and that his "heart is in Honda" and speaking of his agreement he said it was "the best option and the best feeling".
Marquez happy with position ahead of seventh round
At the press conference the riders discussed was how close the 2016 championship has been so far. Marquez spoke of how he was "really happy" to find himself in second in the championship, he joked about how he would "honestly" prefer to be first. Despite being second he is happy to find himself just ten points being Jorge Lorenzo (Movistar Yamaha) as the team's target heading to the seventh round of the MotoGP was to be within twenty-five points. As well as looking forward to racing in front of his home crowd, he is enthused by the test day on Monday at Catalunya where he hopes to improve saying, "Like last year we can do another step."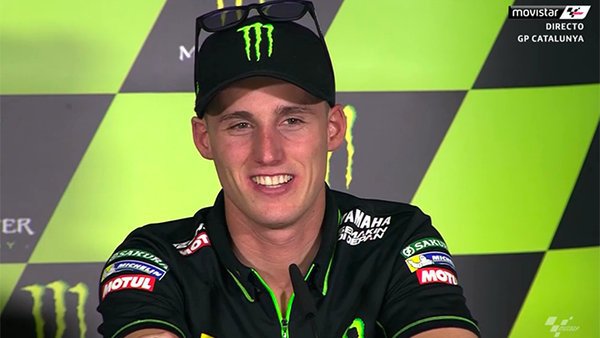 Pol Espargaro to join KTM
Announcements were made before the press conference concerning local rider Pol Espargaro (Monster Tech 3 Yamaha). Yamaha first confirmed that they will be parting ways with the 24-year-old via a statement on their website.
Then prior to the conference he announced his move to KTM along with his current teammate Bradley Smith. Quoting "Life is for the adventures and for the ones who trust in something that is not working," Pol was describing how his "winning spirit" is overcoming his comfort at Monster Tech 3 Yamaha and that he feels the need to go to a factory bike where he can once again compete with the ones he used to beat when racing in the 125cc and Moto2 class.
Pol said, "The guys I was fighting and beating some times, now they're beating me by 20 seconds; at the end I want to show that I can do it." He feels the solution to this is to "go to a factory bike" and today he confirmed his new contract with KTM when they join the MotoGP next year. Pol confirmed he did have other offers but nothing was apparently as good as that offered by KTM, he said, "I will have the full support of a factory, it's one that is winning everything in dirt, everything in the Moto3."
He was very complimentary about his future team describing "everything they do" as "amazing" and speaking of his trust in them. He feels "it's going to be hard to arrive in the top ten" however he remains confident as they "have intelligent people working for them".
End of the road for Pol and Tech3
Also speaking highly of the Monster Tech 3 Yamaha team he said, "All the guys give me the best they have, but sometimes this is not enough." Not wanting to cause any offence to his team, he spoke of how they "need something more" but that they find themselves "fighting for small details which are not so important at the end of the race".
Admitting he feels 2017 will be "difficult" he remains confident in his teammate when it comes to progressing the KTM as he feels they have a "good relationship". Speaking of how they were able to "develop an amazing bike in Suzuka in two or three days of test" he is confident that their "two very different styles" will mean they can develop the KTM into a strong and competitive bike.
Meanwhile with the Tech3 team, they will be testing the tubular chassis to see its effectiveness; an addition he feels is important as otherwise it means they will "struggle so much". Pol spoke of how he prefers "a slow bike that is good in the corners than a fast bike on the straight and impossible to manage".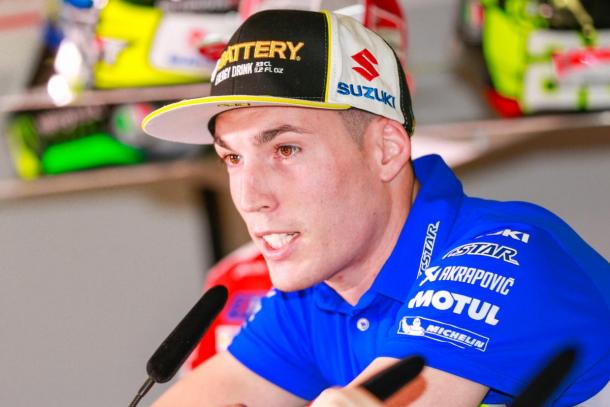 Aleix expressed how upset he is with Team Suzuki Ecstar
Pol's brother Aleix Espargaro (Team Suzuki Ecstar) was present at the official press conference where he has expressed his disappointment with his current team recently and has indicated that things are not good in the paddock. He described the last round of the MotoGP season at Mugello as "difficult" and has said that there he "realised" that he was "not as important in Suzuki" as he previously thought.
Jorge Lorenzo (Movistar Yamaha) is moving to factory Ducati next season and Aleix's teammate Maverick Vinales will replace him at Movistar Yamaha. In order for Lorenzo to join Ducati they had to get rid of one of their riders and Andrea Iannone was the one to lose his seat.
Straight away, Suzuki seized the opportunity and offered Iannone a contract which he jumped at. This helped Aleix decide to "maybe move to another place" and he said he will "try to go somewhere where they really love me, they really want me" as he feels this is the "most important thing" as he has since felt rejected by the team for not including him in structural changes in the team.
Aleix was not hesitant in expressing how upset he was in the fact he feels that Suzuki are not appearing keen for him to remain with them after the end of the season; despite the fact he is currently sixth in the championship after six rounds and that he "not so far from Pedrosa in fourth".
However, the Spaniard said, "I'm really grateful to Suzuki for the chance to be a factory rider for the first time, but I feel upset more than angry because two years ago the bike was not working, very slow." As well as the team working "very hard", he feels he did too and he feels the results are "not bad".
Aleix said, "Everybody knows my priority is to stay in Suzuki" indicating that it is Suzuki that is stalling in renewing his contract with them. He also highlighted that he will be "grateful" as he appreciates having spent a "fantastic two years" with such a big brand. In an attempt to try and win them over he is determined to "fight for the podium" as he tries to enjoy the rest of the season.
No more MotoGP for Aleix?
Although he would like to remain with Suzuki it seems, Aleix spoke of how Aprilia have shown an interest in him, and he confirmed that he has "very good options in Superbike". Following a whirlwind of emotion surrounding his future he admitted that he started to talk with different teams in Mugello. He said, "The most important thing is that I will go somewhere where they show me that they really want me and I'm important to them," as he feels it is "important to enjoy your life and be happy".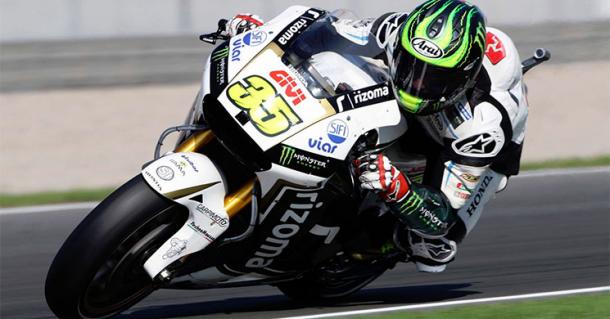 Crutchlow hopeful to remain where he is
Also unsure about his future, Cal Crutchlow (LCR Honda), who was not present at the press conference ahead of the Catalunya GP, spoke of how is "priority is to stay with Honda" as he is unsure of whether his sponsor Lucio Cecchinello will remain with the manufacturer in the future having just switched from Ducati for this season. Crutchlow has declared he will honour his contract with Cecchinello and he is hoping that the successful relationship between his sponsor and his manufacturer will mean he will be able to remain in his current situation for longer; which is riding for LCR Honda.
Unable to speak about the future, as decisions have to be discussed between Cecchinelo and Honda, Crutchlow turned his attention towards the seventh round at Catalunya, a track he feels should suit them. He feels they have a good tyre allocation and high track temperatures may enable him to use the hard front tyre option. He is hoping to gain a better result as both he and his sponsor agreed it was the wrong decisions to run different brakes in Italy as they became too hot.
Describing the way he and his team "work together as a unit" as they "make decisions all together" and that they "don't shout at him" when he may sometimes crash the bike, he said, "I'm happy with the team and with Honda so I'm looking forward to this one" when referring to the race set to take place on Sunday.