Ongetta-Rivacold rider Niccolo Antonelli rider set the marker for the Moto3 class to beat ahead of the seventh round of the season at the Catalunya GP, Spain this weekend. The Italian was the only rider to lap below 1:52 minutes after the first Free Practice session of the weekend aboard his Honda.
Riders close to lap record already
The best ever lap at Catalunya (1:50.137) was set by Enea Bastianini last year, however it is Efren Vazquez who has the official circuit lap record here with a time of 1:50.606. Antonelli's time is just over a second slower than the record however coming this close during the opening session is an amazing achievement and shows that there are exciting things to come.
Romano Fenati (Sky Racing Team VR46) was just outside the 1:52 minute barrier with a time of 1:52.030 which was just 0.301 seconds slower than that set by Antonelli. He was the fastest KTM at the end of FP1 ahead of record hold Bastianini (Gresini Racing Moto3) and Jakub Kornfeil (Drive M7 SIC Racing Team). Fenati's teammate, rookie Nicolo Bulega finished fifth fastest; their teammate Andrea Migno unfortunately did not experience such success as his bike was one of four that seemed to experience mechanical issues during the session.
Mechanical faults for several 250cc machines
Joan Mir (Leopard Racing), Jorge Navarro (Estrella Galicia 0,0) and Stefano Valtulini (3570 Team Italia) all required assistance from the circuit's Marshals as they broke down at various parts of the track. Mir's problems came early on and smoke was seen emitting from the exhaust of his KTM.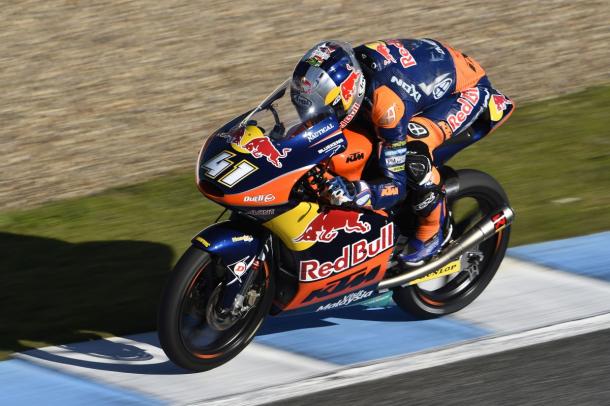 Championship leader Brad Binder (Red Bull KTM Ajo) was sixth fastest at the end of FP1, 0.763 seconds slower than leader Antonelli. He finished ahead of Spaniard Aron Canet (Estrella Galicia 0,0) and Francesco Bagnaia (Aspar Mahindra Team Moto3) was the fastest Mahindra in eighth.
Turn nine was proving difficult for several riders at the Circuit de Catalunya during Free Practice 1. Once again riders, including Khairul Pawi (Honda Team Asia) who finished ninth fastest, had lap times cancelled for overuse as they were forced to use the run off areas frequently as they pushed. Bagnaia's teammate Jorge Martin completed the top ten at the end of FP1.
Antonelli continues to lead after Free Practice 2
It was quiet second free practice session for the Moto3 class as the riders remained focused on reducing the lap times. Navarro overcome his technical fault in FP1 and was able to get back out on track and set the fastest time of the session of 1:51.511 until Antonelli in the final few minutes managed to beat this by 0.261 seconds setting the fastest time so far this weekend of 1:51.250.
Challenging turn ten the source of several incidents
Turn ten was proving challenging for the riders as both Philip Oettl (Schedl GP Racing) and Pawi both struggled to get around it. Midway through the session Oettl was forced to dangle his left foot on the inside of the turn as he tried this best to stop the bike before running into the gravel trap. He narrowly missed the tyre wall as he managed to turn just before and make his way back onto track after saving it from falling.
Later on Pawi made a great save at the same turn. He wrestled his Honda around the fast and tight left handed corner determined to not let it give way from underneath him. With just a few minutes remaining Navarro became the latest victim and he found himself in the gravel trap at the same turn.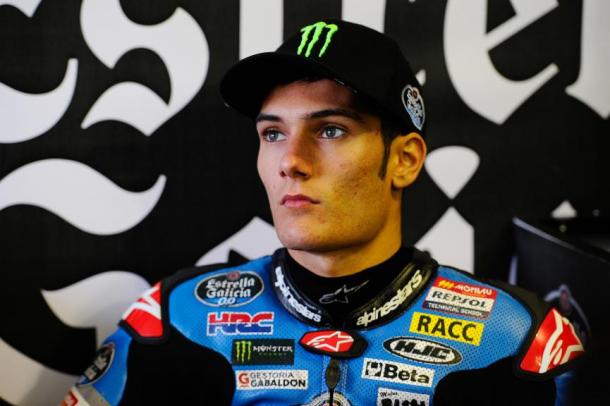 Five riders now lapping under 1:52 minutes
Brad Binder was flying towards the end of the session and was fastest in the first two sectors; unfortunately for the South African he would lose time due to traffic, a problem many riders find an issue during the sessions building up to the race and so he had to settle for third behind Antonelli and Navarro as the fastest Honda.
Hiroki Ono (Honda Team Asia) progressed up to fourth fastest ahead of Jules Danilo (Ongetta-Rivacold); these were the only riders able to lap under 1:52 minutes so far this weekend in this class. Juanfran Guevara (RBA Racing) managed to reduce his previous times significantly whilst Migno overcome his issues in FP1 to finished seventh fastest ahead of his teammate Fenati and Pawi finished ninth fastest having improving his previous time by almost one second.
Eleven riders within one second of Antonelli
Aron Canet, Bastianini, Fabio Quartararo (Leopard Racing) and Gabriel Rodrigo (RBA Racing Team) completed the list of riders who finished within a second of leader Antonelli. Bulega was just outside this finishing fourteenth fastest ahead of Kornfeil, Bo Bendsneyder (Red Bull KTM AJO) and Joan Mir (Leopard Racing).
Bagnaia was the fastest Mahindra rider with the Aspar Mahindra Team Moto3 in seventeenth. Some big names remained further down the timesheet including Fabio Di Giannantonio (Gresini Racing Moto3), Andrea Locatelli (Leopard Racing) and Jorge Martin (Aspar Mahindra Moto 3).
British rider John McPhee (Peugeot MC Saxoprint) was the faster of the Peugeots in twenty-seventh. The only female in the class Maria Herrera (MH6 Team) finished thirtieth fastest despite finishing fourteenth in FP1. Wildcards Albert Arenas (MRW Mahindra Aspar Team) and Davide pizzoli (Procercasa – 42 Motorsport) finished twenty-third and twenty-fourth, meanwhile the other wildcard riders for 3570 Team Italia, Stefano Valtulini and Lorenzo Petrarca remained at the bottom of the leaderboard.