Tragically during the second Free Practice of the Moto2 class at the Circuit de Barcelona on Friday, #39 SAG Team rider Luis Salom lost his life after crashing at turn 12 of the Catalan circuit. Medics did what they could do to save him after his 'rare' crash at that corner but his injuries were too serious despite their best efforts.
Salom's family gave their blessing for racing to continue, and following a Safety Commission meeting that day, changes were made to the track layout to prevent further incidents; turn 10 was made tighter and the original turn 12 was bypassed and a chicane added so the run off was extended.
The remainder of the weekend was highly emotional and intense, understandably, as the riders returned to the track to finish the meeting off in Salom's memory. All of the riders had their own individual tributes as a sign of respect to their fellow competitor and remained determined to put on a good show in his honour. After the warm-up on race day before the main events were underway, the paddock took to the grid to complete a moment's silence.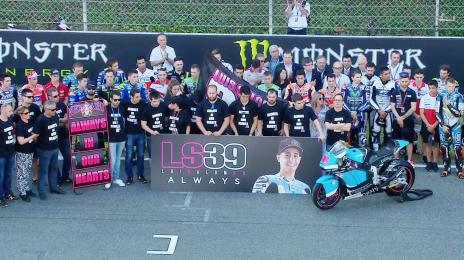 The race got underway
Thomas Luthi (Garage Plus Interwetten) got an amazing start from third on the grid and led into turn one ahead of Takaaki Nakagami (Idemitsu Honda Team Asia) and Alex Rins (Paginas Amarillas HP 40). 2015 Moto2 Champion Johann Zarco (Ajo Motorsport) was swallowed up at the start despite starting from pole but managed to recover and claim third position; he attempted to claim fourth but went wide.
Luthi led ahead of Rins, now Zarco and Nakagami. Rins was all over the back of Luthi who has struggled with the new final sector of the circuit since the changes were made on Friday. This played into the hands of Rins who was able to take the lead when Luthi went wide, the Swiss rider also lost a place to Zarco who reacted to his mistake. Instantly Zarco looked settled on the track as he pursued Rins who now led. Rins looked unsettled though and unable to find a rhythm as smooth as Zarco's.
First crash of the race
On the second lap Xavier Simeon (QMMF Racing) crashed out at turn four of the track as he entered the turn. Fortunately he was not hurt but was unable to re-join the race. Meanwhile during the same lap Lorenzo Baldassarri (Forward Team) managed to pass Nakagami in the final chicane to. It was three abreast into the corners as the two battled with Simone Corsi (Speed Up Racing) as they battled for sixth place. The lead group of three riders, Rins, Zarco and Luthi, had started to break away and developed a one second lead ahead of duo Hafitzh Syharin (Petronas Raceline Malaysia) and Alex Marquez (Estrella Galiicia 0,0 Marc VDS) who chased them.
Corsi, Baldassarri and Nakagami continued to battle ahead of British rider Sam Lowes (Federal Oil Gresini Moto2) until the final sector wreaked havoc among the riders. As they went through the chicane Corsi was forced to make a mistake as the road disappeared ahead of him when Baldassarri made a block pass. The line left for Corsi became very tight and he was forced up onto the curb which made him wobble and he had no choice but to avoid the turn. He ran straight into the gravel taking Baldassarri with him and crashed out. Corsi's race was over, but Baldassarri was able to rescue his bike and re-join the race. The incident was under investigation by Race Control but they decided that no further action was to be taken.
More difficulties for Luthi
Lap five saw Axel Pons (AGR Team) pass Dominique Aegerter (CarXpert Interwetten). By the next lap, Luthi had fallen off the back of the lead group as Zarco chased Rins. Morbidelli overtook and gained 10th place from rookie Miguel Oliveira (Leopard Racing). Sandro Cortese (Dynavolt Intact GP) then had to retire from the race due to a fault with his bike after a difficult crash filled weekend.
By lap eight Rins was looking untidy and seemed to be running too deep into corners, it did not help that Zarco was there applying constant pressure to the Spaniard. Marquez soon made his way up to fourth as he passed Syahrin but was still receiving pressure from the Malaysian. Lowes was now in sixth place and appeared to be closing in. Lowes soon lost a place to Nakagami however both still continued to close in on Syahrin.
British rider Kent forced to retire
Unfortunately for British rider Danny Kent (Leopard Racing) he was forced to retire from the race during lap eleven. He was experiencing issues with the rear brake and when he re-entered the pits he and his team discovered damage to the rear brake disc and pads from an object; they thought a stone may have gotten in.
After seemingly turning things around with his Kalex and improving his performance after a poor start to the season, Marquez crashed out at the new tighter turn ten on the 12th lap. The front had tucked under him and he slid off, however due to the changes he slid and was able to pick the bike up and re-join the race in 23rd position. Ratthapark Wilairot (Idemitsu Honda Team Asia) then crashed out at the same turn on the following lap, he remounted but was forced to retire later in the race.
Nine laps remained and Nakagami passed Syahrin at turn 10 to take fourth at the same time Jonas Folger (Dynavolt Intact GP) passed Oliveira to claim eighth position. Luca Marini (Forward Team) then crashed out at turn fifteen and Aegerter crashed out from seventh at turn nine, fortunately both riders were unhurt.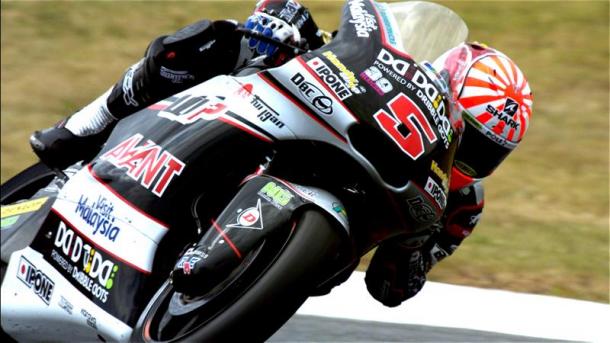 Zarco took the lead ahead of Rins
On the 16th lap, Zarco finally overtook Rins at the start of the lap to take the lead. At the same time Nakagami passed Luthi neatly on the inside of the left handed corner of turn five; Luthi soon found himself in more trouble as Syahrin looked to do the same. Luthi soon retaliated and used the slipon the start-finsh straight to regain third from Nakagami, but then Nakagami returned the favour and stole third back.
On the penultimate lap Zarco still led but now by over 1.5seconds. Xavi Vierge (Tech 3 Racing) crashed out from fifteenth, he was able to re-join. On the last lap Syahrin made his attack on Luthi, he overtook near the start of the lap. Luthi initially struggled to retaliate but eventually did however Syahrin regained fourth as the battle continued. Zarco won over four seconds ahead of Rins who was followed by Nakagami and Syahrin. Luthi finished fifth ahead of Lowes who was left out on his own. Folger came in in seventh ahead of Oliveria, Pons, Schrotter and Morbidelli who completed the top ten.
Matia Pasini (Italtrans Racing Team) finished 12th ahead of Julian Simon (QMMF Racing Team) as the highest and only finishing Speed Up bike, Baldassarri who made it back up to 14th after his crash and wildcard Remy Gardner (Tasca Racing Scuderia Moto2), son of Wayne and replacing Tonucci, claimed the last championship point available in his debut, finishing 15th.
Vinales was the highest placed Tech3 rider in 16th ahead of Edgar Pons (Paginas Amarillas HP 40), Marquez, wildcard Ramdan Rosli (Petronsas AHM Malaysia) in 19th ahead of Vierge and Mulhauser.
Subdued and emotional tributes to Luis Salom overcome celebrations
Understandably the Moto2 field did not feel like celebrating though and the riders decided to make tributes to the fellow rider Salom. Zarco chose to ride to turn twelve were Salom lost his life where he completed a burnout, kissed his hand and pointed to the sky to dedicate his race to the young Spanish man. He returned to the paddock clearly emotional and even closed the visor on his helmet to avoid the on-board camera. Rins completed his touring lap with a Luis Salom #39 flag that he waved; he took the flag to the podium with him and raised it with the trophy he was presented with for finishing second.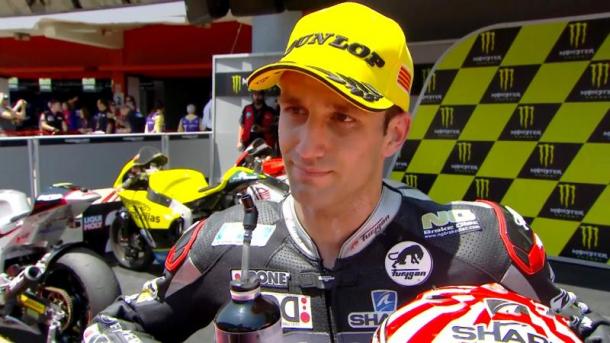 It was an extremely emotional and subdued atmosphere in parc ferme where celebrations extended no further than hand-shakes as people were too upset and chose not and probably struggled to do more as a mark of respect. The three podium finishers were wearing black t-shirts that read "always in our hearts" and Luis Salom decals. As the national anthem played the three top finishers stood in unison on the top step full of emotion because of Salom. A moment's silent was also held on the podium as a final mark of respect.
It was a very dignified and respectful end to a tragic and extremely difficult weekend for the Moto2 class. Luis Salom was an amazing talent and a much-loved personality in the paddock. The youngster who had a bright-future ahead of him will truly be missed by all those who knew him and followed his career. Our thoughts are with Salom's family, team, and friends at this very sad time. Rest in Peace Luis Salom #39 #Mexicano.