With a weekend surrounded by tragedy, it was clear that everyone's minds were preoccupied after Luis Salom lost his life during Moto2 Free Practice 2 on Friday.
Safety precautions in place after Salom's death
As a result of his death, a Safety Commission meeting took place and the track was changed to slow down riders at turn ten by making the turn tighter.
Also, the 12th corner of the track - where Salom crashed and lost his life - was bypassed and a chicane was included in the lap, so that if riders missed their point on the turn they had an extended run off area as the road was available.
Things went from good to bad for Lorenzo
Jorge Lorenzo (Movistar Yamaha) created a lot of bad energy around himself following the design to change the lap. Riders took to the track to complete an extended final Free Practice session and qualifying the following day.
The Spaniard found things a lot tougher at his home circuit and after leading at the end of day one, he found himself in sixth after FP3 and 14th after FP4. However he managed to turn it around and qualified second on the grid behind Marc Marquez (Repsol Honda).
Lorenzo expressed his worries in the press-conference that followed the sessions, and people did not take too kindly to it when he said he would have been present at the Safety Commission meeting had he known they were going to change the layout of the circuit.
Other riders were angry at this, stating that everyone is aware that the meeting takes place at the same time on the same day and they meet in the same place at each circuit every round. The Movistar Yamaha M1s struggled with the new chicane in the final sector and so they had to look at altering the gearing to still be in with a chance during the race.
Tough race from the start for the 2015 Champion
Race day and Lorenzo led into the first corner, and led for several laps until his teammate Valentino Rossi (Movistar Yamaha), who was quickest in the morning warm-up session was on his tail. After a bad start where he was 'swallowed up' by several Ducatis and the Suzuki of Maverick Viñales (Team Suzuki Ecstar) Rossi pushed and pushed until he made his way to the front, he overtook Marquez and it was not long until he got Lorenzo.
Lorenzo clearly in trouble
Lorenzo was struggling. His tyres were degrading a lot and he struggled to stay near the front. Marquez got him, then Dani Pedrosa (Repsol Honda). Then it was not long until Viñales, who will be taking Lorenzo's seat at Yamaha when he moves to Ducati next season, robbed fourth position from him. Highly unusual for Lorenzo; he was going backwards and things were about to get worse as his tyres continued to wear.
Then along came Andrea 'The Maniac' Iannone (Ducati). He too had struggled in the race, as he did all weekend, and he appeared to be holding up those who were behind him. However he was faster than Lorenzo and soon caught him. Nine laps remained and Lorenzo was approaching turn ten, something was wrong. He appeared to take the corner slowly, probably due to the lack of adhesion between the tyres and the hot tarmac that had become slippery. Iannone approached the corner too hot though, and the combination resulted in disaster.
Iannone was about to miss the apex, as Lorenzo teetered round and unfortunately they came into contact. Iannone crashed into the rear of Lorenzo scooping him up and off into the air and both landed in the gravel trap. Both of them were out of the race, both were annoyed, both of them felt the other was to blame. Fortunately they both were able to walk away, though Lorenzo appeared to have hurt his foot as he limped away, unwilling to listen to what Iannone had to say.
This is not the first incident like this that Iannone has been involved in, as he previously did similar to his teammate Andrea Dovizioso earlier in the season. However Lorenzo was angry, he had lost championship points and straight after the race bombed it to Race Control via scooter to complain about the Italian and demand he was penalised.
Iannone returned to his pits were his team were clearly not happy with him. Have things gone sour since Lorenzo signed to join Ducati and Iannone has to leave to make room for him?
In the blue corner…
Lorenzo felt it was "unbelievable" that the Italian "made this mistake again". He was annoyed as "instead of saying "sorry"", when he spoke to the Lorenzo immediately after the incident, Lorenzo said Iannone "asked me if I had an engine failure or something strange happened in this corner".
The Spaniard felt "it was his (Iannone's) fault" and seemed shock as instead he "had this reaction and didn't say sorry". Lorenzo said, "There is always one rider that doesn't understand the risks and that his actions can seriously injure the other riders and if Race Direction don't give him a hard penalisation, like they did with me in 2005, these kinds of riders don't understand that they have to change their mentality."
As a result of the incident, Iannone has been penalised and will have to start the race at the next round at Assen from the back of the grid. However Lorenzo feels this "is not enough" as he thinks that "in five to seven laps he will be positioned at the front again due to his pace".
In the red corner…
Although Iannone has apologised by saying, "I am very sorry what happened with Lorenzo," he does not feel that he is to blame. The Ducati rider spoke of how he was "doing a good race with the limited grip" he said he had, and previous to the incident he felt he was "riding well and pushing hard without making any errors" and was happy he was able even to catch Lorenzo.
Describing the incident, he felt that he "could do nothing to avoid it". He claimed that he "braked at the same point as all the previous laps" but he also felt that Lorenzo "was very slow at that moment" and went on to say, "unfortunately I made contact with him and we both crashed".
Defending himself he said: "It might seem that I came in too fast and that I wanted to pass him but that's not the way it went and we got the confirmation of this by analyzing the telemetry data."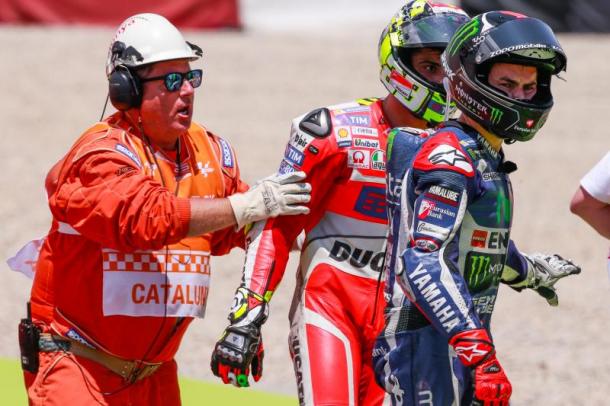 Who was to blame?
So who was to blame? Iannone is the one who has been penalised as this is the third incident of a similar nature that he has been involved in so far this season; each time he has been the one behind hitting the rider in front, he has also apologised.
He is known as 'The Maniac' as he takes a lot of chances on track. But Lorenzo was struggling, it was clear from Saturday morning that he was, it was clear from the start of the race he was. The 2015 World Champion is rarely seen travelling backwards down the leaderboard like that. Should he accept some fault too?
After a weekend like that in Spain filled with such sorrow though, as Lorenzo said: "Everything is secondary after what happened on Friday".