Eighteen out of the 21 riders remained at the Circuit de Barcelona in Spain the day after the seventh round to participate in the second and final in-season testing at the circuit.
Riders continued to practice on the Formula 1 layout of the trak that was changed following a Safety Commission meeting that took place after Moto2 SAG Team rider #39 Luis Salom lost his life at turn 12 during Free Practice Two on day one of the meeting.
Tyres were again the main priority in testing as tyre manufacturers Michelin who are supplying the MotoGP with tyres this season brought several new options with different compounds and structures to test. Riders also worked on electronic settings within the ECU and some riders tested a new chassis and looked at increasing grip in the rear tyre and acceleration and decceleration in and out of corners.
Track changes increased lap times
The changes to the track came in time for the third Free Practice session that was extended to allow riders to become familiar with the new layout; the changes which included a tighter turn ten, turn 12 bypassed and a chicane added meant a three second increase to the lap times.
Over the race weekend the fastest lap, discounting those set on day one before the changes, was set by Marc Marquez (Repsol Honda) with a time of 1:43.589. During the race the fastest lap came from Maverick Viñales (Team Suzuki Ecstar) which was over two seconds slower with a time of 1:45.971; Vinales will remain the record holder as the Circuit Record Lap time has to be set within the race.
Crutchlow fastest on test day
Come to the test day and it was LCR Honda rider Cal Crutchlow who was the fastest at the end of the day with a time of 1:43.963, which was just under half a second slower than Marquez's time but over two seconds faster than that of Vinales. Crutchlow's lap came on lap 72 out of 73 that he had completed on test day. He was the only rider to lap under 1:44 minutes as the next fastest time was set by Jorge Lorenzo (Movistar Yamaha) who was 0.239 seconds slower than Crutchlow.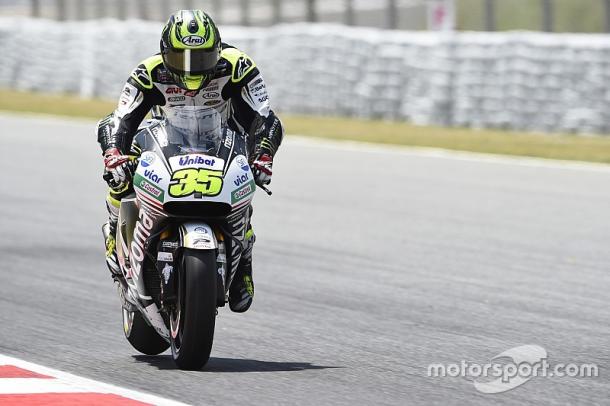 Crutchlow spoke of how it was "nice to be back on top of the timesheet, even though it's Monday and it doesn't mean anything really."
However he felt they were able to take some "positives" from the day and they "will go to Assen optimistic." They used the hard tyre for the majority of the test and they "made some setting changes that we had been wanting to try, like softening the front end of the bike which helped it decelerate quite well." As he ponders his future, he awaits to hear whether Lucio Cecchinello will remain with Honda he said the team "have worked well together" during testing. Crutchlow said "there was some electronic stuff to test too" and also they were required to test the Michelin tyres.
He said they "tried the new Michelin front" during the cooler morning session and that he felt "it was positive in some areas and not so good in others." Later on they tested two out of the three new rear tyres available on the day and said: "As you can see from the lap time they were good." Also Crutchlow spoke about how they "tried the 'over-the-top' wing for Honda" which he thinks may be "a little better."
Lorenzo making up for poor weekend
Lorenzo was second fastest on test day. The Spaniard finished as the fastest factory rider after a disastorous end to a tough weekend.
Ducati rider Andrea Iannone came into contact with him as he struggled to lap and on turn ten the two came off; Iannone thought Lorenzo had an engine fault while Lorenzo was angry that Iannone did not apologise straight away. Iannone will now start the next round of the MotoGP at Assen from the back of the grid after being penalised.
Having completing 49 laps during test day it was lap 26 that was fastest for him with a time of 1:44.202; he managed to beat his fastest lap time all weekend by one second. The Spanish rider felt "it was a positive test."
Although he was in pain after injuring his leg during during the race incident, medication allowed him to "feel better" and get through the day. Among the list of the 2015 MotoGP Champion tested, the Michelin tyres produced positive results, he said they "had quite a positive effect on acceleration." Lorenzo also tested a new chassis which he felt also gave them "some positive points" that they will test more in the future.
Lorenzo's mechanic to follow him to Ducati next season
It was also announced recently that although members of Lorenzo's team at Yamaha were approached by Ducati to make the move to the Italian team with him, that his current crew chief Ramon Forcada has chosen not to make the move and to remain at Yamaha and work with Vinales who recently annouced he will replace the Spaniard.
However Juan Llansa, who has been Lorenzo's mechanic for a long time, worked with Lorenzo since his 2003 debut will make the move with him but there is no indication yet as to who Lorenzo's crew chief at Ducati will be.
Rossi happy with test results after winning in Spain
Lorenzo's teammate Valentino Rossi (Movistar Yamaha) who won the Catalan GP also felt "it was a good test" and after his win at the circuit finished 11th fastest on test day.
Rossi said they "concentrated on the tyres" and felt that they "found something good" and he claimed that the "rear tyres were working better than yesterday." The Italian mentioned that Yamaha have a "bigger task" in hand "that Yamaha brought (here) to test," something that Lorenzo who will be moving to Ducati did not mention. Rossi said it "will be very interesting for the rest of the season". The nine times world champion also tested the new chassis and said "the first impression was OK".
Marquez optimistic about next two rounds
Repsol Honda rider Marquez said he "tried out a lot of things" at the Catalan test including "a new chassis and some electronics solutions." He felt that overall they had "taken a small step forward" during the test and he feels that the day allows you to "gather a lot of information" which in turn helps to "move forward in the future."
Following testing Marquez feels Honda will be able to "make their analysis and apply it to the new chassis." He felt the one he tested was "better in some parts of the track" but that in other areas it "isn't entirely suited 'to his style'," and so he said they "have to continue working."
"Optimistic" about the future, he mentioned how the next two tracks they will race at including Assen and Saschenring are tracks that he has "always felt very comfortable with" and with the extended breaks in between the two of them he feels this will give them "time to seek further improvements."
Pedrosa focused on Assen GP
Teammate to Marquez and third place Catalan GP finisher Dani Pedrosa (Repsol Honda) finished tenth fastest on whilst he was almost half a second slower than his fastest time all weekend set during FP3.
Pedrosa explained how they "tested various things" which included the "chassis and a few setups for the electronics and engine to improve (our) corner exits."
He felt that "some worked well and others weren't yet as good as expected," however he felt that they managed to find "a few positives" which has given them "more ideas."
Pedrosa said the Repsol Honda team are trying to keep "working with the future in mind," however their main priority was the short term and the focus being the next race in Assen.
At the eighth round of the MotoGP season they hope to "try and use some of the feedback" from the Catalan test and see if they work at Assen and the following circuits. Pedrosa felt his test was prohibited by a crash at approximately midday which left him only being able to test one bike which explains why he was only able to complete 39 laps with his fastest being lap 21.
Aleix Espargaro improved after disappointing race weekend
Team Suzuki Ecstar rider Aleix Espargaro was looking to improve during the test day after being forced to retire during the race with seven laps remaining after an extremely difficult weekend. Aleix finished fifth fastest on test day with a fastest time of 1:44.717 on lap 31 out of 64 completed; this was almost an improvement of 1.5 seconds during his time recorded during FP3. also described the test as "positive" claiming it "allowed them to understand many things."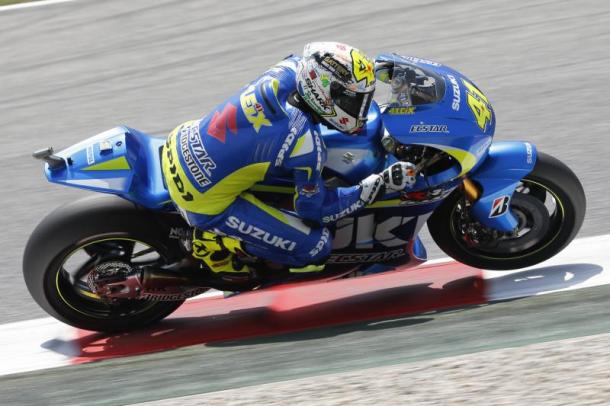 Aleix and his team took the time to "re-analyse what happened" on race day and managed to "take advantage of this and learn from it."
Following that they "made a comparison between the standard chassis and the evolution one" that they have previously tested in Valencia.
After running with the bike during the morning of the test he "felt the same problems" that he experienced over the weekend; he returned to the 'normal' chassis the afternoon of the test and "immediately felt comfortable and the lap time dropped quickly."
As a result of this Aleix felt that this "was very helpful to decide which path to take for the next race in Assen" and he also found completing many laps (64) proved "very helpful for the new settings and electronics improvements."
Aprilia team continue to improve in first season
Aprilia Racing Team Gresini have made many improvements since participating in the MotoGP class since the beginning of the season.
Both riders finished the Catalan GP in the points with Alvaro Bautista claiming eight points in eighth position, and Stefan Bradl claiming four in 12th position. The two riders completed over 150 laps between them on test day and Bradl in particular set his fastest lap time on lap 44 out of 82.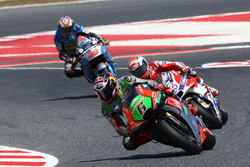 Bradl spoke of how they completed a lot of laps which allowed them to work "hard on the chassis with numerous changes."
The German, who was the rider who completed the most laps during the test praised the advantages to the tests speaking of how they "help us to discover the bike and they let us test some solutions that would be difficult to analyse during a race weekend."
He felt that "after such an intense weekend" they will "head to Assen full of both data to analyse and motivation to do well".
A lot of knowledge gained for Monster Tech 3 Yamaha team
Monster Tech 3 Yamaha riders Pol Espargaro and Bradley Smith were pleased with the outcome from the Catalan test the knowledge gained here.
Although Pol Espargaro, who finished as the highest placed independent rider and remains the highest placed in the championship, was unable to match his fastest time previous to the race set in FP3 as his fastest lap during the test was 0.7 seconds slower.
Having completing 48 laps and spending a lot of time testing the rear tyre, Pol spoke of how he was unsure when the tyre will be introduced but felt his feedback was positive.
He also worked on the rear suspension due to a lack of grip on the rear and after trying three settings they "found some encouraging results." Pol's confidence only grew after his success at the Catalan GP as he know feels he can be "stronger" because of the outcome from the test. He was especially "pleased" with his performance during the race in what he described as the first time they were competing with the leaders and he feels they "deserved" their result in Spain. He also thinks that with the knowledge they have gained he and the team are "optimistic for Assen."
Smith leaving Catalan test content
His teammate Smith, also feels that "in general" the day was "positive" and that they can "leave Barcelona feeling content" with what they achieved at the test.
Contemplating a "technical issue" during the race he was "really pleased to complete 83 laps without any issues at all." Smith said he also did "a lot of tyre testing" as required by michelin and felt that they "brought some interesting options" and now he is "excited to see how the tyres will evolve in the future."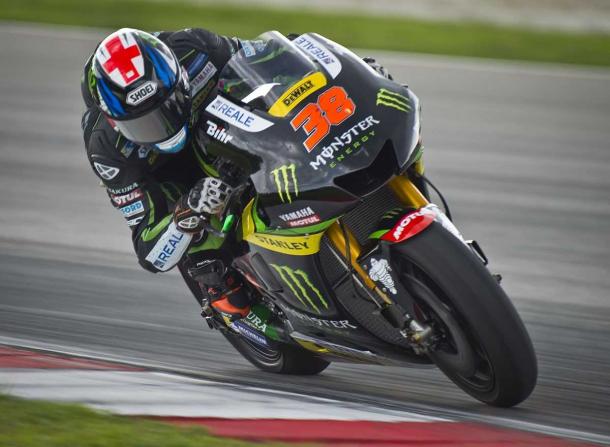 Smith explained how the they also worked on the settings for the bike during testing explaining "the main area of focus was the rear of the bike" which he feels is where he is "most sensitive at the moment."
They experimented with "quite a few different rear shock solutions" and he said "although the result won't necessarily boost performance" he feels that it will make their weeked easier especially if her was to struggle as he did in Barcelona. He feels they now have "a good direction" as well as "more of an understanding" about the YZR-M1.
The British rider is feeling good after the test as he feels he can "leave with more knowledge and added confidence for the package" that he has and now he plans to "rest up now for two weeks and then get ready for Assen" which he said he is "looking forward to."