Prior to the pre-race press conference, Cal Crutchlow and LCR Honda revealed that they would continue as a collaboration into the 2017 season; this announcement was ahead of the Assen TT GP which will be the 250th race since LCR Honda and GIVI joined forces.
Fun break for Crutchlow
There has been a break in the season as riders have had two weekends away from racing. Crutchlow spent his time in the Isle of Man for the TT races, one of his "favourite events of the year". Race day usually takes place on a Saturday at the Assen TT Motul circuit but this year it has moved to the Sunday in an attempt to attraxt 'modern' race fans. Crutchlow said, "We always get a great crowd at Assen." It is a meeting that he seems to look forwards to and he is hoping the change of day will entice more fans.
Exciting year for the British rider
Things have been on the up for the British rider lately. The soon-to-be new father is heading to the Netherlands after collecting his best race result so far this season in Barcelona. After the Catalan GP where he finished sixth (and as the second fastest independent rider) the majority of the MotoGP field remained at the circuit to complete a day of testing where Crutchlow managed to set the fastest time of the day. He was the only rider to lap under 1:44 minutes with a time of 1:43.965 which was just under half a second off the fastest time all weekend set by Marc Marquez (Respol Honda) in qualifying which gained him pole position (1:43.589).
Crutchlow was present at the pre-race press conference ahead of the ninth round where he spoke of how he thinks that the "start of the season hasn't been to plan" however after a "positive test" he appears confident having had "strong results" there in the past. When discussing his plans for the upcoming year the ever so humble lad is looking forward to his wide Lucy "having a baby in a month" and he also said, "Obviously, I will be with LCR next year too".
The only factory seat now available is with Aprilia as one has been taken by Moto2 rider Sam Lowes (Federal Oil Gresini Racing Moto2) however previously Crutchlow has expressed that he is keen to remain with Honda. He and his team are "keen to get to work on the base setting of the bike" during the first practice session to ensure they are as "ready for the weekend" as possible.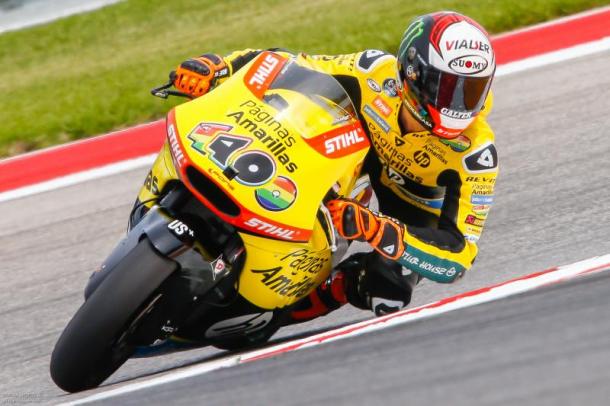 Rins spoke about his future with Team Suzuki Ecstar
Also at the press conference after confirming his new contract deal was current Moto2 rider Alex Rins (Paginas Amarillas HP 40) who recently announced he would be joining Team Suzuki Ecstar which will promote him to the MotoGP next season. After Jorge Lorenzo (Movistar Yamaha) announced, Maverick Vinales (Team Suzuki Ecstar) was the one to take his place at Yamaha.
In order for Lorenzo to join Ducati, Andrea Iannone was released from the team and he was instantly snapped up by Suzuki. Since then Aleix Espargaro (Team Suzuki Ecstar), Vinales' current teammate was very vocal about how he felt the team were 'disrespectful' having not consulting him about the decision. He was unsure of his future, whether he even had one with his current team, and they finally revealed their new signing of Rins.
Rins said, "Finally I can say next year I will ride with Team Suzuki Ecstar." The Spaniard is currently leading the Moto2 championship with 116 points; he has an eight point lead over Lowes in second. It was thought that may of the Moto2 riders were holding out for the factory seats and initially it was 2015 Moto2 Champion Johann Zarco (Ajo Motorsport) who was earmarked for the place.
Rins was "really happy" to make his announcement as he feels throughout his whole career he has been "working to get to MotoGP" and he is delighted to be racing "against these guys". Rins spoke of how he approached Vinales for his opinion and the 2015 MotoGP Rookie of the Year declared "It's a great team!"