It has been a dark and miserable start to the ninth round of the Moto3 season at the Motul TT Assen as the 250riders took to the track for the first time this year. It was Enea Bastianini (Gresini Racing Moto3) who set the pace with a time of 1:45.331 early on in the session which was then prohibited by a rain shower which meant that many riders were reluctant to venture out.
Threatening weather made riders reluctant
Rain is threatened all weekend and after the shower midday through the first Free Practice session it was difficult whether to determine whether full slicks or full wets would be needed; so many riders opted out of continuing for the rest of the session. Khairul Pawi (Honda Team Asia) thrives in these condition and put in many laps which will only benefit him if the weather is similar on race day.
There was a crash towards the start of the session, Andrea Migno (Sky Racing Team VR46) came off at turn one previous to the rain shower. Gabriel Rodrigo (RBA Racing Team) also came off, but luckily both riders were unhurt.
Bastianini leads after Free Practice 1
Bastianini's time was three seconds of the pace during the 2015 meeting at Assen which is an indication that the riders still have a lot of work to do. Niccolo Antonelli (Ongetta-Rivacold), Aron Canet (Estrella Galicia 0,0) and the Leopard Racing team riders Fabio Quartararo (fastest KTM) and Joan Mir where the only rider who managed to lap under 1:46 minutes with their teammate Andrea Locatelli (Leopard Racing) finishing just outside the time.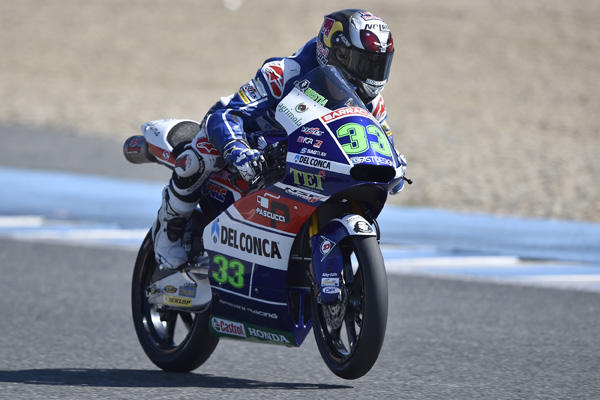 Championship leader Brad Binder (Red Bull KTM Ajo) was seventh fastest after the first session; he as at an advantage over second place in the championship Jorge Navarro (Estrella Galicia 0,0) who will not be able to compete due to undergoing an operation after breaking his leg during training. Also missing is Hiroki Ono (Honda Team Asia) also has a broken finger and so is unable to ride. Jorge Martin (Aspar Mahindra Team Moto3) recently broke his wrist and will also be unable to compete this weekend however Albert Arenas who has made some wildcard appearances already this season will be riding in his place.
Brad Binder finished ahead of Livio Loi (RW Racing GP BV), Romano Fenati (Sky Racing Team VR46) and the fastest Mahindra rider Franceso Bagnaia (Aspar Mahindra Team Moto3) completing the top ten. British rider John McPhee (Peugeout MC Saxoprint) was the fastest Peugeot in twelfth.
British rider Webb returns to world championship
Returning to the Moto3 is British rider Danny Webb who is replacing Karel Hanika aboard the Platinum Bay Real Estate Mahindra. He was recently shocked to be approached by the team; at the time he was competing in Northern Ireland and at the Isle of Man TT and so is now having to adapt to a much smaller bike. The rain stopped him from getting as much time as he would have liked on the track but there was always Free Practice 2.
Sunny Free Practice 2 meant more action on track
Conditions were much better for Free Practice 2 as riders caught up on last time during the session. Riders were now able to lap below 1:45 minutes and it was Fenati who was fastest with a low 1:44 minutes lap as riders returned to the pits midway through the session. Unfortunately for Locatelli, he crashed in the first half of the session at turn seventeen leaving his team with repairs to complete so he could head back out; he was unhurt.
Canet sets fastest time in final stages
The weather meant that the riders had a lot more lap time. It was Spanish rookie Aron Canet (Estrella Galicia 0,0) who stole the lead in the final stages of the second session aboard his Honda. The improvement in conditions meant he was able to set the fastest time of 1:43.031 which is just under a second slower than the previous records. Antonelli was second fastest ahead of Italian rookie Nicolo Bulega (Sky Racing VR46) who made it two rookies in the top three at the end of day one; he was the fastest KTM rider with a time of 1:43.202.
Loi finished fourth fastest ahead of Rodrigo and Fenati in sixth. Bastianini who was fastest after FP1 finished seventh despite improving his time by over two seconds. Mir remained eighth fastest ahead of Jules Danilo (Ongetta-Rivacold) and the fastest Mahindra again Bagnaia who completed the top ten. Bo Bendsneyder (Red Bul KTM Ajo), Juanfran Guevara (RBA Racing Team) and Fabio Di Giannantonio (Gresini Racing Moto3) all finished higher than championship leader Brad Binder who only managed fourteenth fastest at the end of day one; at one point he ran off the track but did not fall off the bike and was able to return safely.
British rider McPhee was again the fastest Peugeot in 15th and Webb finished in 31st. The only female in the class Maria Herrera (MH6 Team) was twenty-fourth just behind Lorenzo Dalla Porta (Estrella Galicia 0,0) who is standing in for Navarro. During Free Practice 2 Locatelli came off at turn 17, he was unhurt however it meant he could only improve his time by approximately one second.