Takaaki Nakagami took his first GP victory, during his 111th race, which now puts him fifth in the championship with 78 points.
After the race he was interviewed on BT Sport and said: "it has been a long time, and many races I try try try, and now we can start again and start to think about the championship."
Sam Lowes took fourth place, and Alex Rins took sixth, meaning that Johann Zarco (Ajo Motorsport) now leads the championship with 126 points. Rins is in joint first also having 126, but Lowes now sits in third with 121.
Riders made the most of dry conditions in warm up
As the clouds began to circulate around the circuit, the Moto 2 riders took to the track to put in some laps before the race.
Nakagami (IDEMITSU Honda Team Asia) dominated the session with consistent 1:38s, finally finishing with a time of 1:38.033. Whilst the world championship leader, Rins (Paginas Amarillas HP 40), appeared to be struggling, Lowes (Federal Oil Gresini Moto2) was also non-existent on the time sheets.
However, with not long left to go, Lowes began to put in quick times of 1'38s and finished the session in 2nd with 1:38.262. Whilst the riders seemed to be gaining confidence in the dry, it was uncertain whether this would go in their favour as it was predicted to be a wet race.
The rain was lurking in the clouds as the Moto 2 race set off
It was an unexpected dry start to the race, as the clear blue skies lay across the circuit. With Zarco winning the last two rounds this season, all eyes were on him on the first row of the grid.
Thomas Luthi (Garage Plus Interwetten) had a fantastic start to the race, pulling away and taking to the front of the field. Dominique Aegerter (CarXpert Interwetten) closely followed behind, looking like it was going to be a battle between the two Swiss riders.
Zarco appeared to be struggling with the bike as he dropped back and Lowes and Nakagami took the opportunity to get to the front group. It wasn't long before Lorenzo Baldassarri (Forward Team) joined the party as he started to get a good rhythm, with 22 laps to go.
The front group continued to change, as tyres came into play
With the front group seeming to be set for the race, it wasn't long before Franco Morbidelli (Estrella Galicia 0,0 Marc VDS) also started to join in and from this point it seemed it was going to be an unpredictable race.
Lowes had a good starting few laps before the Brit began to lose pace, and was overtaken by Baldassarri with 21 laps to go.
Zarco seemed incredibly uncomfortable on the bike as he battled to keep up, Lowes also soon dropped back joining him as they sat in sixth and seventh place.
They could then only watch on as we saw Morbidelli take the lead, and seemed to have the pace to pull away. However, Nakagami, Luthi, Aegerter and Baldassarri didn't give in as they continued to fight putting on a great show in front of the Assen crowds.
With Zarco and Lowes trying to play catch up, lurking in the next group back was Alex Rins, the championship leader, with 19 laps to go. With plenty of time for him to catch up with his championship rivals, we highly anticipated a fight between the three of them.
Sandro Cortese and Simone Corsi did not take it lightly seeing Rins leading the group, so they soon declared battle and there was continuous swapping and changing for eighth, ninth and 10th place.
Whilst they had their own rift, Morbidelli, Nakagami and Luthi pull away at the front with Morbidelli still looking the strongest, and most likely to take the win.
This caused Baldassarri and Aegerter to fall back, allowing Zarco and Lowes to catch up for a separate battle of their own. At this point, you can see that Zarco had seemingly found his pace again and he should not be underestimated.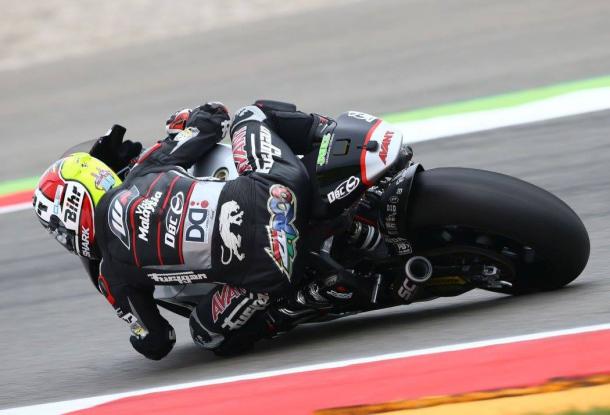 Separate battles began to commence as gaps formed between riders
With 15 laps to go, as expected, Zarco caught up with the front three and he could see the podium in sight.
Nakagami suddenly shows he is a rider to never be forgotten about as he creates a 0.501 lead from Luthi.
As Nakagami waves goodbye to the rest of the field, Zarco and Luthi begin fighting for second and third place and Morbidelli slowly dropping back. Nakagami put in the fastest laps as he continued to increase his gap, with consistent 1:38's.
It soon appeared that he was in fact half a second faster than the rest of the field, making it seem almost impossible for anyone else to get to the front.
With the second, third and fourth place battle still between Zarco, Luthi and Morbidelli, Luthi's good run appears to go downhill from this point onwards.
On the ninth lap he appears to go wide on the entry to the final chicane, putting him too far back to continue to join in with the front group.
A couple of laps later, with just five to go, Luthi then loses the front end on turn eight putting him out of the race entirely. Lowes' run also appeared to be over after almost losing control, allowing Baldassarri to take fourth place.
Nakagami takes the win
It then ended up a very lonely race for the front riders as Zarco broke away from Morbidelli, and was beginning to close the gap on Nakagami as a few spots of rain began to show.
After leading with a gap of three and a half seconds, this soon became 2.4 seconds with three laps to go.
The rain suddenly appeared to be a lot heavier, with Nakagami spotted raising his arm and his speed reducing rapidly.
With just two laps to go, the gap was suddenly just 1.7 seconds between Nakagami and Zarco and it was then thought the previous Moto 2 world champion could catch the leader, and take the win.
However, much to Nakagami's relief, the red flag came on show automatically declaring him as the winner. There was also a last minute crash between Danny Kent (Leopard Racing) and Xavier Simeon (QMMF Racing Team) at turn five, which could have played a role in why the red flag appeared.
Moto 2 race results at Assen

| Position | Rider | Nationality | Team | Bike | Points |
| --- | --- | --- | --- | --- | --- |
| 1 | 30 Takaaki Nakagami | JPN | IDEMITSU Honda Team Asia | Kalex | 25 |
| 2 | 5 Johann Zarco | FRA | Ajo Motorsport | Kalex | 20 |
| 3 | 21 Franco Morbidelli | ITA | Estrella Galicia 0,0 Marc VDS | Kalex | 16 |
| 4 | 22 Sam Lowes | GBR | Federal Oil Gresini Moto 2 | Kalex | 13 |
| 5 | 11 Lorenzo Baldassarri | ITA | Forward Team | Kalex | 11 |
| 6 | 40 Alex Rins | SPA | Paginas Amarillas HP 40 | Kalex | 10 |
| 7 | 24 Simone Corsi | ITA | Speed Up Racing | Speed Up | 9 |
| 8 | 73 Alex Marquez | SPA | Estrella Galicia 0,0 Marc VDS | Kalex | 8 |
| 9 | 77 Dominique Aegerter | SWI | CarXpert Interwetten | Kalex | 7 |
| 10 | 94 Jonas Folger | GER | AGR Team | Kalex | 6 |
| 11 | 19 Xavier Simeon | BEL | QMMF Racing Team | Speed Up | 5 |
| 12 | 11 Sandro Cortese | GER | Dynovolt Intact GP | Kalex | 4 |
| 13 | 23 Marcel Schrotter | GER | AGR Team | Kalex | 3 |
| 14 | 52 Danny Kent | GBR | Leopard Racing | Kalex | 2 |
| 15 | 44 Miguel Oliveira | POR | Leopard Racing | Kalex | 1 |
| 16 | 60 Julian Simon | SPA | QMMF Racing Team | Speed Up | |
| 17 | 97 Xavi Vierge | SPA | Tech 3 Racing | Tech 3 | |
| 18 | 2 Jesko Raffin | SWI | Sports-Millions-EMWE-SAG | Kalex | |
| 19 | 54 Mattia Pasini | ITA | Italtrans Racing Team | Kalex | |
| 20 | 87 Remy Gardner | AUS | Tasca Racing Scuderia Moto 2 | Kalex | |
| 21 | 32 Isaac Vinales | SPA | Tech 3 Racing | Tech 3 | |
| 22 | 70 Robin Mulhauser | SWI | CarXpert Interwetten | Kalex | |
| 23 | 57 Edgar Pons | SPA | Paginas Amarillas HP 40 | Kalex | |
| DNF | | | | | |
| | 12 Thomas Luthi | SWI | Garage Plus Interwetten | Kalex | |
| | 10 Luca Marini | ITA | Foward Team | Kalex | |
| | 55 Hafizh Syahrin | MAL | Petronas Raceline Malaysia | Kalex | |
| | 49 Axel Pons | SPA | AGR Team | Kalex | |