It has been a difficult few weeks for Team Suzuki Ecstar rider Aleix Espargaro as his future within the MotoGP has faced serious doubt. But he will remain in the world championship series for two more years after announcing at the Assen GP that he will be in fact joining Aprilia for two years.
Lorenzo's moved to Ducati was the start of a lot of change in the paddock
Current Movistar Yamaha rider Jorge Lorenzo caused an influx of movement within the MotoGP paddock after announcing his move to the factory Ducati team at the end of the season after weeks of speculation and rumours.
His move caused even more rumours and speculation as we awaited to hear who would make way for him at Ducati and who would replace him at Yamaha.
In order for Lorenzo to join Ducati they had to release either Andrea Dovizioso or Andrea Iannone; both were confident but at the same time unsure of their fate, and Iannone's involvement in several racing incidents this season, one of which included destroying the chances of a double podium for the factory Ducati team, helped Ducati to decided that Dovizioso should remain and Iannone should go.
In the meantime, Maverick Vinales was offered and signed a contract to replace Lorenzo at Yamaha and he is now set to join Valentino Rossi, the most experienced and successful rider in the paddock for the next two seasons. Both Repsol Honda riders Marc Marquez and Dani Pedrosa had their contracts extended by two years and so Suzuki jumped at the chance of signing Iannone once he was released.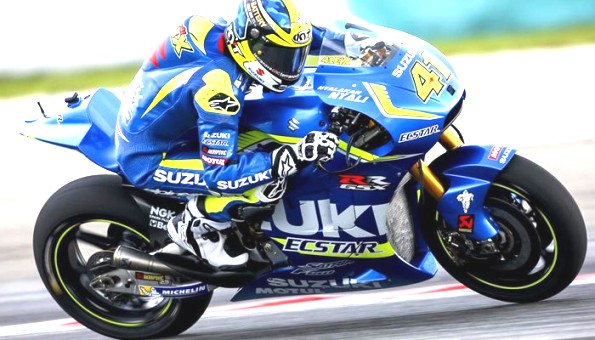 Espargaro disappointed with the treatment received by his team
When this happened, Aleix Espargaro did not hesitate in expressing his views on his current team's new signing as he felt it was incredibly "disrespectful" towards him that they did not talk to him about anything regarding the addition to the tem in any way.
His lack of involvement made him doubt his future and it was clear that he was very disappointed and unsure whether he would remain with the team that he has helped to develop since it re-joined the MotoGP last season.
It was then revealed that Moto2 rider Alex Rins (Paginas Amarillas HP 40), who is currently leading the Moto2 championship, will be joining Iannone at Suzuki meaning that Aleix was in search of a seat for next season.
Team Manager Davide Brivio spoke about how it "wasn't an easy choice" in letting Aleix go and that they were grateful for all of his "hard work and the real passion he has continued to put in" since the project started. He spoke on behalf of the team as they wished him the best for the future and hoped for good results for the rest of the 2016 season.
Aleix to partner Moto rider for two seasons
Aleix was disappointed after experiencing "two fantastic seasons" with the team but expressed that it was "time to move to a new project where they really believe" in the Spanish rider.
That new project will be with Aprilia. The Aprilia Racing Team Gresini have joined the MotoGP this year and is currently ridden by teammates Alvaro Bautista and Stefan Bradl. British Moto2 rider Sam Lowes (Federal Oil Gresini Moto2) had already previously been named as one of the riders from next season onwards and now it is confirmed that Aleix will take the other seat.
The 26-year-old had previously indicated that riding with World Superbike was a high possibility, but now it makes sense that he joins Aprilia as he now has a lot of experience in developing a MotoGP bike to be competitive in the class as the Suzuki is regularly within reach of a podium.
Aleix was the 125cc champion in 2004, he continued in the class, moved on to the 250cc class and then made his debut in the top class in 2009. Aleix first caught Aprilia's attention in 202 when he rode the ART - a CRT bike developed by Aprilia Racing; he finished the season as the "best rider in the category."
Aleix's contract is due to cover him for the 2017 and 2018 seasons.
A statement has been released on the Gresini Racing website confirming their new agreement. "Bringing Espargaro on board is part of Aprilia's development plan – which aims for an increase in competitiveness, in line with the progress already demonstrated this year – and it reaffirms the Piaggio Group's commitment to an excellent technological and sport project aimed at making the Aprilia brand a protagonist on the track and on the road."