What an incredible day, weekend, performance… the ninth round of the MotoGP at the TT Circuit Assen for the Motul GP Assen was action packed and dramatic in every way from start to finish as torrential weather helped to create moments that will be remembered as historical moments in the MotoGP.
Assen GP manipulated by weather all weekend
The weather was always going to be a major factor in the weekend, the forecast was bad from day one, dark grey clouds loomed over the 'Cathedral of Speed', thunderstorms waited to hit, and when it did it didn't just rain… it poured.
Consistency was key this this round, mixed in with patience, bravery and a lot of skill. No-one could have guessed what was going to happen on race day. A shower hit the session before meaning the Moto2 race had to be red-flagged with two minutes raining.
The rain continued to fall and so riders installed steel brakes and full wet Michelin tyres ahead of the race. The race continued as the rain fell harder and harder, it was not safe out there; not only was there so much surface water with more rain falling the rear light of Valentino Rossi's Movistar Yamaha was not on meaning a collision may have been imminent.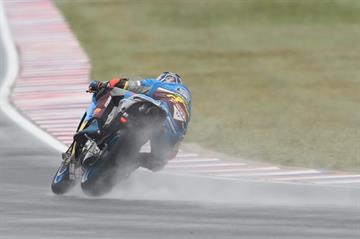 The red flags came out and the race was brought to a halt just after Danilo Petrucci (Octo Pramac Yakhnich Ducati) had taken the lead from factory Ducati rider Andrea Dovizioso. Race Direction were hoping to restart the race but as the storm continued it looked highly doubtful that riders would take to the track again on race day.
But in true Assen style the rain stopped, Marshals took to the track with brushes to help clear the surface water and riders were to follow the 'Quick Start' procedure and the race was to continue for twelve more laps with the grid positions being determined by the results from lap 14.
Race restarted when weather eased off
Conditions were not as bad when things got underway again but then the rain began to fall again. First Petrucci fell, then race leader Dovizioso, then even the most experienced of riders in the paddock Valentino Rossi (Movistar Yamaha) got caught out at the Motul TT Assen.
Marc Marquez (Repsol Honda) now had the lead aboard his Respol Honda but he was being pursued by Jack Miller of all people. Miller, the Australian, the lad everyone had given up on on the bike that no-one believed in. The Estrella Galica 0,0 Marc VDS rider was in second, catching the championship leader, who would have thought it?
Marquez's lead did not last for long; Miller caught him and passed him with ease. He then began to pull away as he continued to push. The laps passed by and Miller was consistent, he was strong, he did it… he won his first MotoGP, he claimed the MotoGP win for his team, he was the top independent rider, he was the first independent (satellite) rider to win a MotoGP since Toni Elias won in Portugal back in 2006.
What a victory for the Australian who jumped straight from Moto3 to MotoGP and in his first season with his team, his second since he joined the elite class he was about to stand on the top step of the podium; the Australian National anthem was about to be heard for the first time since Casey Stoner last won at Phillip Island back in 2012. Rain does that, it exposes skill, it makes things more equal among the factory and independent teams.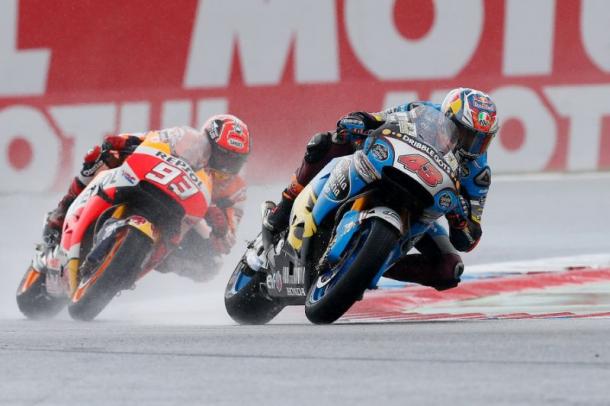 A very emotional Miller was almost lost for words
Miller was "lost for words", he was so happy with his achievement that he almost also lost his voice. He felt "incredibly emotional" and said it was "hard to describe the sensation of winning for the first time in MotoGP". During the first half of the race he said he "felt confident" but he agreed that officials were right to red-flag the race because he felt "the conditions were getting pretty dangerous".
When the riders returned to the track for the second part of the race he said "the track was really slippery" yet he said he "immediately felt comfortable". Ahead of him he witnessed "a few riders making mistakes" but despite the conditions not easing up he kept his focus and "concentrated on being fast and consistent without taking any silly risks".
Trying his best not to be overcome with giddiness when he took the lead he said he "tried to block out" the fact that he was heading for his first win and attempted to "keep a clear mind". The Australian said, "Coming out of the final chicane and seeing the chequered flag was just an unbelievable feeling."
Miller spoke about how his he and his family have "made a lot of sacrifices to make today happen" and said that it felt amazing. He was extremely grateful to his team who he felt he could not thank enough. He said, "They have given me incredible support and never stopped believing in me."
He also expressed his gratitude to Honda for giving him the opportunity and "allowing me (him) to show what I (he) can do at this level". Planning his post-race celebrations Miller said, "It might take a while to sink in but I am going to enjoy tonight that's for sure!"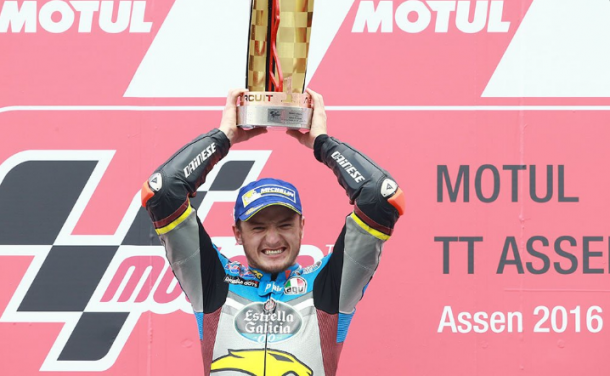 New mature approach from Marquez
Now it was unusual to see an independent Honda in front of factory Honda, never mind the fact the independent team claimed the victory over the factory Honda. What we witnessed was the new mature approach from second place finisher Marquez who decided to think of the championship instead of taking any chances to push for the win in dangerous conditions.
The current leader of the championship Marquez said, "Today's race was one of those in which you can either lose many points or gain them, and you can face it with two mentalities; either you take a risk to gain a bigger advantage or your focus on finishing the race in order to lose the fewest points possible." Marquez celebrated his second place where he collected twenty points as if he had won the race. After all, it helped to extend his championship lead as Lorenzo who is currently second only finished tenth after struggling throughout the race, and third place Rossi collected another DNF and failed to pick up any points.
Marquez said the team repeated to him the mentality he shared "about forty times between this morning and today" and he said, "this is exactly what I did". His target was to "try and remain within the top five so as not to drop many point to Valentino" and he made a special attempt to "not make mistakes in order to finish the race".
Before the race was initially red-flagged Marquez said he "didn't feel comfortable and lost touch" but then he said he was "able to recover". He agrees with the Officials' decision to stop the race claiming "It was very dangerous out there!"
Championship leader happy to settle for second position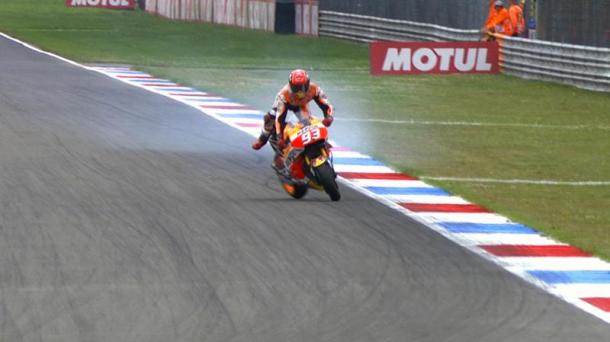 When the race restarted he "started off thinking about pushing a bit more" but he noticed "everyone was fast" and so made the decision "not to follow Rossi and Dovizioso because they were going too quickly". The two Italians crashed ahead of him though and he took the lead. Miller was catching him and Marquez said, "I knew that he would be going for his first win so I preferred to let him pass and keep a couple of seconds gap between us, as well as a cushion to third place."
He decided that this strategy was best because "with Jorge so far back and Rossi out of the race" he felt that "second place was as good as a victory". Consistency is key as we have witnessed before, every point counts in the MotoGP championship and Marquez said, "In the end we leave Assen with a bigger lead."
Marquez now leads the championship with 145 points, 24 points ahead of Lorenzo in second and 42 ahead of Rossi in third.
Redding claims his first podium of the season
Now it is rare these days when one independent rider makes it onto the podium. Don't get me wrong they come close as they all have the skill, determination and drive to push for the top spots, but this is one thing that is good about the rain, it exposes qualities that are usually overlooked because of the difference in machinery. Not only did the Assen GP give us the first independent team winner in ten years, it resulted in two independent riders onto the podium.
British rider Scott Redding (Octo Pramac Yakhnich) was incredible all weekend. He has previously won at the TT Circuit Assen in the Moto2 class and throughout the meeting has been up there with the front runners.
He qualified third on the grid completing the front row, he led into the first corner, and fought all the way to the end; when the race restarted he was in fourth on the grid and although he lost some positions on track, he remained consistent as he pursued Monster Tech 3 Yamaha rider Pol Espargaro but with two laps remaining he made his move and overtook the Spaniard claiming third in the race and his first podium this year.
Redding felt he "struggled more in the beginning", the British rider said he "was sliding more at the end" but that he "had the feeling". He said that it was "hard to pass" Pol Espargaro because he thought that he "was fast in half" but then he knew that he was fast in the other half and he said, "I made the move and risked it!". The Ducati rider said, "It paid off! I'm happy to be here in the podium after the crazy race out there!" He was a little frustrated with his performance but said, "In the end so happy to be there!"