He is the most experienced rider in the MotoGP field right now, he has been successful at the TT Circuit Assen in this class before, but the nine times world champion Valentino Rossi (Movistar Yamaha) highlighted today that the 'Cathedral of Speed' can still catch you out, and rain can spoil things even for the one of the best riders.
Rossi was always within contention of winning
Weather haunted the ninth round of the MotoGP all weekend with the worst hitting during the MotoGP race. It was declared a wet race; the previous Moto2 race had to be red-flagged for safety reasons as rain began to fall while riders pushed on slick tyres. Initially Rossi started the race on the hard rear Michelin wet tyre, it helped, he got a great start and led for a while but he soon became the victim to the independent riders who stalked Rossi like their prey. Rossi did what he could to fend off those who came near him as conditions fell as a storm hit midway through the race.
Rossi was in third and was able to start from the front row when the race restarted once conditions eased. He like every other rider who was on the hard option decided to switch to soft, full wet Michelin tyres on the front and the rear for the twelve laps that remained. Rossi soon found himself in the lead again when the race restarted and was pushing to extend his lead, but on lap three it all went wrong when he crashed out at turn ten. He struggled to pick up his bike and get it restarted; it was race over for him. Twenty-five points down the drain along with the copious amounts of rain water that fell on that day. When the Italian returned to his pits he went straight to his motorhome away from everyone.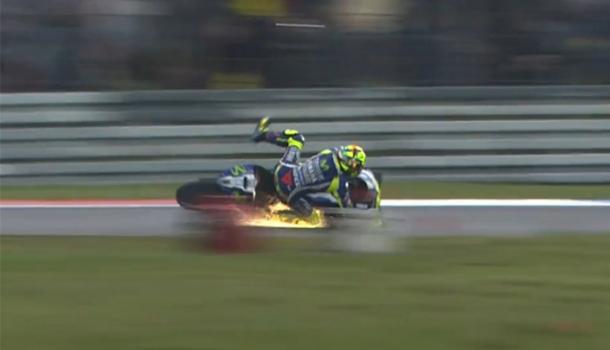 Yamaha rider admits it was his mistake that cost him so dearly
The Italian said, "It's a great shame considering our great level of speed and competitiveness this weekend with our bike at this track." Rossi was hoping to collect a back to back win after he was victorious at the Barcelona GP, he was hoping for 25 championship points to reduce the gap between him and championship leader Marc Marquez (Repsol Honda), and he was hoping to be successful at a track that he favours and has experienced triumph at in the past. He said, "We could have gotten some important points for the championship after a difficult weekend and we could have taken second place in the championship over Lorenzo m but unfortunately I made a mistake!"
It was all of for Rossi when he "pushed too much" while he "already had a good advantage". Rossi said that he was "trying to push" so that he could "understand my (his) level". Talking about his tyre choice for the second part of the race he said, "We started with a soft rear which provides very good grip", but then on the third lap he said he "entered turn ten too fast".
A disappointed Rossi said, "I think we had a good chance today" and regrets his mistake saying, "I threw away a lot of points!". Speaking about the championship he said, "The distance, especially to Marquez, is quite big." Marquez is currently on 145 points in the championship, Jorge Lorenzo (Movistar Yamaha) is in second with 121 points and Rossi is 42 points behind Marquez in third with 103 points; he could have been on 128 points. Trying to remain optimistic the Italian said, "We need to continue working hard like this and try to be competitive also next time."
Fortunately Rossi remained unhurt after the incident which ended his race early and the only damage was to his M1 and unfortunately his championship chances.