Sam Lowes got his first go on the Moto GP Aprilia bike yesterday on day one of a two-day private test in Misano, Italy. He will be testing alongside Casey Stoner and the rest of the Ducati team as he prepares the bike ready for the start of the season next year.
Currently focused on the Moto 2 season, Lowes makes the official move next year
The Brit first knew he would be going to Aprilia at the end of September last year, after signing a three-year-contract. This year he will only be taking part in the intense test programme, as he continues to participate in Moto 2 as he also signed to the Team Federal Oil Gresini Moto 2 for this season which expires this year.
Lowes seemed impressed with the Moto GP machinery
After completing some laps, it was clear the British rider was happy with his progress. After talking to reporters, he said that "the step is big from Moto 2 to Moto GP, but the bike was easier to ride than I (he) expected it to be."
Although the times from the test have not been released, Lowes made it clear that the laps he was putting in were fast. He told of how they "put many laps in and the pace was really good" but still couldn't believe how powerful the bike was saying: "I actually surprised myself at the end how fast I (he) was." It was hard to adjust and he could immediately see the difference from a Moto 2 bike explaining "it's obviously a lot faster, and the carbon brakes feel a lot different as well."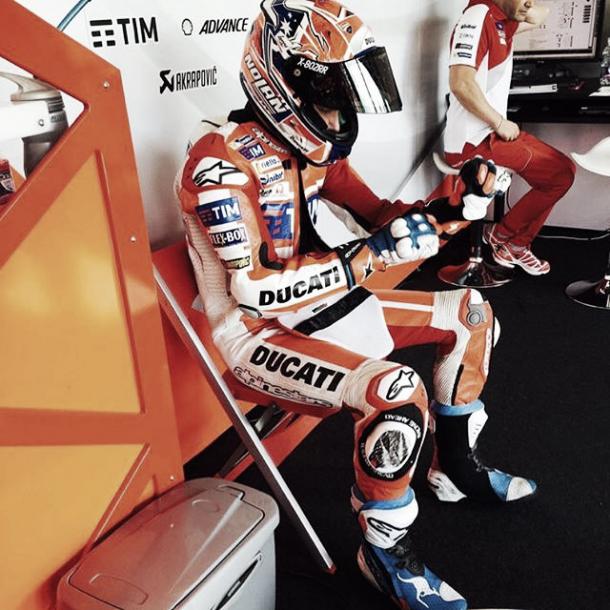 Overall he said "it was a really, really good day" and was happy to "get the first feelings on the Grand Prix bike." It's clear he has taken away good feelings claiming "it's been really positive, really good fun" and he's "looking forward to tomorrow."