Despite having a troubled start to the 2016 MotoGP season, British Octo Pramac Yakhnich Ducati rider Scott Redding still has his sights set on a top eight finish in the championship. Now almost at the halfway point of the MotoGP season Redding is currently 14th with just 32 points. He claimed his second podium since being promoted to the MotoGP at the last round at the Motul TT Circuit Assen where he battled through the wet conditions to finish third.
Long hard slog ahead if Redding is to achieve his target
A top eight finish means he will have to somehow recover the 26 point deficit as well as any more that those already in the top eight gain in the meantime. Ten races remain which means that it is very much doable for the Gloucestershire lad, but anything can happen, and if Redding gets a spate of bad luck like he did earlier in the season then chances of meeting his target will be extremely slim.
Redding highlighted faults in Michelin tyres in early stages of season
French tyre manufacturers Michelin are the new suppliers to the MotoGP class after taking over from Bridgestone at the beginning of the season. It has not been smooth sailing for the manufacturer who experienced serious issues which caused major doubts very early on in the season.
During Free Practice ahead of the Argentinian GP Redding became the subject of a lot of attention after his tyre delaminated; although he was slightly injured suffering bruising, he was lucky that he was not thrown from the bike sustaining further injury.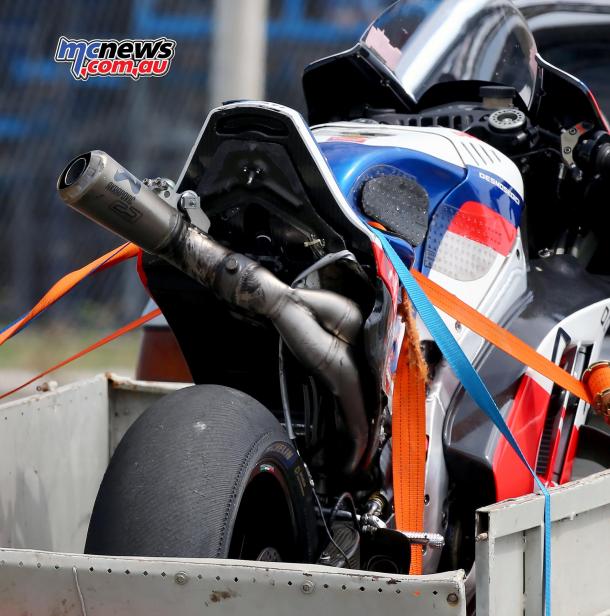 So far Redding has collected three DNFs at Argentina when his bad luck continued, at Le Mans and also at Mugello. Twice he finished outside of the points after the two Spanish rounds at Jerez and the Circuit de Catalunya. His tenth place at the season opener in Qatar, sixth at the Circuit of the Americas and his podium at Assen have proved significant in his quest for the top eight finish.
Assessing his season so far Redding said, "When we have had everything going well, we have had some quite good results."
Ducati riders knows results collected were out of their control
The British rider expressed his disappointment "with the bike stopping" and after experiencing "a few tyre issues," but said that he felt that the issues have "been out of our control". However he added that he and the Octo Pramac Yakhnich Ducati team have been "working to try and get closer to the front" and he feels that is just what they have been doing.
It did not just rain at the Assen GP, it poured. Redding had made his way to the front of the pack just before the race was red-flagged. This meant that when the race restarted he was able to start from the front of the second row in fourth, and all that time growing up and competing in England paid off as he was able to put past experience in place and remain consistent in the wet.
Did Race Direction favour Rossi despite backing their decision to stop the Assen GP?
Redding said that Assen was "different" and he was aware of its unpredictability, saying they "knew it could throw up some difficult weather conditions".
In conditions so wet he said: "The Independent Teams and especially myself, need to take advantage of them." Analysing his performance in the first race he said, "I am happy we managed to keep it together for the first race and not crash in the first part." He felt he "did a good job to catch the front guys in the second race," saying that he had to take his time and "just find the rhythm" that they wanted to find, instead of trying to "rush it too much".

When the red flag was waved he felt "annoyed" but then controversially Redding said he felt Race Direction "waited for a lap when [Valentino] Rossi was in front before they red-flagged it." The Italian Movistar Yamaha temporarily led the race but soon lost his lead to Andrea Dovizioso (Ducati Team) and Redding's teammate Danilo Petrucci (Octo Pramac Yakhnich Ducati), who was in front when the flag came out.
There were extra safety concerns bar the wet conditions as the red light needed to enhance visibility at the back of Rossi's M1 was not on.
Redding felt it was "quite dangerous" as for a duration of four laps he felt he "couldn't see anything". However despite this, this was the reason he felt he caught the leaders, "by taking the risk". He said he "was just going by feeling" and that he was "guessing" where he was going. This added to the relief he felt when it was red-flagged and restarted.
Ducati rider remains positive about his machine's capabilities
Speaking about the performance of the bike in the wet, Redding declared: "My feeling is not amazing with the Ducati, but I can make it work."
Knowing that "riding in the wet is more about feeling," he compared the Ducati's performance to that of the Honda which he felt was much better in comparison.
Despite him thinking "the Honda was good in the rain" and that the "Ducati is not bad, just a bit looser feeling," he feels that you can still "make it work somehow," adding: "Even in the dry, we are getting close to the guys."
Yes he has had mixed results due to technical faults rather than accidents, but he remains positive saying: "We have consistently been in the top six or eight in practice and we have come through during Qualifying." He knows it is a "shame" that they have not finished more races as he pointed out they "have broken down" when he has "been in a good position," but he remains optimistic for the second half of the season.
It seems things aren't so bad for Redding
Redding is able to remain confident as he knew that the DNFs were not his fault and the position he was in when they were forced to retire was due to a technical fault.
"It has been an engine or tyre fault that is out of our control," he said. "In the end I knew that I had it in me and the team believed I had it in me, its just getting it all to work at the right time."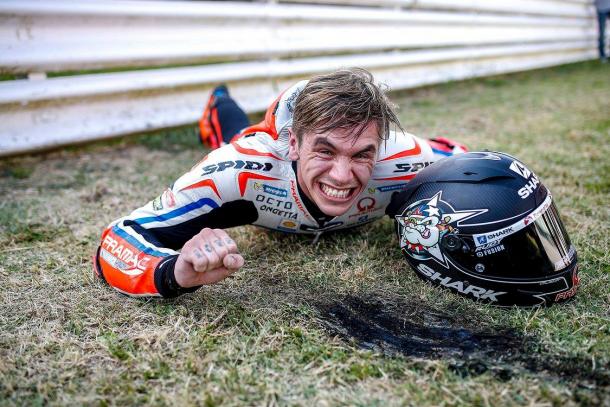 Redding's first podium this season, his second ever in the MotoGP, was also his first podium aboard the Ducati at Assen. "It was a great weekend" for the British rider, who outlined his success saying: "Front row, podium, and I met a new girlfriend!"
However, he tried to not let it get to his head, adding: "Not every weekend will be like that."
The bar has been set high by Redding
Ten meetings remain in the 2016 season, meetings Redding described as "tough weekends". He knows they "will have to work hard to meet (our) target in the dry." Setting his standards high he said, "If I can finish inside the top eight I am happy, anything else is just not good enough."
There have been many changes ahead of the 2016 season including a new ECU that all riders have to use and, along with Michelin providing their brand of tyres this season, Redding feels it "has brought the racing closer".
However, he feels the "issue" with "getting inside the top eight" is that they "have eight factory bikes ahead" in their way. He admits that the independent riders have to "accept" that the factory riders "have much more development" than the independent riders.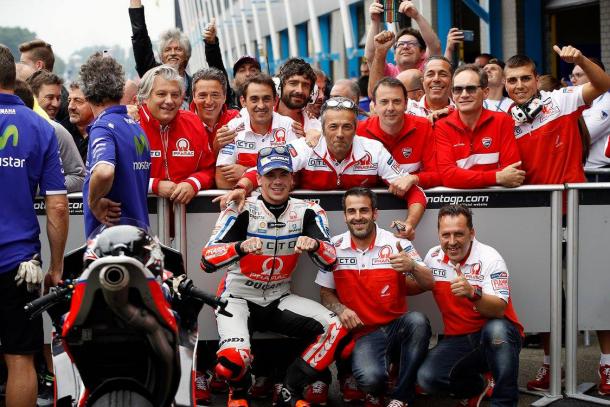 Who knows what can happen as independent riders face huge challenges
He may speak on behalf of the independent riders when he describes the challenges they have ahead of them, and he spoke of how "at the back of the pack it's a bit closer".
The rain does strip back all the technology though and enhances the factory riders vulnerability; as we witnessed Jorge Lorenzo (Movistar Yamaha) teeter around at the back of the field during the Assen GP in last place with a complete lack of confidence in the wet (who can blame them). Redding knows that the harsh conditions expose talent hidden by the machinery, and said: "In the mixed conditions you can achieve a bit more by putting your balls on the line, which you couldn't do before."
The next round of the season is set to take place at the Saschenring on July 17th after a hard earned and long awaited break. Redding's target remains to "finish inside the top eight", something he said will make him "really happy", but, like he said: "Who knows what can happen?"