The Moto GP season has now approached the half way mark as we head over to Germany, the riders take to the Sachsenring.
Marc Marquez (Repsol Honda Team) currently leads the world championship with 145 points, 24 points ahead of the current world champion Jorge Lorenzo (Movistar Yamaha). But with the rain set to fall over the duration of the weekend, everyone will be looking in anticipation to see what drama unfolds.
Marquez returns continuing to use tactics, trying to extend his lead
Marquez is the rider to watch as he has soared to the top of the championship with two wins, two third places and three second places in a row. After his unfortunate season last year, the Spaniard has looked back at his mistakes and has learnt that sometimes second, is just as good as a win.
After using his head at the TT Circuit Assen last round, his spectacular display earnt him a new 24 point lead. When Jack Miller (Estrella Galicia 0,0 Marc VDS) approached Marquez in second place, we all thought there would be a battle out front to reach the top spot. However we saw Marquez take a step back, and settle for second place gaining those all important points.
With rivals Valentino Rossi (Movistar Yamaha) crashing out of first place, and Lorenzo struggling at the back of the field, Marquez knew that any points he could get were highly important. With this new behaviour from Marquez, it has been questioned that perhaps fans won't be seeing much of the old Marquez anymore, which could see a different type of race this weekend. Instead of fighting it out for first place, if the points are in hand, Marquez may once again just settle for that position.
Marquez has an impressive record at the Sachsenring
Marquez can enter the next round feeling comfortable for many reasons. Not only does he currently lead the championship, but the Sachsenring is a circuit that he does well at. He has had six consecutive victories in a row here claiming three in the Moto GP class, two in Moto 2 and one in the 125cc.
During an interview with Moto GP he said it is because 'it has so many left hand corners' and it's 'a bit like a dirt track.' We can see multiple videos of Marquez on social media competing on a dirt track, as this is where he seems to spend most of his free time training. But the weather could change his plans for the weekend, as he is well aware of, saying: 'it's another one on the calendar where the weather has sometimes played a crucial role in the past, so we will see how it goes there.' But Marquez understands that he must continue his consistency saying: 'we've learnt from the past and we're approaching the season race by race, trying to be ready and make the most of what we have and what the situation requires.'
Although he hasn't lost here for the past six years, Marquez admits this 'isn't his favourite track' on his most recent blog. With the forecast set to be wet, could we see him defeated this weekend? The only way Marquez will not lead the championship anymore is if he doesn't score a single point, and Lorenzo takes the win.
Honda have not lost here since 2009
It isn't only Marquez that has shown strength at this circuit, but Honda in general. Before Marquez came on the scene, it was Dani Pedrosa (Repsol Honda Team) who was taking the victories.
Pedrosa won throughout 2010 to 2012 until Marquez came along in 2013, and took over as the winner for the next three years. Although Pedrosa has not had a victory here since 2012, he has still appeared on the podium taking second place in 2014 and 2015. With this seeming to be a Honda track, it gives a good insight to how this weekend will pan out. But since changing to the new Michelin tyres and the change of electronics we have seen Pedrosa, and the rest of the Hondas, struggling to keep up with Marquez's pace.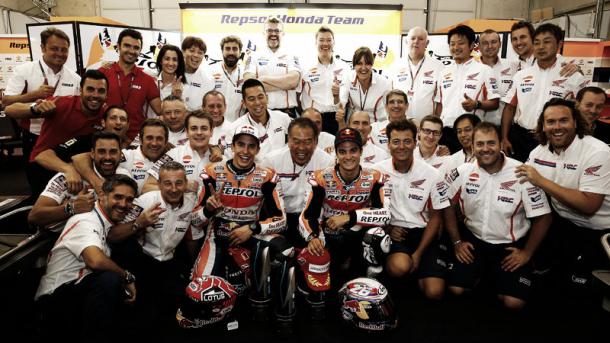 Rossi will be looking to make up points
After his DNF last round, and his 10th world title in mind, Rossi will be looking to improve this weekend. He was the last non-Honda rider to take a win at this circuit back in 2009, and has continued to appear on the podium on multiple occasions ever since.
He took a third place here last year after battling it out with his team mate, Lorenzo, and Pedrosa as Marquez soared off into the distance. As the race was dry, it was exciting to see the rider's full potential as they constantly swapped places aiming for a spot on the podium.
It is thought that Rossi would be breathing a sigh of relief when seeing the forecast for the weekend, as he has a history of riding very well in the wet. However, the last few races where we have seen rain, it seems perhaps he hasn't performed to the best of his ability. Last round he scored a DNF, Argentina he had the wrong tyre choice and slipped back to second, and remembering back to last year at the Misano World Circuit, he only took fifth. It will be interesting to see if the rain goes in his favour, or against him this weekend.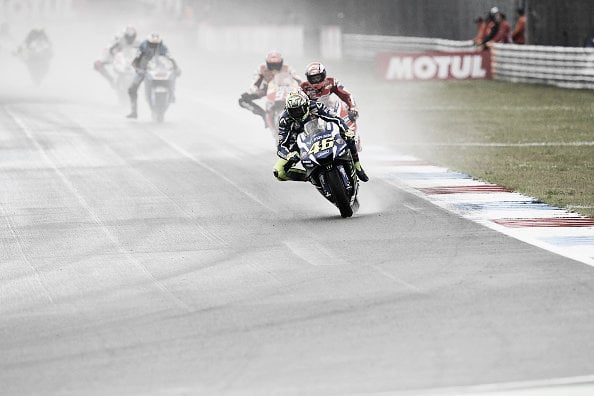 Lorenzo will try and leave behind his disaster weekend in Assen
Unfortunately for Lorenzo, two of his least favourite things came at once last round. We all know he isn't a fan of the circuit in Assen as it doesn't suit his riding style. But then something else he strongly hates, the rain, also came making it an incredibly difficult weekend for the Spaniard.
During the first race he was sat in last place as his championship rivals, Rossi and Marquez, was close to the front which must have been frustrating. Then the rain began to come down a lot harder, causing the race to be red-flagged. If the race wasn't to be re-started, Lorenzo would have left without a single point which would have deflated his confidence when continuing in the championship.
Luckily the race was re-started, but due to the new quick start procedure, Lorenzo had to start from his previous position in the race, putting him last on the grid. As the riders began to drop like flies, and after a better start from Lorenzo, he managed to work his way up to 10th place earning himself some points. Although this has still seen Marquez take a big chunk out of the gap between them in the championship, these points could be seen to be vital later on in the year.
As we approach Sachsenring, Lorenzo can surely be happy that this is a circuit where he can begin to play catch up. He claimed four second places here on the bounce between the years 2009 to 2012, and was involved in the exciting battle for the podium last year. But with his biggest rival, the rain, looming over him once again, could this change his performance and the outlook on the championship?