The world championship arrives at the Sachsenring this weekend with Johann Zarco (Ajo Motorsport) and Alex Rins (Paginas Amarillas HP 40) in joint first place with 126 points each. But Sam Lowes (Federal Oil Gresini Moto2) sits a further five points behind with 121, proving this championship could stay very tight until the end. Contracts have continued to be announced this weekend, seeing Zarco say goodbye to his Moto 2 team, and hello to the Moto GP class.
Zarco to join Folger in Moto GP
It has officially been confirmed that Zarco will be joining Jonas Folger (Dynavolt Intact GP) next season in the Tech3 Monster Yamaha team. There has been lots of conspiracy around where Zarco would be going next season, especially after the rumours that he would join Suzuki. As we heard last round, Rins was confirmed to join Suzuki, and it was then discussed what the future would hold for Zarco, and if he would be joining Moto GP at all. We all knew that a seat was still open in the Tech3 garage as Pol Espargaro (Tech3 Monster Yamaha) and Bradley Smith (Tech3 Monster Yamaha) both announced they would be moving to KTM next year.
With the Frenchman showing to clearly be worthy of a Moto GP ride, the Yamaha team have seen his potential signing him on to join in 2017. In a statement released by Zarco he said, 'it goes without saying that I am very happy to join the Moto GP class with Tech3 and I am confident that we can form a solid partnership.'
He also believes that performing in Moto 2 for so long will surely help him saying, 'I really will do my best and prepare myself for the maximum because I think it's more possible to get some top results in Moto GP after my long experience in the intermediate class.' It is said that he has accepted a deal to ride in 2017, and a ride in 2018 is an option in the contract.
Marquez to remain in the same team
Alex Marquez (Estrella Galicia 0,0 Marc VDS) also made an announcement today, that he will stay in Moto 2 with Team Estrella Galicia 0,0 Marc VDS. We have seen the former Moto 3 champion have two very difficult seasons, 2015 and the start of 2016, taking eight DNF's since Qatar last year. It was questioned whether the Spaniard's future was in jeopardy after struggling to keep up with his team mates, last year being Tito Rabat (Estrella Galicia 0,0 Marc VDS) and this year Franco Morbidelli (Estrella Galicia 0,0 Marc VDS). It is thought he could feel under pressure trying to keep up with his brother Marc Marquez (Repsol Honda Team) who has already secured two Moto GP championship crowns, only in the first three years competing in the class.
Marquez has continued to show determination and a fighting spirit, securing his first top 10 position last round at the TT Circuit Assen, with eighth place. With this in mind, the team have said they remain 'confident' that he has the potential to be a front-runner in Moto 2. In a statement released by Marquez he said he is 'happy to have secured a third year' with the team and 'I (he) wants to say a big thank you to Marc van der Straten and the team for continuing to believe in me (him).' He also understands his unfortunate start to the year but explains, 'it's been a difficult season for me (him) so far, but I'm (he's) determined to repay the team's faith in me (him) in the second half of the year.'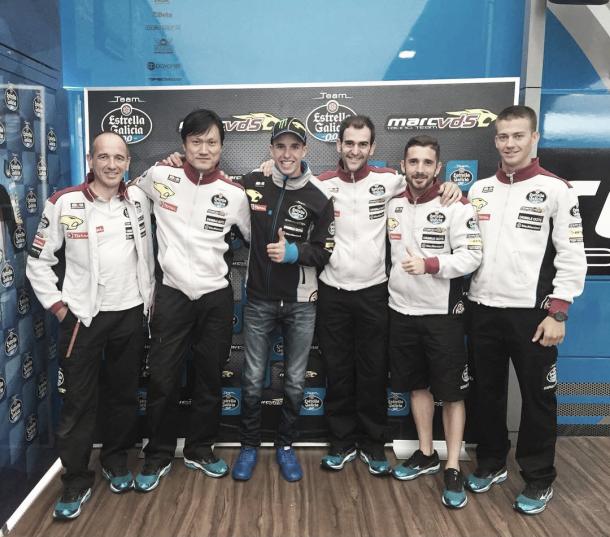 Assen saw the top three separated across the field
After a rain filled weekend at Assen, we saw a bizarre race as the weather caused a red flag, showing consistency was key. We saw Zarco have a difficult start slipping away from the front group. His main championship rival, Lowes, blitzed away in front trying to keep up with the front runners, but we soon saw him also slip back with Zarco catching up. With Rins out of sight battling in sixth, seventh and eighth, it was clear his championship lead was soon going to be challenged.
With Zarco eventually managing to work his way up into the front group, we saw him recover second place as Takaaki Nakagami (IDEMITSU Honda Team Asia) was untouchable in first. This has brought the championship even closer as the next round will determine a new leader, as Zarco and Rins are currently in joint first.
Lowes will be determined to close the gap
Lowes has made it clear from the start of the season that he would love to be world champion, before moving up to Moto GP. He has had a positive start to the season so far taking a win at the Circuit of Jerez, two second places and one third. He has shown consistency with keeping within the top six throughout the majority of the season, and even leading the championship at the start of the year.
After only competing in the Moto 2 championship for the past two years, it is hard to determine his record here. However, from his performance so far he has had mixed results finishing in 20th in his first year, and fifth last year. But with his new found consistency he has been showing this season, it's clear he is continuing to learn on the machine, and he will want to carry this performance over to the Sachsenring.
Rins will want to move on from Assen, and improve to regain the lead
After a sixth place finish last time round, Rins will be looking to step up on the podium again. He has shown to be the rider to watch this season after coming out very strong since the first race in Qatar. Even since joining the Moto 2 class last year, it seems he has created a good relationship with the bike and continues to dominate the intermediate class.
He has had two podiums at Sachsenring taking a victory in Moto 3 in 2013, and second place in the Moto 2 class last year. The circuit hasn't always gone his way as in 2014, when he was fighting for the championship, he took a DNF and only qualified seventh on the grid.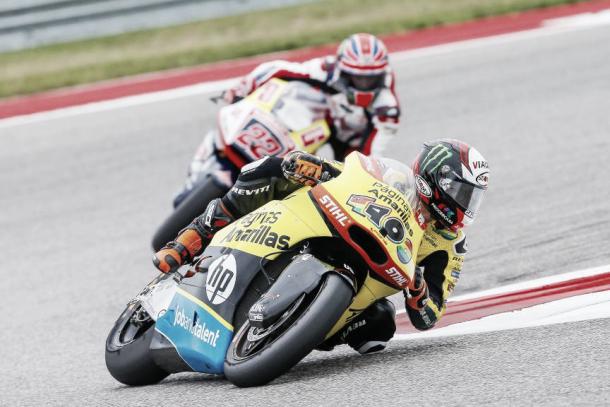 All three riders will have something to prove
After the news broke on Zarco this weekend, this now means all three of the top riders, including Lowes and Rins, will be moving up to Moto GP together. With this on their shoulders, they will be wanting to leave the Moto 2 class as world champion. Not only this, but they will want to prove that they are worthy of a Moto GP ride, and it could push them to ride even better. This makes the approaching weekend even more exciting, as the championship remains tighter than ever. With the rain set to cause a stir yet again this weekend, could we see another complicated race?