Australian rider Jack Miller is still buzzing from his win at the very wet Assen GP (we can't blame him). He was present at the pre-race press conference as a result of winning his first ever MotoGP aboard his Estrella Galicia 0,0 Marc VDS Honda. Not only did he claim his first podium, it was the first win for Marc VDS, which meant they were extra jubilant as many people have previously doubted the project.
Torrential rain cause race to be red flagged
It was declared a wet race that became split into two as a heavy shower hit leaving a lot of standing water on track and caused the race to be red-flagged. Miller had managed to make his way up to the front during the first part which meant he was in a great position (fourth) when it was stopped which left him very much in contention for the restart.
Some big names crashed out, and several independent riders led the race briefly but it was Miller who remained the most consistent in the rain and managed to win comfortably.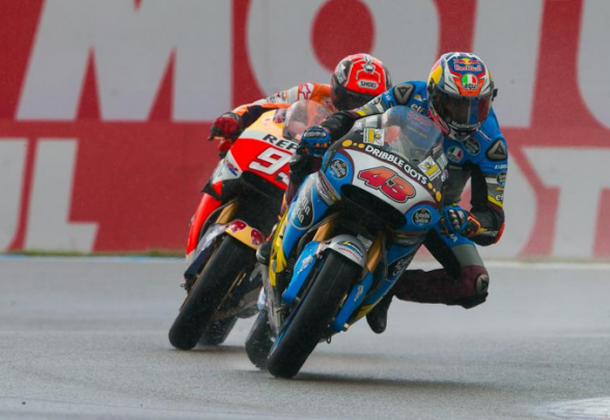 Miller the first Australian to win since Stoner
Miller became the first Australian to win a MotoGP since 2010 when Casey Stoner took to the podium after winning in Phillip Island. The Honda rider said, "The smile hasn't left my face since last week."
Heading into the Sachsenring GP he said he felt "stupid" as he aimed for a top ten finish however he hinted that anything is possible saying, "Unless the weather keeps up like this, then who knows! We'll give it a go!"
The weather cancels out the major differences between factory and independent riders
Miller indicated that it is "tough" competing against the factory riders when it is dry, but said that, "In the mixed conditions you have more of a chance."
Now heading into the ninth round the weather forecast is again looking miserable which means that we may again be witnessing another eventful weekend and the independent riders may again be in with a chance.
Miller still affected by injury
At the press conference Miller spoke of how this track is "special" to him as he began his Grand Prix career there in 2011. He is "looking forward to it" as he thinks it is "going to be a lot of fun".
Describing the circuit he said it is a "tight track" with a lot of left hand corners. Miller said this will, "Help me out because we still aren't quite perfect on the right hand side"; he feels he is still prohibited by an injury he sustained in pre-season training when he broke his right leg.