Marc Marquez heads into the ninth round of the MotoGP season at Sachsenring, Germany as the current championship leader as his new mature attitude, and a lot of repetitive advice from his team, meant he was able to collect 20 championship points which helped him to extend his lead as his rivals crashed out at the wet round of Assen.
Marquez extended championship lead at wet Assen GP
The Spanish Repsol Honda rider took a very cautious approach to the race, this mixed with a lot of luck meant that he was able to finish behind Jack Miller (Estrella Galicia 0,0 Marc VDS) who claimed his first MotoGP win as ha heavy rain storm caused the race to be red-flagged and restarted.
Marquez previously spoke of how his team reminded him to think of the points rather than the win and it paid off as he is now comfortably leading the championship with 145 points, 24 ahead of second place contender Jorge Lorenzo (Movistar Yamaha).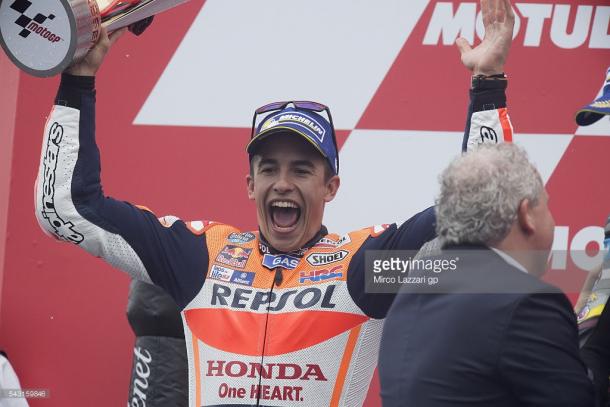 Marquez fears weather at pre-race press conference ahead of Saschenring GP
Marquez was at the pre-race conference where he claimed that he is "feeling great" as the Sachsenring is "normally been a good circuit for me in the past". Again the riders are haunted by the weather as the forecast ahead of the ninth round at Saschenring is not what we were expecting.
As we all still continue to wonder where is the summer Marquez, who was present at the pre-race press conference said, "It's very cold and Sunday also looks unstable."
Like with several of the European rounds he said, "This weekend every year a big question mark is the forecast", upon arriving at Germany he commented on how cold it was and he was concerned about the forecast for race day.
Honda may benefit from lack of acceleration this round
Despite the weather he feels the Sachsenring "in the past has been a good circuit" and he said "It looks like Honda is working good here." All year they have spoken about how they "Do not have a lot of acceleration" as they have worked towards continuing to try and improve it at previous rounds.
However, at Germany he feels the lack of acceleration will benefit Honda a small amount at the narrow, left hand dominated circuit. Marquez said, "Usually with left corners I feel better", he puts this down to practice on the dirt tracks between rounds, and said, "We'll see this weekend if we can keep the level."