For German Aprilia Racing Team Gresini rider Stefan Bradl, the ninth round of the MotoGP season at Sachsenring is the home grand prix for the young rider.
Bradl unsure what the future holds
Currently he is unsure what his future holds as Aprilia recently announced that both seats for their MotoGP bike next season have been filled by Moto2 rider Sam Lowes (Federal Oil Gresini Moto2) and MotoGP rider Aleix Espargaro (Team Suzuki Ecstar).
We are keenly awaiting an announcement from the German rider as to where he will end up and was asked when he was present at the pre-race press conference. Bradl said that his future, "Was not clear yet" and revealed that "There are a few talks around but I have nothing concrete."
He is hoping something arises soon and said, "We'll see what the next few days bring." However the local lad is instead concentrating on his home GP and he said he felt, "It's a bad time to have other things on your mind."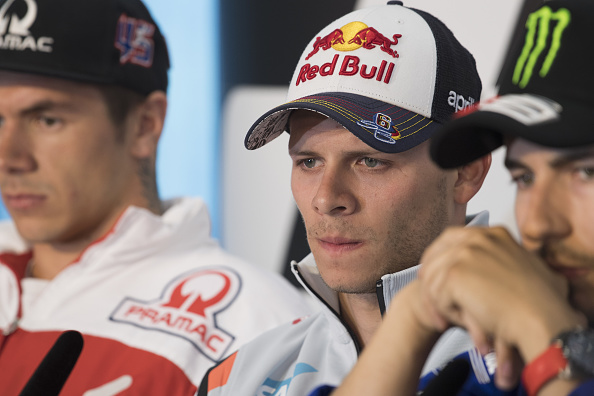 Bradl looking forward to returning to his home GP
Bradl is especially looking forward to his home GP as he had did not race here last year, he said, "I am keen to go out on track tomorrow and to see and to ride in front of the home fans is always great."
Free Practice is an opportunity to see how the bike currently performs at the circuit compared to the last round in Assen. He said, "Hopefully the bike is working in a good way" and he is also looking forward to "see and look at what we (Aprilia) can do."
Iannone admits Saschenring is a difficult track for Ducati
Also present at the pre-race press conference was Ducati rider Andrea Iannone who appeared concerned at what was ahead of them as the Ducati team took to the Sachsenring. The Italian said that in the past the circuit has been "difficult" for the team as "it's a narrow track" and for the Ducati "it's a problem".
Trying to remain optimistic he said, "For sure we try the best we can this weekend." Like all riders he is awaiting to take to the track for Free Practice where he will see how the bike performs compared to last year.
This year French tyre manufacturer Michelin are the new suppliers to the MotoGP and the riders have to test the suitability and adjust settings as well as dealing with modifications for all riders such as the new ECU that was introduced this season.