Takaaki Nakagami proved to be strong in the wet as he won the previous Moto2 round at Assen after the race was red-flagged with a couple of laps remaining.
His form continued onto the Sachsenring where today he set the fastest time of both of the initial Free Practice Sessions for the class as rain prohibited the riders once again from getting out on track.
Very few attempted to brave the conditions
Dominique Aegerter (CarXpert Interwetten) was the first to take to a wet track as a shower had hit for the previous MotoGP practice. However it did not last long as he returned to the pit after assessing conditions. He did not complete a timed lap as he ventured out on slick tyres, a choice he soon regretted.
Jesko Raffin (Sports-Millions-EMWE-SAG) was the first to again venture out after a ten minute wait; any time spent on track in these conditions is a way of possibly gaining much needed experience and data for the race on Sunday. However after 15 minutes the track had dried out enough for the riders to return to the track on slick tyres.
Zarco pushing in the hope to claim the most points in Germany
Johann Zarco (Ajo Motorsport), who has recently announced that he will be riding for Monster Tech 3 Yamaha in the MotoGP alongside Jonas Folger (Dynavolt Intact GP) next season, after all of the factory seats they were waiting for became filled up, soon made his way out on track. He clearly meant business as he pushed on the damp track.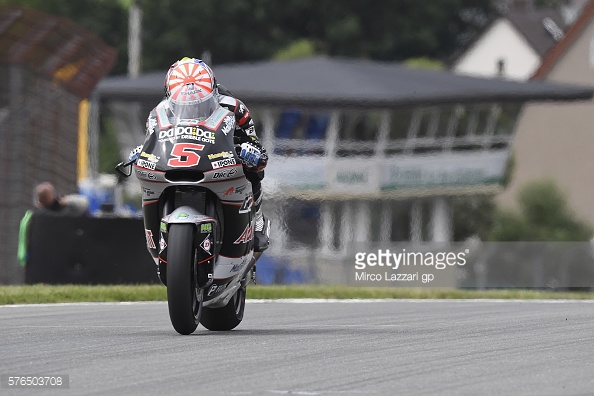 Near misses for several riders
Incidents during Free Practice 1 for the Moto2 class included Hyafitzh Syharin (Petronas Raceline Malaysia) almost high-siding as he entered turn one; the Malaysian was able to remain in control and run through the gravel without dropping his Kalex and eventually return to track.
In the closing stages Alex Marquez, who announced upon his arrival at the Sachsenring that he would be remaining with the Estrella Galicia 0,0 Marc VDS team for another year, took an extra-long route as he made his way round the track. He ran along the grass as he failed to remain on track at turn seven and was lucky to remain in control and return to track at such speeds considering how slippery it would have been with the weather.
Nakagami fastest after Free Practice 1
Continuing his amazing form after winning the eighth round of the Moto2 Nakagami managed to set the pace after lapping fastest with a time of 1:25.377. He was 0.386 seconds ahead of Zarco in second.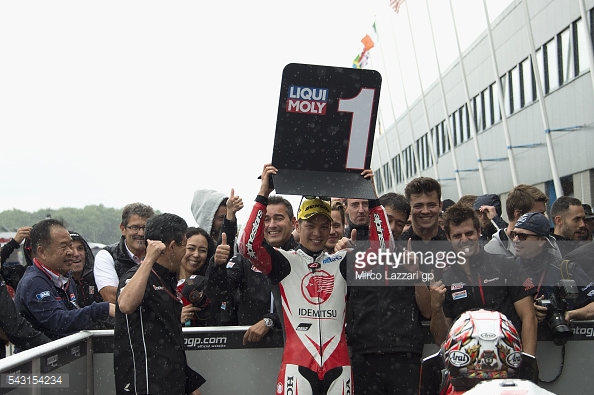 Paginas Amarillas HP40 rider Alex Rins took a very relaxed approach to the initial Free Practice session remaining in the pits for a while before making his way onto track. He finished third fastest ahead of British rider Sam Lowes (Federal Oil Gresini Moto2) and Lorenzo Baldassarri (Forward Team) who completed the top five.
Rain hit at the start of Free Practice 2
In order to make up for time lost during the first practice session, riders quickly made their way onto the track for the start of Free Practice 2. Rain began to fall though before riders were able to complete a timed lap and again they returned to the pits and wait.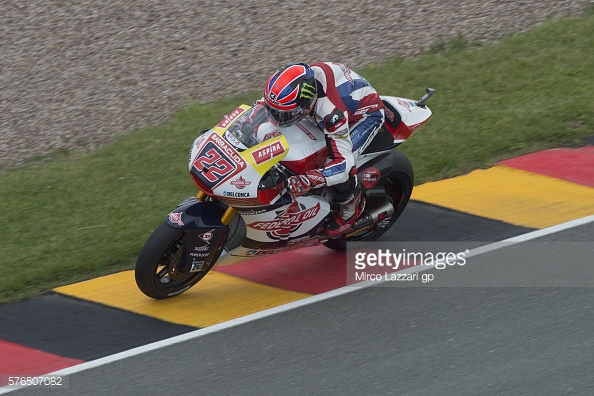 The weather made things difficult for riders to return as there was not enough water on track for them to use wets however the rain shower meant the surface was too damp for slicks. Riders were eventually able to get out and the majority were able to improve their times slightly.
Nakagami remained the fastest man on track as he was able to improve on his previous time by just 0.133 seconds setting a now fastest time of the day of 1.25.244. Franco Morbidelli (Estrella Galicia 0,0 Marc VDS) made his presence felt as he finished second quickest at the end of day one just 0.169 seconds behind leader Nakagami.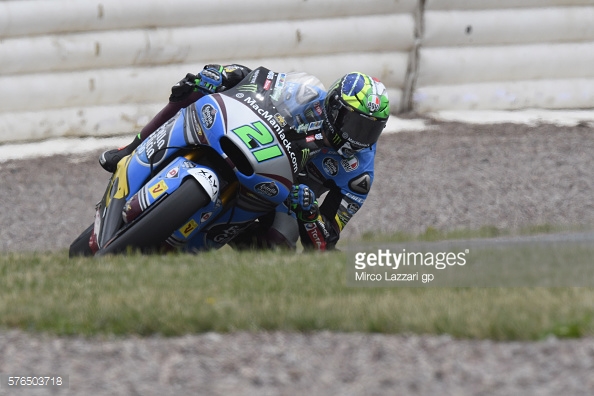 Folger keen to do well in front of home crowd
Local lad Folger was third fastest at what will be the home round of the season as he lapped quicker than Zarco and Lowes who finished fourth and fifth. Swiss riders Thomas Luthi (Garage Plus Interwetten) was sixth ahead of the fastest Speed Up bike ridden by Simone Corsi (Speed Up Racing) in seventh.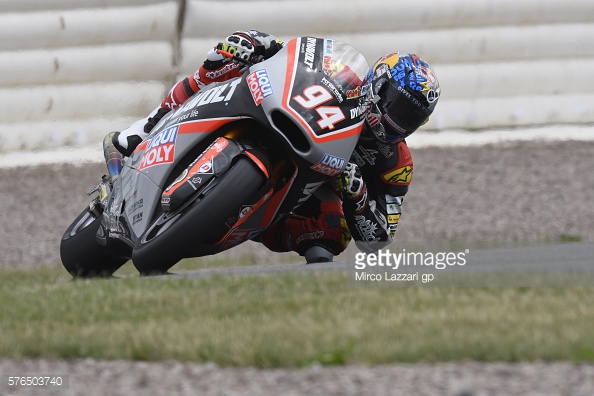 Syharin gained ninth place ahead of another local rider Sandro Cortese who is teammate to Folger; both are looking to perform well in front of their home fans. Rins relaxed approach to a wet day meant that he had to settle for tenth quickest at the end of day one as his quickest time was almost a second slower than the time set by Nakagami.
Results are close at the end of day one
Thirteen riders managed to lap within one second of leader Nakagami as rookie Miguel Oliveira (Leopard Racing), Dominique Aegerter (CarXpert Interwetten), Julian Simon (QMMF Racing) and the remaining German rider in the field Marcel Schrotter (AGR Team) made the cut.
British rider Danny Kent (Leopard Racing), also a rookie to this class finished in 20th as his fastest time was still 1.402 seconds slower than that of Nakagami. The fastest Tech 3 time came from Isaac Vinales (Tech 3 Racing) who finished in 24th 1.695 seconds off the pace.