There was mixed reviews from a few of the MotoGP riders as they took to the Saschenring for two damp Free Practice sessions ahead of the ninth round of the MotoGP season at the GoPro Motorrad Grand Prix, Deutschland.
Today was the first chance for riders to experience the sensation from the new Michelin tyres as the French manufacturers have took over as supplier for the MotoGP class from Bridgestone last season.
The Yamahas struggled on day one
Both Movistar Yamaha riders, nine times world champion Valentino Rossi, and current MotoGP champion Jorge Lorenzo admitted that they found things tough after they experienced the track for the first time this year with the new Michelin tyres and the new ECU.
Rossi admitted it was a "difficult day for all the Yamaha riders" as he said they were "struggling" to find the "right feeling" and because of the temperature affecting the front tyre.
Michelin have brought new asymmetric tyres to the Sachsenring which is made up of mainly left-handed corners, in an attempt to retain heat in the right hand tyre ready for when riders take on the few right-handed corners.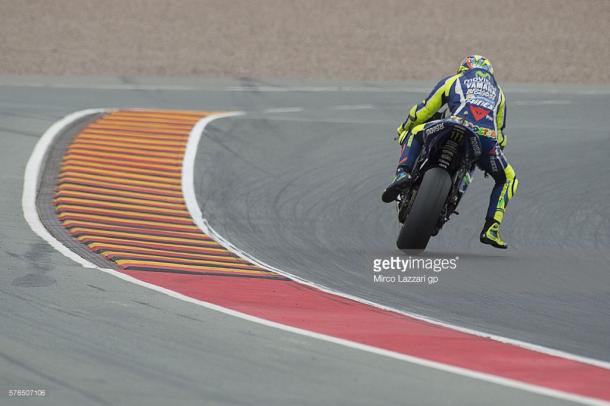 Rossi claimed "the softer option is a bit too hard" and this meant that they were lacking in confidence preventing them from trying to "push to the fullest."
The Italian also commented on the fact that he found himself "stuck in traffic" which he said he felt prevented him from completing a "lap at 100%" and now he said he is "very far behind." He finished 14th fastest at the end of day one as his quickest lap was 1.373 seconds slower than the fastest time set by Team Suzuki Ecstar rider Maverick Vinales of 1:22.161.
Conditions were difficult at the Saschenring as showers hit throughout the day and dark clouds loomed meaning track temperatures were cool and the damp surface meant riders retreated to their garage. Rossi said, "We hope for tomorrow and Sunday to have a better temperature and a little bit more sun; that can help us a lot."
Lorenzo again reluctant to push in slippery conditions
Lorenzo, teammate to Rossi, struggled throughout the Assen GP as he severely lacked the confidence to push in the wet. The conditions were extremely difficult for riders as he teetered around at the rear of the field, but his consistency paid off as he finished tenth and claimed six championship points.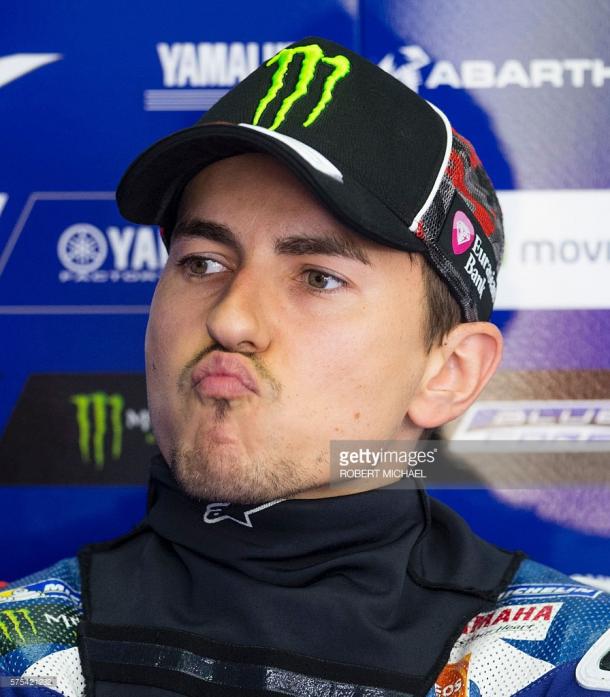 The forecast is not great for Sachsenring though and again Lorenzo appeared to lack confidence. He said: "It looks like these are very cold and slippery conditions and you have to be very careful with the tyres."
During Free Practice 1 he crashed at the notorious turn 11, a right handed corner that follows a series of seven left handed corners.
Lorenzo admitted this did not help him with his confidence saying: "This morning I had a crash going downhill so to be honest I didn't get good confidence in any of the corners of the track and I felt really slow."
Like Rossi said, the Spaniard admitted "all the Yamahas are struggling" and blamed the conditions. Knowing he is currently "the slowest one" out of the four Yamahas on track he is hoping to improve his speed.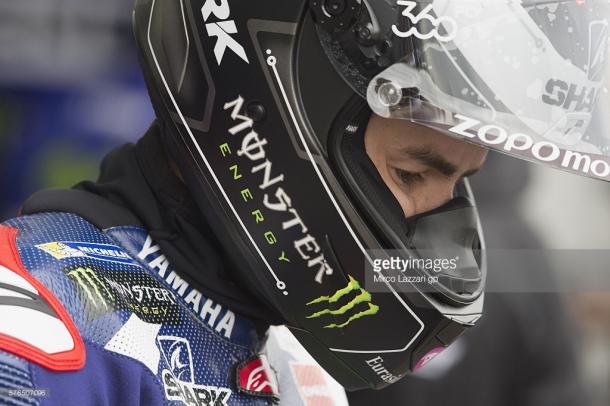 Lorenzo visited the medical centre after the crash to have his hand checked as he was seen nursing it after his crash during FP1. Race Direction announced that he had been cleared of a fracture and Lorenzo confirmed this saying, "My physical condition after the crash is OK and will not be a problem for Sunday."
Vinales leading despite crashing at turn 11
Another victim of turn 11 at Sachsenring on day one was Team Suzuki Ecstar rider Vinales, the Spanish 2015 'Rookie of the Year' claimed he "can't explain the crash" as he felt that he "just lost the front without any evidence of the cause."
He admitted that "Corner 11 here is always very tricky" and before he continues he said he will "check the data to verify" whether or not that he was "a little wider than normal," or whether "there was something else different from the previous lap."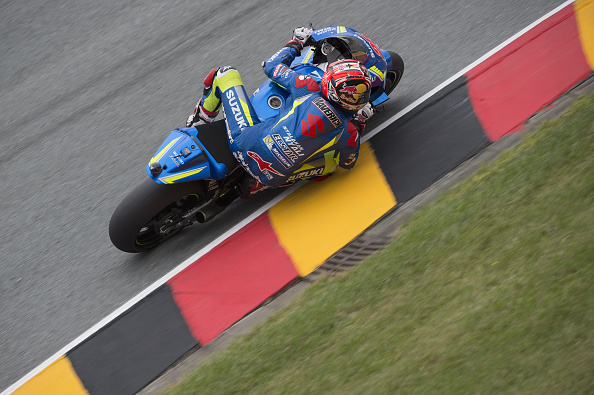 Vinales feels his crash "may also be a matter of temperature." He felt that he was "OK" through corners one and three (the other right-handed corners on the track) but then spoke of the distance between them and turn 11 and how it is "very hard to keep the right should of the tyre at proper temperature."
Despite crashing Vinales set the fastest time of the day during FP2, he said: "The start has been good, the position is positive, but we still have some work to do."
Describing Saschenring he explained that the "track is very tight" and so initially they started with a "set-up that guaranteed good agility," however now he said they have to "find a good balance having a little more stability in some parts."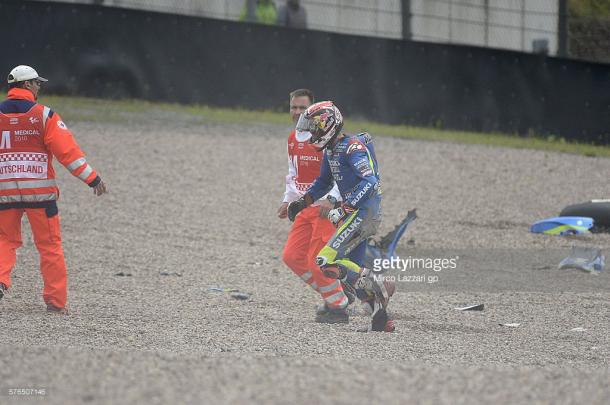 He may be leading after day one but he admitted: "It's not going to be easy" as he feels "as always, when you improve in one direction, you lose something in the other."
Iannone satisfied with Ducati performance despite struggling here previously
Having previously admitted that the tightness of the track is something the Ducatis struggle with, Andrea Iannone (Ducati Team) at the end of day one having completed two Free Practice sessions felt "satisfied". He felt that in both sessions "the feeling with the bike was good", which allowed him to start off feeling very confident and he said, "I like the way the bike behaves."
Iannone was the fastest during FP1 as he was the only rider to lap below 1:24 minutes with a time of 1:23.702. He was able to improve his time by almost 1.5 seconds and admitted he is "a bit surprised" as he said "both last year and in 2014 we struggled quite a lot here." He seemed positive saying: "It means once again we have all managed to do a good job together."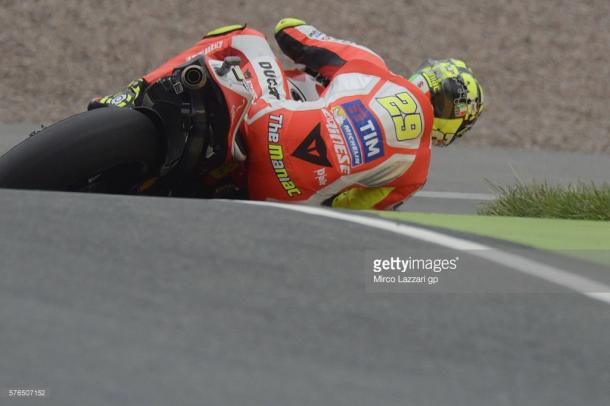 Speaking about the tyres he claimed that they "had a few problems with grip in general" however he felt that "this is a problem everyone has." Speaking about the new asymmetric tyre he backed Michelin's decision saying: "Michelin brought the right tyres for this circuit, but the only problem is that the temperature was too low today," and so as a result he said they "had to adapt the set-up of the bike to deal with the situation."
Weather on Marquez's mind ahead of the ninth round at Saschenring
Now looking at Hondas performance today, Repsol Honda rider Marc Marquez and LCR Honda rider Cal Crutchlow discussed their performance after day one of Free Practice. Marquez was positive about the first day although he felt it "began a little strange." He mentioned that he was only able to complete a few laps because of the light shower but noted that it "wasn't heavy enough to put on wet tyres."
He too commented on the low temperatures and "a very old track" which he said meant they "had to dial things back a little" as he took extra caution "especially at turn 11 where many riders crashed."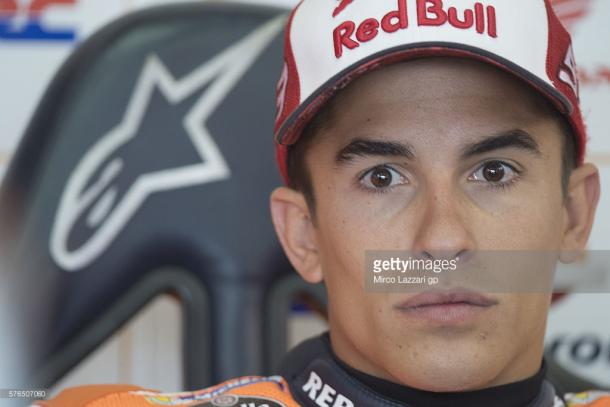 He, like Iannone: "felt quite comfortable with the bike." On day two of the ninth round ahead of the GoPro Motorrad Grand Prix Deutschland at Sachsenring he is hoping to again remain in the top three as he plans to "improve on some points and has to keep working" as he noted that the temperatures are forecast to increase slightly.
Speaking about race day he feels it will be "an interesting Grand Prix because of the weather." Having studied the forecast it seems he said, "The prediction is that on Sunday we'll have a situation like today when rain could fall at any time."
Crutchlow also feeling comfortable aboard his LCR Honda
Crutchlow also felt "OK" during day one but he said he "didn't take too many risks" due to the conditions, "especially in sector three where everyone was crashing in turn 11." He admitted he was "losing half a second in there" but said, "I'm experienced to know that there's no point taking the risk at the moment."
Crutchlow also said he felt "comfortable on the bike" and that he thought "the team did a great job" He claimed, "We're not struggling" however he admitted "we did have a little problem with the brakes" which he felt "limited the session for him."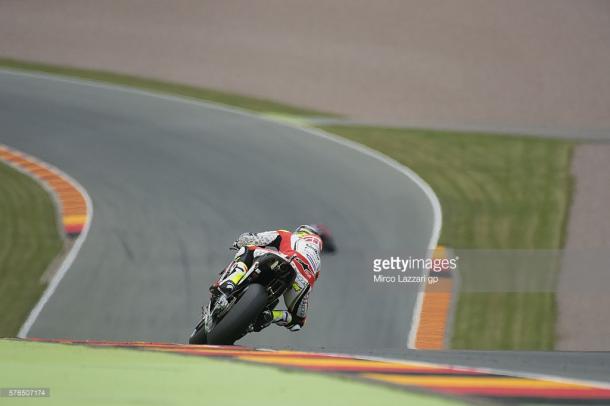 Speaking about the weather he said: "It's strange coming here with the temperature being so cold" and he felt that it "added a new element to Saschenring." He admitted: "I like riding at this circuit, lots of fans come out and I hope we can continue tomorrow where we left off today."
Speaking about the performance of the Michelins on the independent team Honda he spoke of how he tried one of the asymmetric front tyres today but said: "We'll probably have to try the harder one tomorrow as the left hand side is a bit too soft for the Honda." He praised Michelin saying he felt they, "did a good job." He said: "I don't think it's easy for them to keep 23 riders happy with their different bikes and riding styles."
Does this add to more concern for Yamaha?
At the moment the factory Yamaha riders are chasing Marquez in the championship after disappointing results from the last few rounds for the Yamaha riders means that Marquez has managed to extend his lead. Both Rossi and Lorenzo have admitted that they are struggling; and the independent team riders Bradley Smith and Pol Espargaro are struggling on the Monster Tech 3 Yamaha too.
Now luckily for the Yamaha team, it is not just Marquez who is comfortable and within contention. Both Vinales and Iannone have had a strong start here which means that even if Yamaha are unable to contend for the podium and more championship points, chances are that Vinales and Iannone may prevent Marquez for claiming a consecutive win and extending his lead by reducing the amount of championship points he collects should they finish ahead of him in the race.