Repsol Honda rider Marc Marquez will lead the MotoGP after an eventful day of Free Practice and Qualifying where the Spaniard has dominated. If his form continues into the race tomorrow which is possibly going to again be a wet race, he will be able to extend his lead on Lorenzo who has had a disastrous weekend so far and will start from the fourth row on the grid.
All eyes on Lorenzo to see if he could pull it out of the bag
All eyes were on Movistar Yamaha rider Jorge Lorenzo during Free Practice 4 who, for the first time ever in his racing career, failed to automatically progress through to Qualifying 2 ahead of the GoPro Motorrad Grand Prix Deutschland at Sachsenring after he only managed to finish fifteenth during Free Practice 3.
The current MotoGP Champion had just thirty minutes to improve significantly in order to get through Qualifying 1 with ease aboard his M1. The weather was the best it had been so far this weekend as the sun was out and there was an increase in temperature so today he could not blame the track for being slippery like during the damp conditions the day before. He spent the first ten minutes on track before returning to the pits.
Oil on the track for FP4 from Moto3 incident
All riders had to be aware of oil on the track as during the previous session of Moto3 qualifying, Britain's Danny Webb came off his Platinum Bay Real Estate Mahindra at turns four to six and spilling oil; cement was used to cover the spill but the Moto3 riders who had returned to the track after the session was red-flagged temporarily and the dust had blown off meaning the MotoGP riders had to take to the track with care.
Marquez lays down the gauntlet in FP4
It was not long before Marquez regained his place at the top of the leaderboard with a soft front and medium rear after setting a time of 1:22.131. All the Hondas appeared to be struggling to stop on the approach to Turn 12. Towards the end of the session, with less than three minutes remaining, he had a huge moment that he was luckily again able to control. Later on he almost lost the rear of his Honda but again manage to rescue it.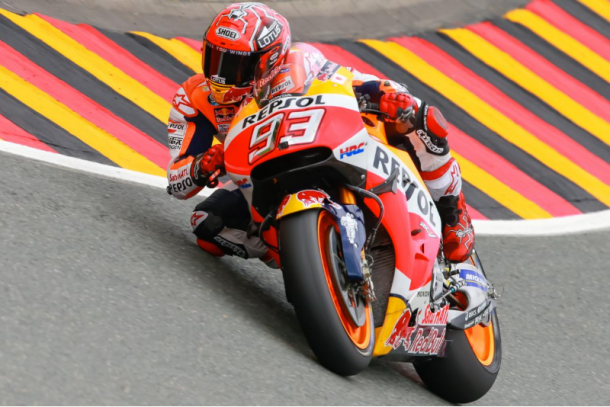 Scott Redding (Octo Pramac Yakhnich Ducati) went off the track briefly as he needed to take to the grass at the side of the road but immediately got back on track.
Iannone quickest after Free Practice 4
Iannone was quickest during FP4 with a time of 1:22.005, not as fast as during the previous session (Free Practice 3). Marquez claimed second fastest ahead of his teammate Dani Pedrosa (Repsol Honda), Maverick Vinales (Team Suzuki Ecstar) was fourth quickest and Andrea Dovizioso (Ducati Team) completed the top five. #
Rossi finished sixth quickest, ahead of Aleix Espargaro (Team Suzuki Ecstar), Cal Crutchlow (LCR Honda) who needed to be strong for Qualifying 2, Danilo Petrucci (Octo Pramac Yakhnich Ducati) and Pol Espargaro (Monster Tech 3 Yamaha) who completed the top ten.
Lorenzo was still nowhere to be seen near the top and only managed eleventh quickest during FP4 with a time of 1:22.896; he was still way off the pace, 0.891 seconds to be precise. He had to pull it out of the bag in Qualifying 1.
The pressure mounted for Lorenzo experiencing a career first
The first Qualifying session got underway and Lorenzo seemed to take a relaxed approach waiting over a minute to get started during the short 15 minute session; what other riders would consider to be a late start.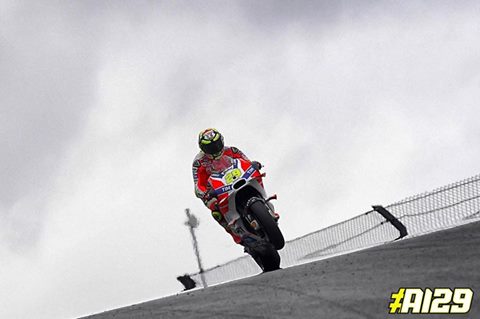 Jack Miller (Estrella Galicia 0,0 Marc VDS) went on into the gravel at turn two midway through the session, he was able to remain in control and return to the pits to figure out what went wrong.
Less than five minutes remained and the competition was heating up as riders competed for the top two positions so they could be within a chance for proceeding to Qualifying 2 where they could contend for a grid position on the front four rows.
Lorenzo pulled it out of the bag
Eventually Lorenzo seemed to find some kind of form and finally put in a flying lap of 1:21.737, close to the pace of the top riders during FP3. He returned to the pits briefly before re-joining the others on track. He was joined at the top by Crutchlow in second who managed to lap with a time of 1:21.966.
Petrucci was flying though, at first he was on a personal best, then had a strong third sector; he crossed the line setting a time of 1:21.712 pushing Crutchlow out of the top two.
Then disaster struck again for Lorenzo, who crashed out at turn eight sliding out on the left hander after touching the curb. He was able to get up and walk away after his bike tumbled through the gravel but his spot in the top two was looking compromised as Crutchlow and was looking to improve.
Petrucci and Lorenzo progress through to Qualifying 2
The flag went out to end the session and it was Petrucci who claimed the top spot. Lorenzo luckily remained second and so the pressure was on to return to the pits for the second qualifying session were he had to repeat his previous time.
The final Qualifying session (2) was underway and immediately the top ten finishers from FP3 took to track. Petrucci and Lorenzo were slightly delayed as they had just been competing in Q2. Lorenzo appeared after three minutes, his leathers scuffed and only one bike available.
Iannone crashes out
Iannone and Hernandez had been seen discussing a strategy as they left the put lane; it seemed the two planned to give each other a tow. But then Iannone crashed out at turn one when following Hernandez with just less than 11 minutes to go. He ran slightly wide when he was forced out by the bump in the road; he was up on his feet and trying to get the bike back straight away.
Strategy in place from Barbera and Avintia Ducati
Also trying to get a tow was Barbera, and of all of the riders he chose to follow, he decided Marquez was the one. Marquez had red indicators, but so did Barbera and the Frenchman stole pole position from Marquez.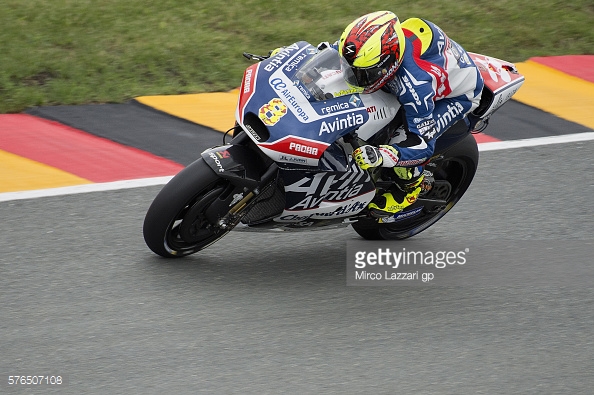 Next lap though Marquez completed his best lap time so far and was currently in pole position with a time of 1:21.581; Barbera was just 0.52 seconds behind in second when both returned to the pits with just more than seven minutes remaining.
Short break to finalise settings before the last chance on track
With six minutes left of the final MotoGP session of the day, all riders were in the pits. Iannone was first to return to the track on the second bike trying to make up for time and positions left during the crash. On his first flying lap he almost experienced a repeat of the previous incident but this time he managed to rescue it.
What is going on with Lorenzo?
Can you believe it… Lorenzo crashed out again! The bike kicked him off early into turn one on his first flying lap. It was day over for the Spaniard who was able to get up and walk away looking extremely disappointed, the bike was in a state though. He was in seventh but would he remain there?
Marquez claims pole position ahead of German GP
Last chance, and Rossi was being held up by Hernandez in front of him; he had to overtake. Marquez was flying though, again with Barbera in tow. Marquez set the fastest lap of 1:21.160; the fastest lap ever completed at the track.
'Tactics of the Day Award' goes to Barbera who will start from the second row of the grid after following Marquez, his fastest time was 0.412 seconds slower than the Spaniard but enough to start from the front row of the grid. He is the fastest independent rider on the grid, hopefully his tactics will pay off during the race where he will hopefully be able to put into place what he learnt today.
Despite the traffic Rossi was able to claim third finishing just over half a second slower than Marquez; he completes the front row.
Hard works pays off for Petrucci
Petrucci has worked extremely hard all day and will start from fourth on the grid leading the second row ahead of Pol Espargaro and Vinales in sixth. Dovizioso will start from seventh ahead of Aleix Espargaro and his teammate Iannone who tried his best to improve on his time but ould only manage ninth after his crash.
Lorenzo was pushed down from seventh to eleventh on the grid and will start from the middle of the fourth row behind Pedrosa who will lead it and Hernandez who completes it in twelfth.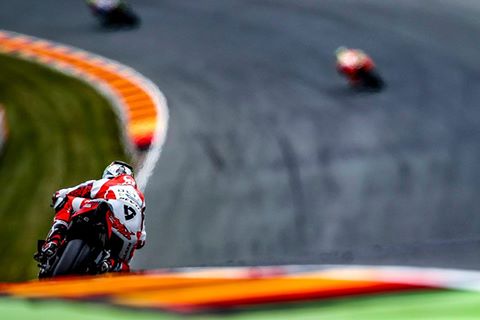 Crutchlow not happy
Crutchlow was thirteenth ahead of Smith and Redding who make the fifth row a British row. The British rider expressed his anger at Stefan Bradl who he felt spoiled his chances of getting into the top ten in the morning.
Crutchlow felt that Bradl should not have returned to the race line after an incident as he thought that Bradl knew he was aware of Crutchlow's presence behind him. A chain of unlucky events followed prohibiting from getting the lap time he needed, first his brake lever broke during the Free Practice session and then he ran out of tyres that were allocated and so he thinks he lost almost half a second as a result.
Miller will start from sixteenth ahead of Stefan Bradl (Aprilia Racing Team Gresini) and Eugene Laverty (Pull & Bear Aspar Ducati Team). Alvaro Bautista (Aprilia Racing Team Gresini) will start from twentieth position.
Loris Baz (Avintia Ducati) who is returning after missing several rounds due to breaking several bones In his foot following an incident in Mugello, completes the grid in twenty-first.
What will tomorrow bring?
The thing is though, the conditions were great today, but they are not forecast to be as comfortable tomorrow. Rain is forecast and we have a repeat of the Assen GP on our hands. The race could be thrown wide open as the Assen GP exposed riders' lack of confidence, yet also exposed riders' skill and bravery in such harsh conditions. It is going to be an interesting one!