It was an eventful day for the Moto3 class who were at the Sachsenring for the ninth round of the Moto3 season for the GoPro Motorrad Grand Prix Deutschland. Conditions had improved significantly since day one of Free Practice which was dark, cold and dreary but the sun was out for the Final Free Practice and Qualifying ahead of the race the next day.
Bastianini dominates on day 2
Enea Bastianini (Gresini Racing Moto3) was the fastest during the final Free Practice Session (3) before Qualifying. His time of 1:27.162 was not far off the Circuit Record Lap set by Brad Binder in 2014 of 1:26.877. The Best Lap time was completed last year by Danny Kent of 1:26.174.
Bastianini was the fastest Honda in the group and led current championship leader Brad Binder (Red Bull KTM Ajo) by 0.142 seconds; the South African was the fastest KTM. Aron Canet (Estrella Galicia 0,0) was third as the fastest rookie ahead of Romano Fenati (Sky Racing Team VR46) and the fastest Mahindra rider Jorge Martin (Pull & Bear Aspar Mahindra Team) who completed the top five.
Modifications for Mahindra who are running with new gearboxes
Mahindra, who are the only Indian constructor in World Championship motorcycle racing went to Sachsenring with a new gearbox for the MGP30 after celebrating their first ever win when Bagnaia won the Assen GP.
Following successful development and testing of the new transmission it was down to producing enough units in time so that each of the eight Mahindra and two Peugeot riders had one in time for the German GP. More upgrades are in the pipeline for Mahindra Racing after they previously introduced a new shifting mechanism in Catalunya.
Four more riders were able to lap under 1:28 minutes; Andrea Migno (Sky Racing VR46), Niccolo Antoneli (Ongetta-Rivacold), Hiroki Ono (Honda Team Asia) and Jules Danilo (Ongetta-Rivacold) completed the list of riders who broke through the barrier. Franceso Bagnaia (Pull & Bear Aspar Mahindra Team) completed the top ten at the end of FP3.
Incidents during Free Practice 3
Fenati crashed at turn three after sliding off the bike, luckily he was able to pick up the bike and continue with proceedings. Bagnaia crashed at turn one of the track and was also able to rejoin. Unfortunately for rookie Nicolo Bulega (Sky Racing Team VR46), he suffered a huge highside at Turn 10; he was stretchered off to the Medical Centre to be checked but luckily he was declared fit to continue.
Ideal conditions for Moto3 qualifying
By the time qualifying came for the Moto3 class the track temperature had increased to 33 degrees Celsius; ideal to ensure there was plenty of action. The session was not without incidents as several riders ended up in the dirt.
Oil spill causes session to be red-flagged as riders fell victim to reduced adhesion
With 25 minutes remaining, British rider Danny Webb (Platinum Real Bay Estate) who has recently returned to the championship came off his Mahindra leaving oil at turns four, five and six. The bike had previously been smoking on the run up to his crash and in order to clear up the spill left the session had to be red-flagged so that Marshals could tend to the scene (covering the oil with cement).
Unfortunately Webb was hurt and had to go to the medical centre to have his shoulder checked and he was unable to return for the remainder of the session.
Before the flag went out the oil on the track caught some riders out immediately with Jorge Martin (Pull & Bear Aspar Mahindra) falling at turn six; he too was unhurt and able to return to his pit garage. Fenati fell for the third time of the weekend so far at turn four but was luckily unhurt.
Disaster for Antonelli
Disaster struck for Niccollo Antonelli (Ongetta-Rivacold) who crashed soon after Fenati at turn four because of the oil. He was seen holding his collarbone when he got back up to his feet and after going to the medical centre it was announced by Race Direction that, "Antonelli declared unfit due to left collarbone fracture sustained in QP crash."
Fabio Di Giannantonio (Leopard Racing) was the last faller at the corner before the session was red-flagged; he ended up in the gravel trap but was unharmed and was able to return to the pits to get ready for the restart of the session.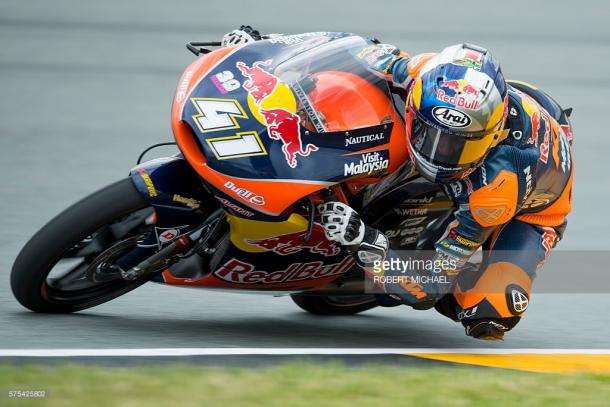 Riders to air with caution during restart
The oil on the track, now covered with cement meant that the riders had to air with extra caution when the session restarted. However, despite the best efforts of track support, the oil could still affect the riders.
Twenty minutes of qualifying remained when Joan Mir (Leopard Racing) clipped the back Andrea Migno's Sky Racing VR46 KTM as they approached turn one. This sent Migno off into the gravel trap at turn one.
Moments later his teammate Fenati also was seen going off the track again but was able to recover; both riders were unharmed. The Marshal in a hurry to get back to his position after assisting Migno with his recovery then fell in the gravel but luckily he was able to get back and retreat to safety.
Quick turn-around for Migno
Fantastic efforts from the Sky Racing VR46 team meant that Migno was in the pits for a mere six minutes while they repaired his KTM; he was able to return to track with time to spare in the session.
In the closing stages with five minutes to go Maria Herrera (MH6 Team) came off at Turn 8 after she suffered a high side. She appeared to be nursing her left wrist after she lost the back end of her KTM and was thrown off the bike, which was on top of her as she slid face down into the gravel. Luckily she was able to get up and walk away but appeared to be in pain.
The race was on to claim pole position at Sachsenring
In the final moments both Brad Binder and Bastianini were on flying laps hoping to claim pole position for the ninth round of the Moto3 at Sachsenring. Both were displaying red indicators on the timing screen as the flag came out, but then Brad Binder had a disappointing third sector which spoilt his efforts. Everything worked out for Bastianini though who claimed pole position with his time of 1:27.129.
Bastianini, the fastest KTM rider, will be joined on the front row of the grid by the fastest KTM rider Andrea Locatelli (Leopard Racing) and rookie Canet in third. Bo Bendsneyder (Red Bull KTM Ajo) leads the second row ahead of Jorge Navarro (Estrella Galicia 0,0) and current championship leader Brad Binder who could only qualify sixth; that hasn't stopped him before though.
Great result for British rider John McPee
Danilo starts from seventh ahead of John McPhee (Peugeot MC Saxoprint) who has made significant improvements. McPhee falls under the category of a Mahindra rider (although it is a Peugeot) and has definitely benefited from the modifications including the new gearbox; he is the highest placed Mahindra rider. He and Danilo will be joined on the third row by Hiroki Ono (Honda Team Asia).
Jorge Martin (Pull & Bear Aspar Mahindra Team) completes the top ten and will be joined on the fourth row by his teammate Bagnaia who was his first ever Moto3 at a very wet Assen GP. The forecast also indicates damp conditions again tomorrow so although he is starting from eleventh, he should not be ruled out of contention of winning again. Fabio Quartararo (Leopard Racing) completes the fourth row in twelfth.
RBA Racing Team teammates Juanfran Guevara and Gabriel Rodrigo make up the fifth row along with Jakub Kornfeil (Drive M7 SIC Racing Team). Livio Loi (RW Racing GP BV) Honda rider starts from sixteenth ahead of Fenati who could only manage seventeenth and Mir will start from eighteenth.
Philipp Oetll (Schedl GP Racing) will begin from nineteenth in front of his home crowd at Sachsenring. Khairul Idham Pawi (Honda Team Asia) who rides well in the wet will start from twentieth ahead of Bulega who made it out after his accident to qualify twenty-first ahead of Di Giannantonio who salvages twenty-second.
Uncertainties following incidents on track
It is not yet unknown whether Herrera will race as it is dependent on any injuries sustained from the crash; if she does start it will be from 25th on the grid. Antonelli will not be riding due to his collarbone fracture. Webb had to ice his shoulder rather than return to qualifying and failed to place on the grid, however it is uncertain whether he will compete following his crash.
Two German wildcards will be making a wildcard appearance at the GoPro Motorrad Grand Prix Deutschland. Maximillian Kappler (KRM – RZT KTM) will start from twenty-eighth and Tim Georgi (Freudenberd Racing Team KTM) will being from thirty-third.