Hector Barbera continued his fine weekend with a place on the front row, finishing just half-a-second behind pole man Marc Marquez ahead of the German GP.
The Spaniard was able to surprise everyone with a 1'21.572 in Q2, which saw him clinch second ahead of Valentino Rossi (Movistar Yamaha MotoGP), who completes the front row.
Dani Pedrosa (Repsol Honda Team) and Jorge Lorenzo (Movistar Yamaha MotoGP) both suffered a qualifying session to forget, which sees the duo all the way back in 10th and 11th.
Barbera's (Avintia Racing) second position on the grid comes after he took a surprise front row start at the Italian GP on board a satellite Ducati back in 2012.
"I am very happy because this has been my best result on the MotoGP grid," said Barbera. "It's a track where expectations were high."
To finish in second on the grid, is "incredible" whilst the young Spaniard would like to "thank the team and all the people who work on this project."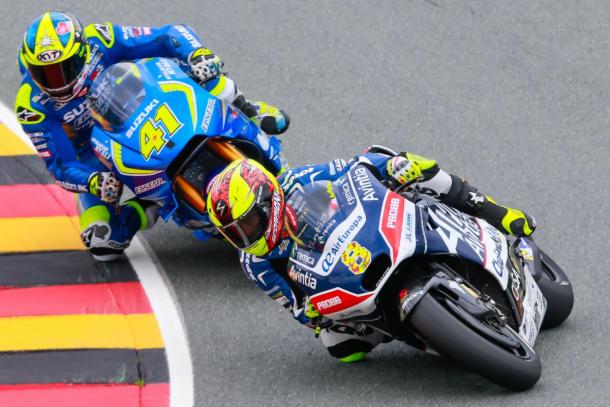 A session to remember for Avintia Racing
Sunday's race in Sachsenring, Germany, will be the first time an Avintia Racing rider has lined up on front row of the grid, which delighted both the rider and team, who have worked hard to get a result like this, which has been coming.
"The team is doing a very good job all weekend," added Barbera. "I think we have the ability to do it and we have shown that today."
Barbera's bike is a relic, in today's day and age of Moto GP. His GP14.2 Ducati machine was first used in 2014, and with 58 points in the Championship, he's also the leading Ducati.
"We have a bike that is two years old and it shows, because you always have to put a little more.
"Tomorrow in the race I do not know if it will be wet or dry," said Barbera. "I try to do my best and leave here with a good result."