There's no doubt that Jorge Lorenzo will soon put this poor weekend behind him, which has seen him qualify 11th on the grid behind Dani Pedrosa.
The current World Champion suffered a number of crashes, whilst narrowly squeezing through, despite crashing on a flying lap, before the Spaniard fell once again in Q2, at Turn 1 as he began to push on his second run.
"During the second crash I entered the corner not braking so hard or deep, but on the previous lap I didn't warm up my tyres enough," said Lorenzo. "I was completely straight and not braking very strongly when I lost the front."
With no bikes left, Lorenzo was forced to sit out the remaining part of Q2, which ultimately saw him drop down the leaderboards.
"Three mistakes on my part are not normal for me, but this weekend it happened," added Lorenzo. "I'm disappointed about the crashes and the position, but ultimately I could see a big improvement.
"During every practice session we improved the bike and finally we were very competitive with the new tyre, especially in Q1," said Lorenzo. "On the lap that I crashed I maybe could have done a 1'21.5 or 1'21.4.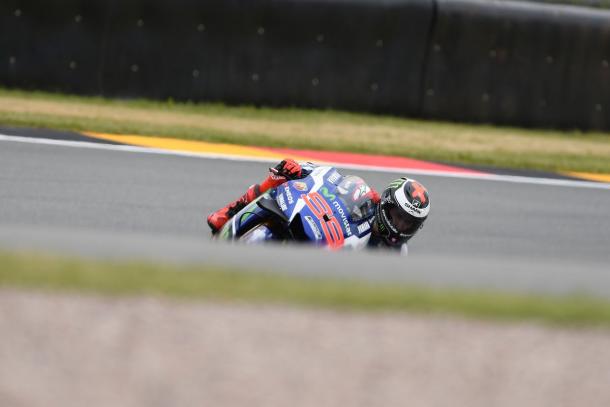 Modifications aplenty, but no improvement
"After I crashed we made another modification for Q2 but I didn't have enough new tyres, I only had one more, so we exited with a nine-laps old tyre and I was impressed about the lap time, a 1'22.0, which was good."
Lorenzo has all the traits to still pull this out of the bag, and even perhaps clinch a podium, although with such an unpredictable track, anything could happen.
"I imagined that if I put on a new tyre I could be on the first or second row," added Lorenzo. "Unfortunately I wasn't able to finish the lap. Eleventh on the grid is a bad position, but that's where I finished."