Changes to Valentino Rossi's bike could have clinched him a pole position in Sachsenring, Germany, but the Italian is content with a front row start.
Despite starting third on the grid for Sunday's MotoGP in Germany, Rossi told reporters that he was lucky to stay on front row after a tyre problem arose, which made him go slower.
"I was lucky to stay on front row," said Rossi. "Unfortunately with the second tyre I got stuck in traffic and I feel that I could have done two or three-tenths better because I did a 1'21.6 on the first tyre."
Despite this, Rossi told reporters he "felt good on the bike" whilst they made a "small modification" to the bike since the Free Practice sessions, which saw the Italian "go a little faster."
The seven times MotoGP Champion will start third, behind rival Marc Marquez – who told reporters it's not a big deal if he doesn't win on Sunday – and Hector Barbera, who impressed on the Avintia Racing Ducati.
"It's a shame I wasn't able to take second place," added Rossi. "But third is OK."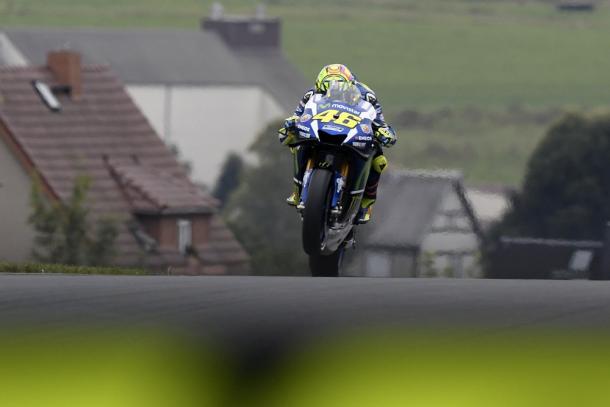 Fans will have a real race on their hands come Sunday
The real test will come on Sunday when the race begins, will Rossi be able to pip Marquez, just like he did in Barcelona? Only time will tell.
One thing is for sure, and that is that the Italian will be doing all he can to clinch victory in Germany, a place where he last won in 2009, which was also the last time the German GP was won by a non-Honda rider.
The 37-year-old didn't have the best of times of the track during wet weather of Friday during Free Practice, but luckily for Rossi, the sun shone bright on Saturday, which then saw his pace pick up.
Rossi pipped Danilo Petrucci to a place on the front row, after the two riders recorded the same lap times, which meant that Rossi started ahead of his fellow countryman with a faster second lap time.