Johann Zarco (Ajo Motorsport) took a spectacular win in wet conditions at the German GP this morning, extending his championship lead in the Moto 2 class. Although Alex Rins (Paginas Amarillas HP 40) and Jonas Folger (Dynavolt Intact GP) tried to fight off the Frenchman, he nipped across the finish line to take his fourth victory this season.
Simeon showed he can continue to be strong here
We woke up this morning to a very cold, and wet, circuit with treacherous conditions taking over the track. Riders went out with wet suits and wet tyres and they practiced in the conditions, setting up the bike ready for the race.
It was clear that the rain was set to stay for the rest of the day as the grey clouds hugged the sky, and there wasn't any blue in sight.
It was an interesting warm up as we had crashes from Sam Lowes (Federal Oil Gresini Moto2), Zarco and pole man Takaaki Nakagami (IDEMITSU Honda Team Asia).
As the crashes affected their performances, it gave the opportunity to last year's winner Xavier Simeon (QMMF Racing Team) to top the time sheets. He finished the session on top with a 1:35.992 towards the end as the chequered flag was coming into sight.
As Nakagami finished in 13th position, it was then questioned whether he could keep up his pace in these conditions. It also put all eyes on championship leader, Zarco, as his disastrous mistake could have knocked his confidence when leading up to the race.
Nakagami tried to get away as the race started
All eyes were on Nakagami on the front row of the grid after his crash in warm up this morning. But it was Zarco who had the hole shot as the lights went out for the start of the Moto 2 race.
As Zarco led around the first corner, it wasn't long before Nakagami fought back to take the lead. Rins, who entered the first bend in third, used this opportunity to slot himself into second as Nakagami upset Zarco's rhythm.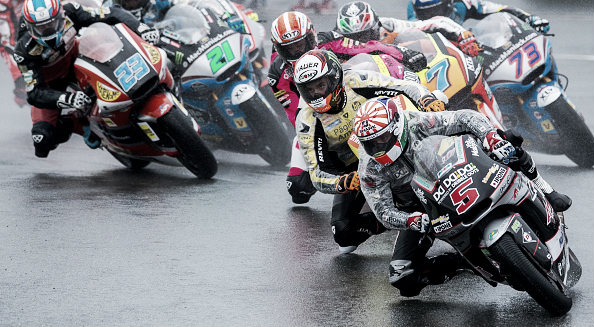 The front group broke away as Nakagami continued to lead
We saw the top five riders break away as Nakagami led the pack. It was Nakagami, Rins, Zarco, Folger and Marcel Schrotter (AGR Team) that stormed away from the rest of the field. As they started to fight it out for the podium, Zarco suddenly started going backwards causing a battle for fourth and fifth between him and Schrotter.
As the front group were losing pace whilst fighting it out, this gave Alex Marquez (Estrella Galicia 0,0 Marc VDS) the opportunity to catch up putting himself in sixth. He started to push and put himself with the group, which made him a possible contender to finish in the top three. His team mate Franco Morbidelli (Estrella Galicia 0,0 Marc VDS) also rode a fantastic race, as he began putting in some of the fastest laps pulling him up to join the front runners.
Many crashes and a ride through occurred in uncertain conditions
Ratthapark Wilairot (IDEMITSU Honda Team Asia) had to have a ride through penalty after jump starting from the back of the grid. Whilst the number 14 headed into the pits to fulfil his penalty, the crashes began coming in thick and fast.
There was a total of 12 riders that headed to the gravel throughout the race with some of them coming off more than once, after returning to the race to try again. The first to go was Miguel Oliveira (Leopard Racing) at turn eight, which proved to be a very costly bend as this is where a majority of the riders ended up crashing out.
Next up was Schrotter, who was having a fantastic run out front with Zarco as they gave the crowds an exciting race. He lost control at the fatal turn eight, bringing his Sunday to an end.
It was also questioned whether last year's winner Simeon, could take the win again after winning at this circuit last year, and leading the warm up. He had a fantastic start making progress sitting in the top 10, but was also one of the crash victims falling at turn six. He did end up re-joining, with a very beaten up bike, and even ended up setting the fastest lap later on from 20th place. Unfortunately he finished the race in the gravel, crashing out at turn eight later on.
Nakagami crashed out of the lead, as Lowes continues unlucky streak
It was looking like there was going to be a clear winner of the race as Nakagami was putting in consistent 1:37s and looking really strong. But with 23 laps to go, at turn two, he very sadly lost control sending him steering off of the track, allowing Rins to take the lead. He did manage to get back on his bike, and rode a steady race securing himself some points in 13th place.
This allowed the two championship leaders, Rins and Zarco, to storm away as Zarco started to improve after his backwards start. Morbidelli and Folger were also there, and there was a lot of swapping and changing, making it unpredictable as to who was going to take first place.
After starting the race in 13th place, it looked like Lowes wasn't going to contribute to the front group. But he did start to work his way up, and then with Nakagami crashing out, this moved him up to sixth. It was then questioned whether he could catch up and gain some important championship points. Unfortunately he ended up crashing out with 21 laps to go at turn six. He did re-join the race, but then crashed again later on to which he retired.
The lead continued to change, until a mistake from Rins allowed Morbidelli to move away
With it being his home circuit, you could see the sheer determination from Folger to try and stay with the front group. At this point Rins was leading, and he almost lost the rear tyre nearly sending him flying. This upset his rhythm and with 21 laps to go, Folger managed to take the lead.
Rins wasn't going to give up that easy, and he bit straight back as he pushed up into the lead and opened a gap. Suddenly it looked like he was sitting with a half a second lead, as Zarco worked his way up to second place ahead of Folger.
The German's could only watch on as their front runner, Folger, lost pace and slipped right back to fourth allowing Marc VDS man, Morbidelli, to come through into third. As it seemed like we were set for a fight between the championship rivals, Morbidelli set the fastest lap with 13 laps to go and overtook Zarco, after the Frenchman made a mistake, moving into second.
The gap had suddenly closed between first and second, and a mistake from Rins saw Morbidelli take over as the leader, and create a new gap out front. It seemed like the rest of the field could only wave goodbye to Morbidelli, as at this point he seemed too far away to catch.
As one Marc VDS rider was having a blast, his team mate Marquez had a disappointing race. He crashed out at turn 10 and re-joined the race, but unfortunately crashed out a second time later on ending his race altogether.
Morbidelli next to make a mistake, as Folger re-gains pace
With just eight laps to go, everyone started to predict that the race winner was Morbidelli as his performance just kept getting better and better. However, on the next lap with just seven laps to go he went down at turn one putting him out of the lead.
This allowed Folger to start catching up again and closed the gap to the Spaniard and the Frenchman. You could see that Rins was struggling with the cold, as he was shown opening the visor to his helmet to try let in some air.
As the race continued, it was uncertain who was going to take the win as they fought to stay on their bikes. But with just three laps to go, Rins fell at turn three scoring himself zero points in the championship. This allowed Zarco and Folger to run away and have their own race, and it was tight right until the end.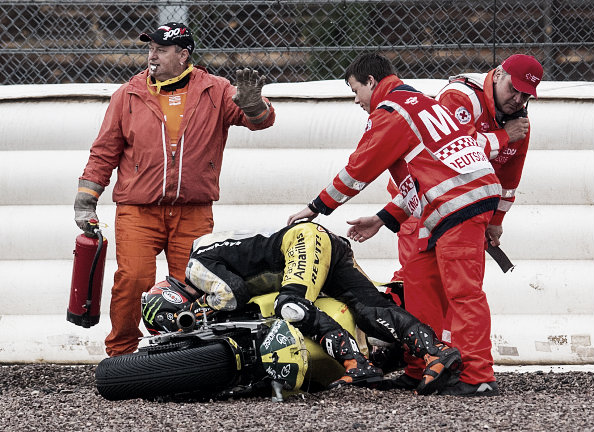 Folger was in front on the last bend, but Zarco pipped him at the line
It was a thrilling end to the race, and it would have certainly put the German's on the edge of their seat. Folger pushed right to the very end, and did everything he could to try and catch Zarco. It took to the very last lap, and the last corner, for Folger to make up enough time to be able to make a move.
He was able to pass Zarco and led as they approached the finish line, but this just caused Zarco to give it everything he could and he passed Folger as they went over the line by 0.059 seconds. The German had to settle for second place, but took his first podium at the German GP since joining the world championship in 2008.
With all the crashes at the front of the field, this allowed Julian Simon (QMMF Racing Team) to take third place and the final place on the podium. This is his first podium since Valencia 2012.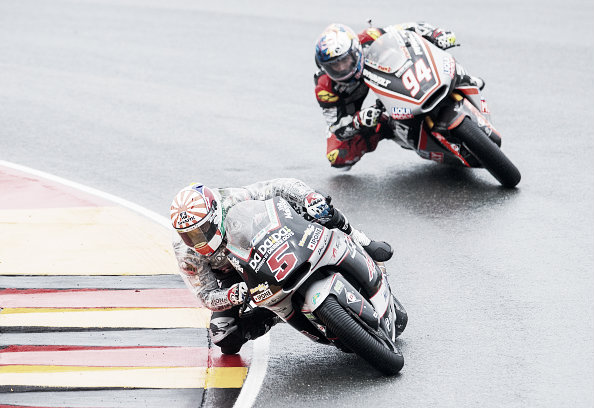 Zarco now has a significant lead in the championship
With his two championship rivals crashing out of the race, this has allowed Zarco to take a 25 point lead ahead of Rins. Lowes is still in third place with 121 points, after failing to score with a DNF. We now head to Austria for the next round, after a three week summer break.
Moto 2 race results

| | | | | | |
| --- | --- | --- | --- | --- | --- |
| Position | Rider | Nationality | Team | Bike | Points |
| 1 | 5 Johann Zarco | FRA | Ajo Motorsport | Kalex | 25 |
| 2 | 94 Jonas Folgar | GER | Dynavolt Intact GP | Kalex | 20 |
| 3 | 60 Julian Simone | SPA | QMMF Racing Team | Speed Up | 16 |
| 4 | 54 Mattia Pasini | ITA | Italtrans Racing Team | Kalex | 13 |
| 5 | 7 Lorenzo Baldassarri | ITA | Forward Team | Kalex | 11 |
| 6 | 10 Luca Marini | ITA | Forward Team | Kalex | 10 |
| 7 | 55 Hafizh Syahrin | MAL | Petronas Raceline Malaysia | Kalex | 9 |
| 8 | 2 Jesko Raffin | SWI | Sports-Millions-EMWE-SAG | Kalex | 8 |
| 9 | 7 Isaac Vinales | SPA | Tech 3 Racing | Tech 3 | 7 |
| 10 | 77 Dominique Aegerter | SWI | CarXpert Interwetten | Kalex | 6 |
| 11 | 30 Takaaki Nakagami | JPN | IDEMITSU Honda Team Asia | Kalex | 5 |
| 12 | 87 Remy Gardner | AUS | Tasca Racing Scuderia Moto2 | Kalex | 4 |
| 13 | 70 Robin Mulhauser | SWI | CarXpert Interwetten | Kalex | 3 |
| 14 | 57 Edgar Pons | SPA | Paginis Amarillas HP 40 | Kalex | 2 |
| 15 | 11 Sandro Cortese | GER | Dynavolt Intact GP | Kalex | 1 |
| DNF | | | | | |
| | 40 Alex Rins | SPA | Paginas Amarillas HP 40 | Kalex | |
| | 21 Franco Morbidelli | ITA | Estrella Galicia 0,0 Marc VDS | Kalex | |
| | 22 Sam Lowes | GBR | Federal Oil Gresini Moto 2 | Kalex | |
| | 73 Alex Marquez | SPA | Estrella Galicia 0,0 Marc VDS | Kalex | |
| | 19 Xavier Simeon | BEL | QMMF Racing Team | Speed Up | |
| | 12 Thomas Luthi | SWI | Garage Plus Interwetten | Kalex | |
| | 49 Axel Pons | SPA | AGR Team | Kalex | |
| | 14 Ratthapark Wilairot | THA | IDEMITSU Honda Team Asia | Kalex | |
| | 24 Simone Corsi | ITA | Speed Up Racing | Speed Up | |
| | 97 Xavi Vierge | SPA | Tech 3 Racing | Tech 3 | |
| | 23 Marcel Schrotter | GER | AGR Team | Kalex | |
| | 44 Miguel Oliveira | POR | Leopard Racing | Kalex | |