After returning from the summer break, Repsol Honda rider Marc Marquez has claimed another win and extended his championship lead again as he won the German GP in the wet after starting from pole position. It was the second consecutive wet race for the MotoGP field, but it was not plain sailing.
Second consecutive wet race for the MotoGP at Sachsenring
All the riders took to the grid in full wets as they looked to begin the ninth round of the Moto GP season at the GoPro Motorrad Grand Prix Deutschland at the Sachsenring in Germany.
It had poured it down all morning throughout the Moto2 and Moto3 races and was still raining lightly when they began the race. Conditions soon changed though which meant that it was down to who had the most confidence, and the best strategy, should the track dry out.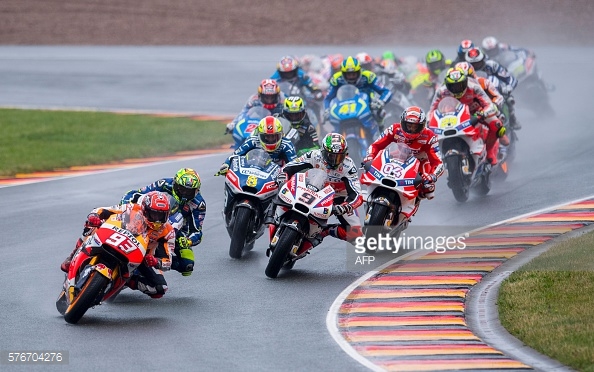 The lights went out…
Marquez led into the first corner but Movistar Yamaha rider Valentino Rossi's experience shone as he soon edged his way past Marquez to take the lead and he began to pull away leaving Marquez to 'drink' his spray.
Andrea Dovizioso (Ducati Team) also soon got past Marquez pushing him down to third place with Danilo Petrucci (Octo Pramac Yakhnich Ducati) and Hector Barbera (Avintia Ducati) following closely behind.
Petrucci was on a mission
Petrucci who was strong in the wet at the Assen GP was determined and he made several moves on Marquez trying every way he could to get past him using various lines. Jack 'Jackass' Miller (Estrella Galicia 0,0 Marc VDS) who won his first GP historically three weeks ago was in sixth position, near the front again, and wanting to once again prove himself in the wet again.
Petrucci overtook Marquez who soon retaliated, but as they entered turn one of lap three Petrucci had the inside line and so overtook and made it stuck. He now had his fellow Italian's in his sights.
Hernandez first to crash at Sachsenring
Yonny Hernandez (Pull and Bear Aspar MotoGP) crashed at the end of lap two at turn 13. He was unhurt but decided to return to the pits where he swapped bikes and re-joined a lap behind. In conditions like this; chances are he could still finish in the points should enough crash out.
Dovizioso takes the lead
It was not long before Dovizioso claimed the lead, and just as Rossi lost the place to the Ducati rider, Petrucci was there to attack and made his way past with ease leaving Rossi in third. Meanwhile Miller got past Barbera to claim fifth.
Petrucci was stalking Dovizioso for first place but as he pushed to chase him to become the top Ducati he was up out of his seat momentarily. Team orders soon went out of the window as Petrucci overtook Dovizioso to take the lead at Sachsenring.
Miller hoping for a repeat of Assen
Miller overtook Marquez to become the lead Honda in fourth position on lap five. He slotted past him with ease and pulled away to work on claiming third from Rossi. Meanwhile Barbera, who has stuck behind Marquez throughout qualifying to claim second on the grid for the race, was there again stalking the Spaniard from sixth position.
What is going on with Lorenzo?
Movistar Yamaha rider Jorge Lorenzo has had such a disastrous weekend so far falling four times as he tried to improve as he was down the timesheets aboard his M1. He seriously lacks confidence in the wet and after seven laps he was down in 13th with the rest of the field plucking him off one by one.
Many battles continued
Dani Pedrosa (Repsol Honda) has always been confident at Sachsenring and on the seventh lap he overtook Ducati Team rider Andrea Iannone to claim seventh place; however he still remained only the third fastest Honda on the grid.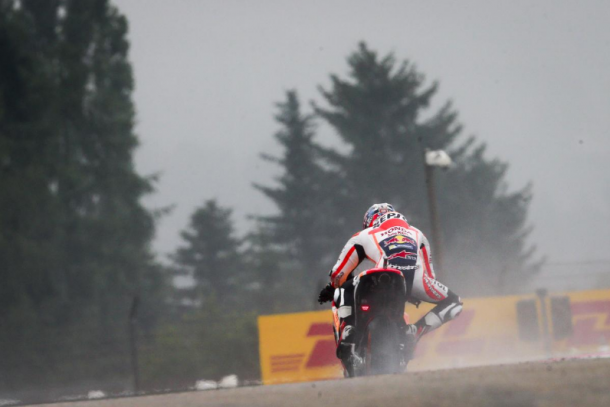 Barbera must have learnt everything he could from Marquez. Eight laps in he made his move and overtook the championship leader at turn one to claim fifth place. Further down the group Crutchlow overtook Pol Espargaro to take tenth.
The track began to dry throwing strategies in to play
A dry line was starting to appear and riders were beginning to adapt racing lines to try and stay in the wet. Aleix Espargaro had chosen the soft front wet tyre for the race and was seen avoiding the wet line.
It did not stop him and his teammate Maverick Vinales from overtaking Lorenzo though pushing the champion down to 15th. Vinales soon overtook Aleix to claim 14th however he retaliated.
Crutchlow was a man on the move
It was amazing work from Cal Crutchlow (LCR Honda) as he was in pursuit of Iannone and fellow Brit Scott Redding (Octo Pramac Yakhnich Ducati). Redding was chasing Iannone for sixth position. He overtook as they approached the end of the lap but just as quick as Redding got Iannone, Crutchlow overtook the two of them to claim sixth.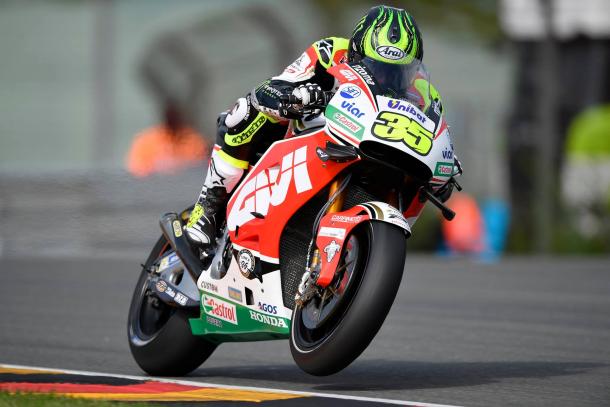 Petrucci was on fire… No literally… he was on fire!
Petrucci crashed out of the lead at turn three of lap three after the front end slid out from underneath him. He picked his bike up and returned to track but had to return to the pits as his bike was on fire; he swapped bikes and left his mechanics to attack his bike with Fire Extinguishers.
Corners later Marquez was seen running off at turn 8 which has caught out many riders today who have missed the braking point; he was able to control it and return to the track but in ninth place after losing four positions.
Dovizioso now led on the drying track ahead of Rossi and Barbera in third. Miller was on his tail though and briefly overtook him but Barbera reclaimed third. It was not long until 'Jackass' (Miller) was right behind Rossi hungry for a consecutive podium. This boosted Rossi though who began to catch Barbera; he needed the points.
Late decision from an unhappy Iannone
Iannone made a late decision to enter the pits and swap bikes as he was in the wrong position on track to come in. Frantically the rest of the teams were beginning to prepare the bikes with full slicks as a dry line had now definitely formed on track. This could change everything!
Sixteen laps remained when Barbera overtook Rossi to claim second on the start finish straight pushing Rossi to third. Crutchlow performed a similar move on Pedrosa at the start of the fourteenth lap and was now fifth as the second highest placed Honda (both independent riders).
Loris Baz (Avintia Ducati) has returned to racing this weekend after crashing out and breaking his foot in Mugello. He has been at the back of the field most of the weekend as he tried to find his pace since being away, with fourteen laps to go he entered the pits for the second time looking unhappy with the Ducati.
Wet to dry strategies began with Marquez
Thirteen laps remained when Marquez and Pol Espargoro came in and changed bikes; they returned to track on sluck tyres as Rossi took back second from Barbera and Crutchlow moved up to fourth ahead of Miller. Crutchlow was on the move and it was not long before he was on Barbera's tail.
Will Marquez be penalised?
Now when Marquez came in to change bikes, it was clear that his mechanic was holding in the clutch on the second bike. Prior to the race, Race Direction informed riders that this was illegal and that the rider had to put the bike into gear not the mechanic for safety reasons in the paddock – the bike may fly forward should it be released at the wrong time.
Marquez completed his signature bike change quickly, and it seemed his bike was in gear; something riders have been told they will be penalised for. A penalty did not follow, so will it come after the race?
Too soon to change to slicks?
Pol Espargaro crashed at Turn 2 immediately after leaving the pits, his tyres would have been too cold for the track and he ended up in the gravel. He was out of the race along with Petrucci who had also retired.
As the riders began the 20th lap of 30 the race was on! Rossi had caught Dovizioso and right behind him were Barbera and Crutchlow all wanting a spot on the podium. Meanwhile Marquez, now on slicks, was flying and lapping over four seconds a lap quicker than the leaders whose tyres were beginning to shred.
The pit boards were calling the riders in but they were reluctant to come in as they chipped away at the laps. Barbera went wide, possibly in an attempt to find a dry line, and lost third position to Crutchlow. Marquez had timed his pit stop perfectly and was now lapping seven seconds quicker; he was in sixth just over 14 seconds behind fifth place Miller.
But then with seven laps remaining the lead four riders came in to change bikes. It was down to who got out of the pits first; Crutchlow left ahead of Dovizioso (who gave Crutchlow a sly little kick), Barbera and Rossi followed!
Miller led the Grand Prix for the second consecutive round
Miller led ahead of Marquez and Redding; Miller and Redding were still on wet tyres though, so it was if Marquez had been handed the win as the four who had just swapped bikes teetered around trying to put heat in their tyres.
Marquez was flying and extending his lead with four laps to go; he had breezed past Miller on his wets and was continuing to pull away with his tyres already up to temperature. Redding, who was on intermediate tyres, was in second with a comfortable 19 second lead on Dovizioso in third.
Crutchlow was fourth ahead of Iannone and Miller and Pedrosa overtook Rossi to claim sixth from Rossi who temporarily lost his position to Miller but quickly regained it.
Was Crutchlow keen to get home to wife Lucy?
Crutchlow was hungry for a podium as he followed closely behind Dovizioso they were gaining on Redding as they approached the start finish line to start the penultimate lap. The Brit went up the inside of Dovizioso as they entered the final turns leaving the Italian stunned. It was not long before he was less than a second behind Redding. Intermediates verses slick tyres, who was going to take second as they battled.
Marquez led as he crossed the line to start the final lap. Crutchlow overtook Redding on the start-finish straight and managed to make the apex of turn one, would Redding remain on the podium as Dovizioso was also attacking. Midway through the final lap Dovizioso made his move and overtook Redding, taking the final spot of the podium.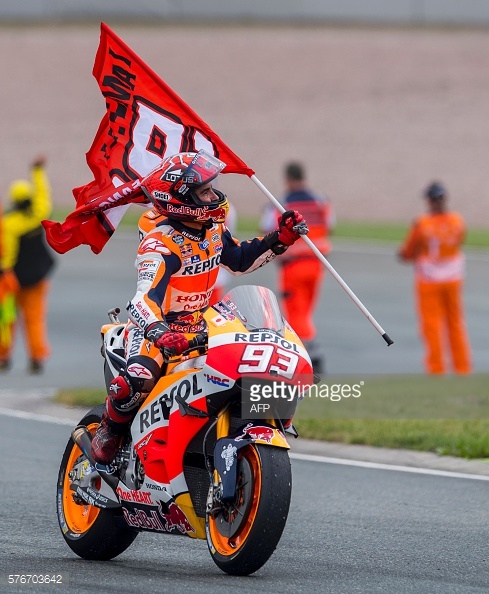 Marquez wins at Sachsenring and extends his championship lead
It was Marquez first, Crutchlow second and Dovizioso third, well deserved places for them all; Marquez and the Repsol Honda for the perfect strategy, and Crutchlow and Dovizioso deserve a change in fate after experiencing tough seasons so far.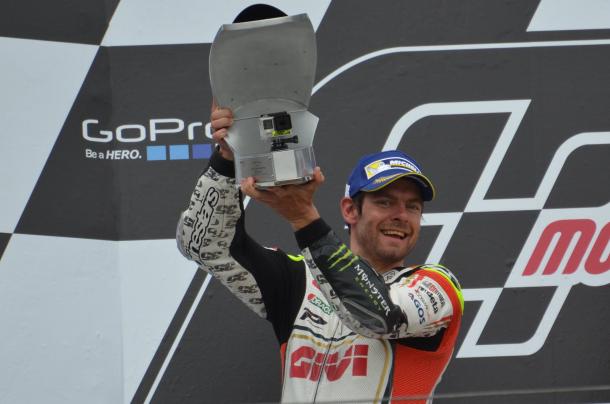 Crutchlow was missing his wife Lucy who is due to have their first child in the next few weeks; it was just the second time in seven years that Lucy has missed a race and he quickly phoned home in parc ferme to share his jubilation at claiming second on the podium.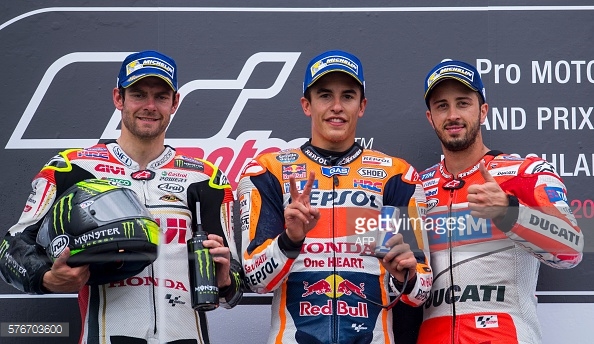 Redding just missed out on the podium
Redding had to settle for fourth ahead of Iannone and Pedrosa in sixth. Miller was seventh as the third placed independent rider after he had managed to overtake Rossi who finished eighth. Barbera had to settle for ninth after a fantastic performance this weekend; Aprilia Racing Team Gresini rider Alvaro Bautista completed the top ten.
Eugene Laverty (Pull & Bear Aspar Racing Motogp) took 11th place ahead of Vinales in 12th and the Bradley Smith (Monster Tech 3 Yamaha) finished 13th ahead of Aleix Espargaro in 14th. Lorenzo, despite having a difficult weekend at Sachsenring still managed to claim one point as he just made it into the point scoring places in 15th.
Rookie Tito Rabat (Estrella GalicIa 0,0 Marc VDS) finished 16thahead of Baz and Hernandez in 18th as the last to classify. Petrucci and Pol Espargaro were forced to retire, and Aprilia Racing Team Gresini rider Stefan Bradl was unable to race in front of his home crowd due to an accident during the morning warm up session.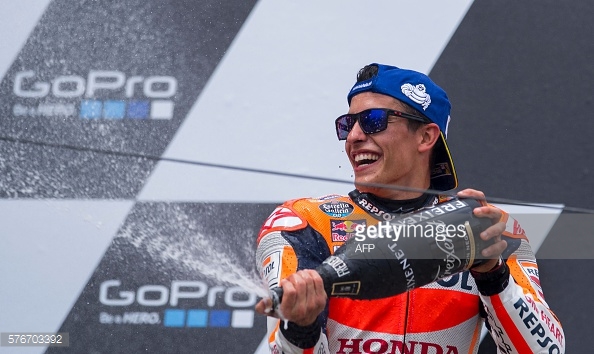 How the championship looks
Marquez is now leading the championship with 170 points; he has a huge 48 point lead on Lorenzo (122 points) who is now only 11 points ahead of his teammate Rossi on 11. Pedrosa is fourth with 96 points, Vinales (83) is fifth ahead of Pol Espargaro in sixth as the highest placed independent rider with 72 points.
Barbera is just seven points behind on 65 as the highest place Ducati ahead of factory Ducati riders Iannone (63) and Dovizioso (59). Laverty completes the top ten in the championship as the highest place Brit with 53 points.