LCR Honda rider Cal Crutchlow was a man on a mission today, maybe he was in a rush to get back to his wife Lucy who is due to have their baby, maybe he felt he had a point to prove after the 'abuse' he seems to received on Social Media, or maybe he just really wanted that podium. Either way, he did it, he claimed second at the GoPro Motorrad Grand Prix Deutschland at Sachsenring overcoming the challenges the MotoGP riders faced in the wet.
Crutchlow angry with Bradl after Free Practice 3
Crutchlow's work was cut out for him on day two of the meeting as he claims Aprilia Racing Team Gresini rider Stefan Bradl got in his way on a flying lap, despite Crutchlow claiming that Bradl knew he was there and was pushing. He finished eleventh fastest meaning he had to use Qualifying 1 to have the chance of progressing through to Qualifying 2 to be in with a chance of starting from the front four rows of the grid.
During Qualifying 2 however, he just missed out on tenth place by 0.063 seconds and so he had no choice but to push in Qualifying 2. He did what he could despite not having the tyre allocation he needed yet again he missed out this time by 0.071 seconds and so had to settle with starting from thirteenth on the grid, at the start of the fifth row.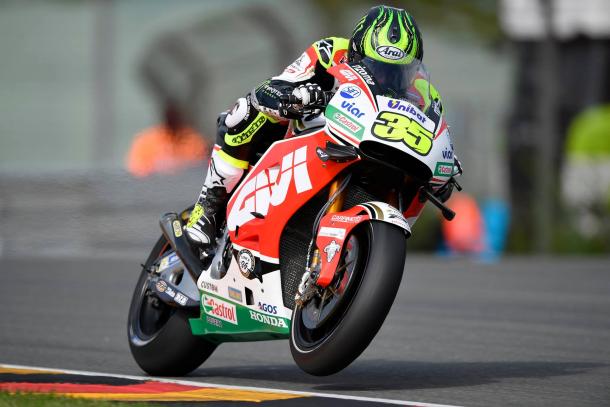 Past events gave him more determination for the race
This didn't stop him though, in fact it probably added to his determination. He took advantage of the wet conditions, all of the Hondas looked good in the wet, and it was not long before he was on the back of the lead group.
First he plucked off Jack Miller (Estrella Galicia 0,0 Marc VDS) who won his first GP last round in Assen in similar conditions, fellow Brit Scott Redding (Octo Pramac Yakhnich Ducati), Andrea Iannone (Ducati).
Danilo Petrucci (Octo Pramac Yakhnich Ducati) crashed out from the lead, and the front runners left it as late as they could to enter the pits to change from wet to slick tyres. He entered the pits with seven laps remaining along with Valentino Rossi (Movistar Yamaha), Dovizioso, and Hector Barbera (Avintia Ducati) and left the pits at the front of the group, despite getting a little sly kick off Dovizioso as they exited the pits.
Late tyre change from wets to slicks
Marc Marquez (Repsol Honda) had made the change several laps earlier and had already gotten his tyres up to temperature and was flying. Crutchlow was in fourth behind Marquez, Redding (who had pitted earlier and switched to Intermediates), and Dovizioso. He continued to push in turn spurring Dovizioso to go on quicker.
The duo soon caught up to Redding who was initially 19 seconds ahead, but the slicks were performing better than the intermediate s in the conditions now; the clouds had lifted and it was a matter of making it to the finish line.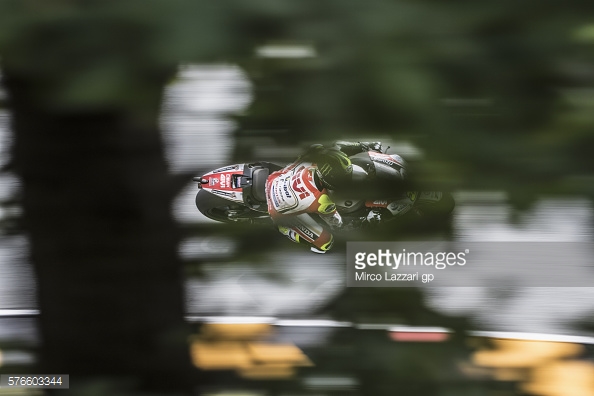 Amazing move from Crutchlow
As they entered the penultimate lap, Dovizioso and Crutchlow were on Redding's tail. Dovizioso overtook Redding and in the process Crutchlow took advantage of their distractions and overtook the two of them in an amazing move. He was second, he had to just stay on until the line and he would be on the podium. He had no chance of catching Marquez who won with a comfortable lead of just under ten seconds.
Crutchlow was always confident at Sachsenring, he knew he was fast, "even in the dry" and had previously claimed and reiterated after winning second, "I told everyone I was the fourth fastest guy and I was correct."
He hit out at the 'haters' or 'doubters' saying, "For those that were watching from home and not believing me I proved that." Good on you Crutchlow, but we will address that later.
Crutchlow talks tyre choices
Having only qualifying thirteenth on the grid Crutchlow confirmed he decided to go for the harder option as he "knew it had to be a long race"; a choice he claimed he thinks the other didn't "have the balls to do because in the first laps it wasn't dangerous, but was tough to manage with the Honda".
As the race progressed Crutchlow knew he would "get quicker" and like he did in Assen he knew "it was about keeping your head focused". Regretting his decision during the race he admitted, "I pitted way too late, I didn't look at my board for one lap."
Crutchlow knows result would have been good no matter what decision
Speaking about the race he mentioned how he caught both Rossi and Dovizioso and said, "I didn't think anybody could beat us even if we stayed out so I took the gamble." Thinking back he said, "I probably should have stayed out" thinking that even if he had stayed out he "would have been in a good position thank to my (his) team."
Praising his team, LCR Honda who recently confirmed they are able to compete in the MotoGP for five more years after receiving funding, as did all independent teams, from IRTA, Crutchlow said, "The team have done a great job!"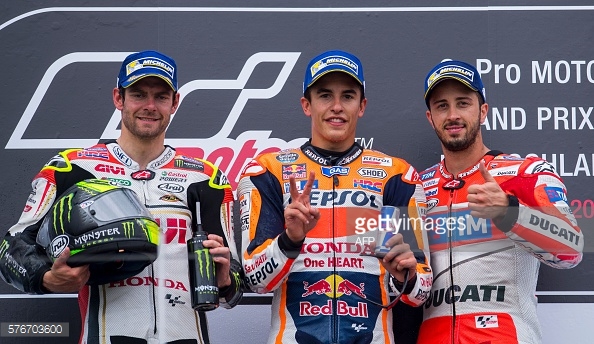 Father-to-be missed his wife's presence at the meeting
Excited about his future, Crutchlow said he was, "disappointed" that his wife Lucy was not with him at Sachsenring saying, "It's the second race in nine years she's not been to."
Lucy is currently heavily pregnant with the couples' first child after they married in Italy last year. Crutchlow said, "Disappointing not to have her here but she's at home keeping our little baby warm in the belly and it's coming out soon, looking forward to that!"
At VAVEL we would like to send our best wishes to Cal, Lucy and family.
Going back to the Social Media comments
I personally have witnessed Crutchlow being the target of 'fans' on the internet and the subject of their 'abuse' and negative comments. Nicknamed 'Crashlow' he is constantly mentioned by 'fans' who, 'aren't surprised' if he falls off, or crashes out, or doesn't place high enough; some doubt he should be there.
Crutchlow is an extremely talented rider, proven again by his performance today at Sachsenring. In conditions where champions are reluctant to push, he chased and finished as the second highest placed Honda, beating one of the factory Hondas. Now fortunately for the lad from the Isle of Man he didn't find the limit, meet it, and come off as a result of it. He more than likely pushed to the limit like he does every meeting.
I would like to ask, these fans who are ever so critical, can you do what he is doing? Have you put in the same amount of hours on track, at club level all the way up to elite level, do you show your support at these meetings or any other meetings for that matter, or do you sit their keyboard in hand ready to attack with the rest of the warriors?
Crutchlow is there for a reason, yes he does come off, but that is because he is trying his best with an older bike, you should admire him for what he achieves with his independent team. He is first to admit when he makes a mistake, and he believes in himself. He said, "I am the fourth fastest man outthere" and today he proved it by finishing second.