Rossi had it all in his grasp, experience, a good setup, a great start… but it seems he threw it all away. He led the Go Pro Motorrad Deutschland at the Sachsenring at one point, in the extremely wet conditions, but he backed off in the conditions and the other riders must have wanted it more as he was overtaken and fell down the field.
Did he leave it too late?
He was one of five riders who also left it too late to come in and switch from full wets to slick tyres by changing bikes, and in the end he had to settle for eighth as Marc Marquez (Repsol Honda) went on to win and extend his championship lead even more.
Rossi knows, "It's a great shame" for him and his team as he knew he was "competitive on the dry", he felt that "under normal conditions" that he could have "done a good race". He also knew he was "competitive in the wet". The Italian nine times world champion felt that had it been a "normal wet race" that he "could have fought for victory".
The fact that it was a "half-and-half race" left Rossi disappointed. After the race he said, "If I had stopped two or three laps earlier" as his team had instructed him to do so which he failed to follow, that he "could have arrived in sixth place instead of eighth".
Disappointing result for the experienced rider
Instead he finished behind non factory riders including Cal Crutchlow (LCR Honda) in second, Scott Redding (Octo Pramac Yakhnich Ducati) in fourth and Jack Miller (Estrella Galicia 0,0 Marc VDS) in seventh.
He remained the highest place Yamaha as his Movistar Yamaha teammate Jorge Lorenzo could only manage fifteenth after a disastrous weekend, who still even placed behind independent team monster Tech 3 Yamaha rider Bradley Smith in thirteenth. Is teammate Pol Espargaro crashed two corners after leaving the bits on slick tyres.
Rossi said that when he returned from the pits he came across a "bigger problem" saying "when I restarted I was very slow". The Italian said, "I had no feeling with the bike and I wasn't strong enough."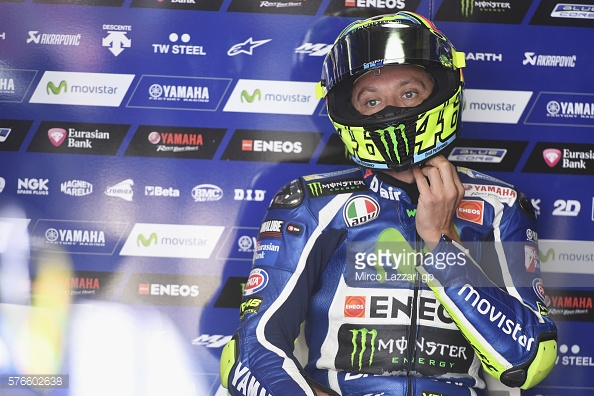 Rossi returned to track on intermediates
Rossi entered the pits at the same time as Andrea Dovizioso (Ducati Team) and Crutchlow. Rossi felt there was a "very big question mark" as the other two were "able to arrive on the podium".
Like Redding Rossi chose to return to the track on intermediate tyres rather than slicks; a dry line had formed and surely he left it way too late in the race to make that choice?
Rossi was now left wondering if he "could have been faster with slicks". Judging by the performance from Marquez who switched a lot earlier, and Dovizioso and Crutchlow who changed when he did, then surely he would have been better and would have claimed a spot on the podium and vital championship points.
Rossi claimed, "I had a very bad feeling on the intermediates, but nobody knows if I could have been faster with slicks", appearing to reassure himself he said, "it could have been worse" had he chose slicks.
The Yamaha riders said, "Maybe our bike in those conditions, when the track is really damp, is a little bit more difficult and gives less feeling." This is confirmed by the poor performance shown by his teammate Lorenzo who appeared to lack confidence throughout the weekend, complaining of how slippery it felt.
Missed opportunity for the Italian
The opportunity was right there in front of him. Marquez was flying on slicks and Redding was lapping but lost two positions in the final moments on intermediates to two riders who made the change to slicks at the same time as Rossi.
Whose decision was it to put intermediates on the bike? Judging by the conditions at the time of the pit stops, the clouds had lifted and it was much brighter, it did not look like it was going to rain again before the end of the race. But it may have, and that was a gamble the Movistar Yamaha took. A gamble that proved significantly costly as Rossi now remains 59 points behind championship leader Marquez.