Whilst factory Ducati rider Andrea Dovizioso led the ninth the round of the MotoGP season at the GoPro Motorrad Grand Prix Deutschland, his pit crew must have been doing a rain dance in the hope that conditions would get worse so that he could go on to win.
Dovizioso finished third at a previously difficult track for Ducatis
But despite the Italian rider being in front for a great deal of the race at the Sachsenring, he only managed to claim third completing the podium alongside race winner Marc Marquez (Repsol Honda) and British LCR Honda rider Cal Crutchlow.
Possibly hoping the rain would come, or hoping the full wet tyres would last to the end of the race, he led a group of riders reluctant to return to the pits to change bikes (for a bike set up with slick/intermediate tyres) at risk of losing time.
One of several riders who stayed out too late
But his decision, along with other riders in the lead group, proved to be the wrong one. He had waited too long and wasted too much time. Marquez had pitted much earlier and his tyres were up temperature, so by the time the dry line that appeared was wide enough, and the wet tyres could take no more, the eight laps he had left was not enough to catch the race leader who had been lapping much quicker for five laps previous.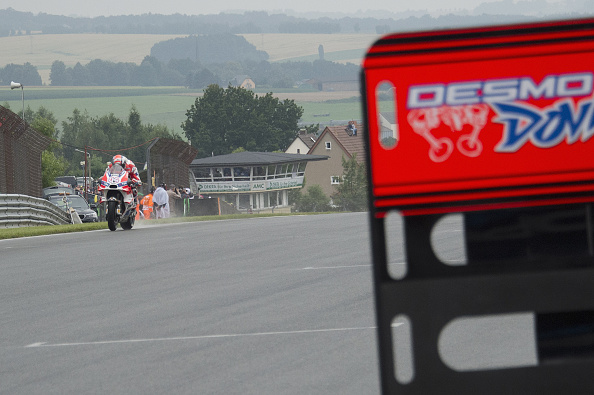 Dovizioso entered the pits alongside Crutchlow and Movistar Yamaha rider Valentino Rossi. Cruthclow left first ahead of Dovizioso who was spotted giving Crutchlow a sly little kick. When they returned to track he passed Crutchlow, but not for long as when Dovizioso caught Scott Redding (Octo Pramc Yakhnich Ducati) and overtook him on the penultimate lap, Crutchlow overtook the two of them to claim second.
Dovizioso was distracted by state of the wet tyres
Dovizioso spoke of how he "Got a great start and immediately became part of the group that took turns in the lead." He took the lead as a result of Danilo Petrucci (Octo Pramac Yakhnich Ducati) crashing out, this is when he said he, "focused to push as hard as possible without consuming the front tyre" He did this by "trying not to be hard when entering the curve" and by "straightening the bike as soon as possible out of corners".
During the race he knew "the track was beginning to dry out" however he said he "stayed focused on the tyres" and as a result he "missed the best time to come in and change bikes". He now feels that "probably going in at least two laps before" meant they may have been able to "fight to win".
A lot of positives to take from the German GP
Not beating himself up too much he said, "We will look at the positive side of today." He was talking about Ducatis history at the Sachsenring saying it was a track where they have "ever gone well", yet race-day they found themselves "in the lead for several laps". Dovizioso said, "We go home with a deserved podium, I want to dedicate (it) to my team that really works hard."
Despite only finishing first after his strategy was less effective than race leader Marquez, it is a well-deserved podium and hopefully a twist of fate for the Italian who has more than his fair share of bad luck so far this season. He ends the first half of the season on a high, has a three week 'Summer Break' (if he can find some warm weather) and will hopefully return in the same form.