Who knew Estrella Galicia 0,0 Marc VDS rider Jack Miller was such a gambling man? Yearning for a consecutive podium, possibly even a repeat of another win in the wet conditions at the GoPro Motorrad Grand Prix Deutschland, he made the decision to remain out on wet Michelin tyres only to find the Sachsenring circuit drying and those who had changed to slicks were flying for the ninth round of the MotoGP.
Qualified sixteenth on the grid but the rain would change everything
Miller's position varied over the weekend but he never finished better than thirteenth during the build up to the race; he qualified sixteenth on the grid but everyone had one eye on the weather forecast which did not look good.
And they were right, race day and it lashed it down all morning meaning there was a lot of surface water and more falling for the Moto3 and Moto2 races, and by the time the MotoGP race came the riders had no choice but to take the track in various compounds of full wet tyres; the majority chose hard for race distance.
His skill in the wet shone through again
Miller thrives in the wet as we witnessed at the Assen GP the previous round when he claimed his first ever podium and so the bookies' odds had well and truly lowered to avoid the Australian causing more big pay outs. He was third fastest in the warm-up session before the race but in all fairness does this count as it can't have been worth pushing hard in them conditions just before the race.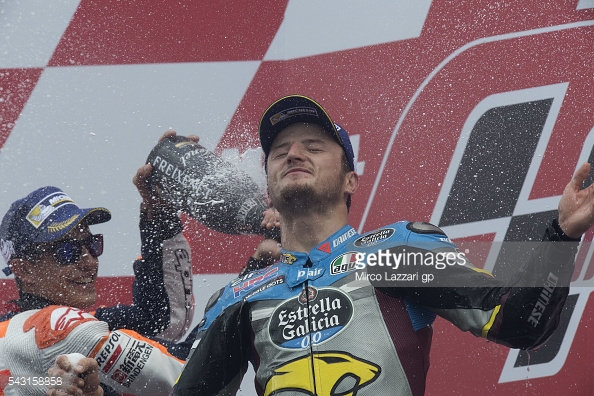 The lights went out to start the race and Miller made a fantastic start, ever so brave in the wet, come lap four he had gained 12 places and was in fourth position by lap six. In his sights was race leader Danilo Peturcci (Octo Pramac Yakhnich Ducati), Valentino Rossi (Movistar Yamaha) and Andrea Dovizioso (Ducati Team). Yes, Miller was the lead Honda!
Miller took a gamble
The track began to dry out though thus increasing riders' confidence and through wet-to-dry race strategies into place. A lot of riders came in at various times to change to intermediate or slick tyres meaning lap times dropped, but Miller decided to stay out in the hope he would make it to the end of the race before those who 'wasted time' in the pits did.
It was a huge gamble and unfortunately for the Australian it did not pay off, as Repsol Honda's strategy was for Marc Marquez to pit early and it meant he was able to extend almost a ten second lead.
Miller was part of the lead group fighting for the win, he refused to pit when they did and found himself out at the front for the lap. Marquez soon got past and Scott Redding (Octo Pramac Yakhnich Ducati) who had changed to intermediates. Cal Crutchlow (LCR Honda) and Dovizioso returned on slicks though and mugged some places, as did Rossi and Repsol Honda rider Dani Pedrosa.
The Australian still had a fight left in him
Miller was in seventh after his pit but it was not game over as he made a solid attempt to make a last stint attack factory Honda rider Pedrosa in sixth place.
Although he had to settle for seventh it was still a fantastic performance again in the wet from the Australian who felt, "It was a really good race and I can be happy with the result."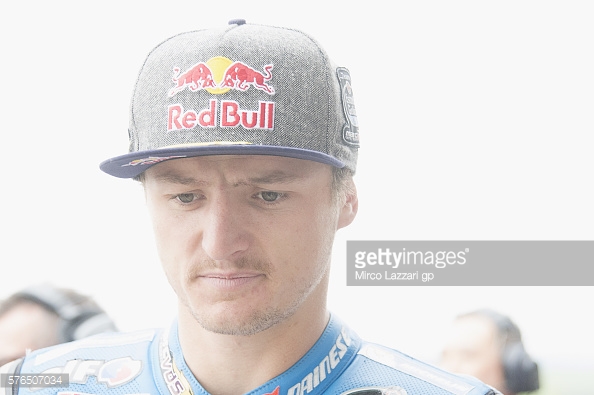 Miller – "I should have trusted my team more!"
Regretfully he spoke of how he "should have trusted my (his) team more" when they instructed him to "come in earlier for the bike change". He felt that it was "a real shame" that he "stayed out too long" as he now thinks that he "could have been standing on the podium again".
Easier said than do though he felt it was "a tough call to make" and with seven laps remaining he "kept thinking about finishing the race on wet tyres". He spoke of how it was "frustrating to see everybody coming flying by" as they had made the change earlier and it paid off as the rain held off., this was when he knew he "had to come in and change". Miller said, "As soon as I went back out on slicks I just said "Why didn't I do this earlier?""
Big lesson learnt for Miller
Coming away from the German GP Rabat felt it was "a big lesson" for him to "take on bird". What he said was his "first real flag-to-flag race" and what he felt was a "good experience for him".
Despite missing out on the podium he claimed he "still had a lot of fun racing at the front with the like of Valentino" and he was made up that he "nearly passed Dani on the last lap to take the top six". He felt that when he was using the slick tyres at the end of the race his "pace was really competitive" and a result he felt it gives him "a big boost of confidence for the future".
Miller is now thirteenth in the championship currently on 42 points as the sixth highest placed independent rider.