It seems Repsol Honda rider Dani Pedrosa just kept his head down and ploughed on with things at the Sachsenring ahead of the ninth round of the MotoGP season at the GoPro Motorrad Grand Prix Deutschland.
He never seems to be in the spotlight as a lot of attention is drawn to his Spanish teammate Marc Marquez who after a strong weekend and a great strategy during a wet-to-dry race went on to win with almost a ten second lead, extending his championship lead in the meantime. Pedrosa was there too doing what Pedrosa does, which is getting on with it.
Difficult weekend for Pedrosa in the build up to the German GP
Now it seems Pedrosa was struggling at the Sachsenring throughout the Weekend. He was eleventh in Free Practice 1, fifteenth in Free Practice 2 but managed to turn things around and do what he needed to do during the third Free Practice session claiming third and guaranteeing a front four row start in the race.
He qualified to start the wet race from tenth on the grid, and during the warm-up in harsh conditions ahead of the race he proved his competence finishing the fastest during the session.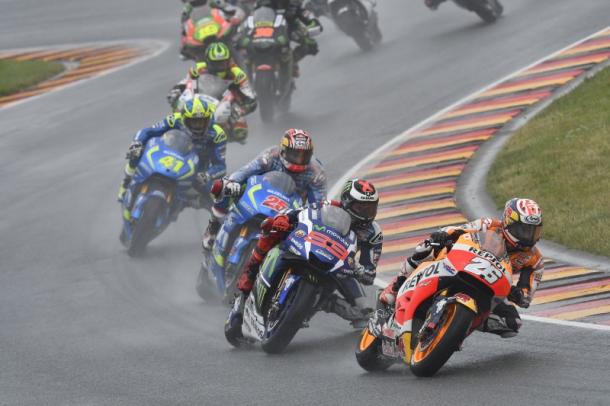 Pedrosa had his work cut out
Pedrosa had his work cut out though starting from the front of the third row on the grid. It had been raining heavily all morning meaning it was declared a wet race and riders would be able to pit to swap to their second bike with intermediate or slick tyres on.
Pedrosa worked hard to recover from starting from the third row on the grid during the first half of the race and managed to make his way up to sixth position before he entered the pits to swap bikes. When he re-joined he was in ninth but he soon got past Hector Barbera (Avintia Ducati), Jack Miller (Estrella Galicia 0,0 Marc VDS) and Movistar Yamaha rider in a final stint to finish in a better position.
He finished sixth in the race and managed to reduce the gap between him and Rossi in third place in the championship to now 15 points.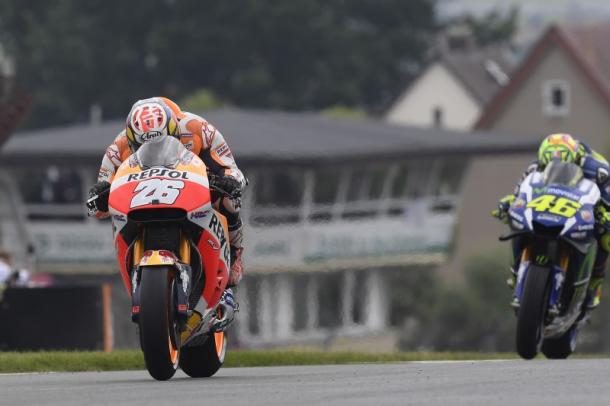 Despite confidence in morning Pedrosa did not feel strong in conditions
Despite a strong performance, the ever so humble Pedrosa said he "wasn't feeling super strong in the wet today" comparing it to the morning warm-up session. For the race he said he had "chosen the front super soft tyre" but then he "didn't expect the track to dry so quickly." He worked on trying to "keep a constant pace and not make mistakes."
Speaking about his pit stop and changing to slick tyres he said, "Unfortunately when I made the swap my feeling in the dry wasn't the best until I got some temperature in the tyres." Despite the delay he said, "At least I managed to make a few passes and finish sixth."
Analysing the race he said, "I would have like to do better" however as they now have a four week summer break midway through the season he said, "We must stay focused and prepare for the coming races."