It wasn't a bad result at all at the ninth round of the MotoGP at the Sachsenring for Ducati rider Andrea Iannone, who admitted that previously the Ducatis have struggling at the circuit, meaning they had their work cut out of them over the weekend.
Iannone shocked all the Ducatri doubters
Iannone shocked himself and everyone else when he went against what they believed (that Ducati struggled with the track being so narrow) and proved it can be done. He was fastest in the first Free Practice session, second during FP2 and was just beaten to the top spot in Free Practice 3. He remained quickest during the final session ahead of qualifying where he only managed to gain seventh place on the grid.
It rained heavily on race day and Iannone finished tenth quickest in the warm-up during harsh conditions. All riders took to the track to begin the race on full wet tyres, but as the wet weather backed off and the track dried, it once again like the Assen GP, proved that it could be anybody's race.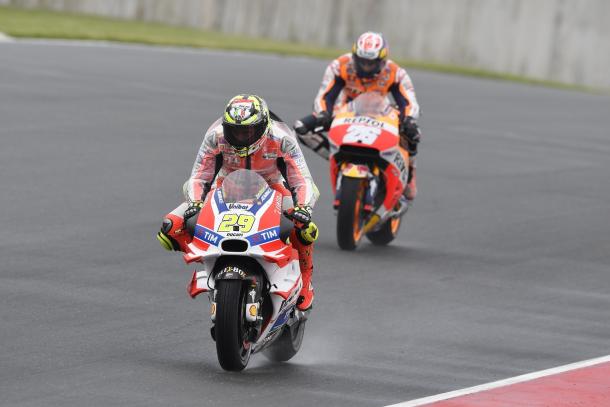 The Italian chose to switch to intermediate tyres
Iannone remained in seventh when they crossed the start-finish line for the first time. After 13 laps he made his decision to come in and change bikes and returned to the track on intermediates, but was that the right decision?
It worked for the Ducati rider and he was able to move up the leader-board where he finished in fifth place. His strategy had worked out for him but he finished as the third fastest Ducati as his teammate Andrea Dovizioso (Ducati Team) took third and Octo Pramac Yakhnich Ducati rider Scott Redding claimed fourth.
Ducati struggled with front end and acceleration
Iannone described the Go Pro Motorrad Grand Prix Deutschland as a "very complicated race." During the opening laps he knew he was "lapping at the same pace as the leaders." He revealed he "had some problems in acceleration" and to overcome this he had to "make up in the corners" what he was "losing on the straight", this is when he "began to notice some problems with the front."
The Italian said that, "In some corners the steering tended to turn in on itself and I realised that I was taking too many risks." To overcome this he "decided to slow" his pace in attempt to "keep the situation under control."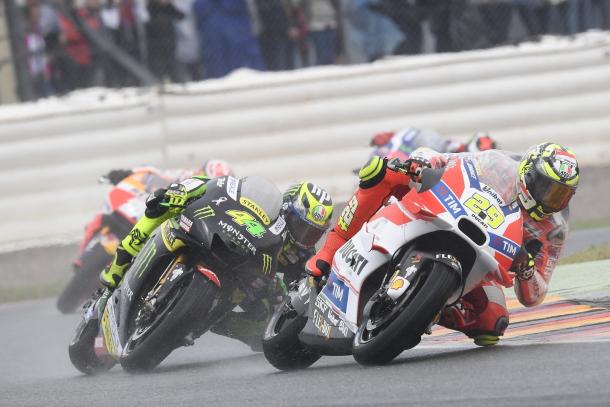 Shock for the Ducati pit crew
It was at this point that he "opted to come in early to change bikes." He revealed they experienced some "problems in the pit-lane" but knew that "these are things that can happen with all the confusion" as he realised that his crew didn't expect him "to come in so soon."
Upon returning to the race he found "the surface was still very wet" and so he said he "tried to limit the damage by not making any mistakes."
Iannone said, "In the end I took home a fifth place and some good points for the championship." He is at ease with the fact he managed to make up points on those ahead of him in the standing which he feels is "important."