The Ducati's continue to dominate the weekend taking first and second position in the Free Practice Three. The Andrea rivalry continued as Andrea Iannone (Ducati Team) took over in the top spot from team mate, Andrea Dovizioso (Ducati Team), finishing the morning fastest.
Maverick Vinales (Suzuki Ecstar) is also having a good weekend as he was the next fastest man, sitting in third place after putting in quick times all morning.
It was a warmer morning after yesterday's cold start
As the sun broke out of the clouds and warmed up the track, the Moto GP riders came out for the start of the FP3.
With a warmer track temperature, and less time for the tyres to warm up, the riders were out on track with one thought in all of their minds, to improve from yesterday. They took full advantage of the weather to put in some flying laps to try and stay in the top 10, ready for the qualifying later on. It seemed a lot of the riders saved their fastest times till the end, and they used the session to put in some data and try different things.
It's a bad weekend for Repsol Honda as Marquez endures heavy crash
After a bad start to the weekend in the first of the free practices, the Repsol Honda boys came out with determination to go faster. Marc Marquez (Repsol Honda Team) improved on his time almost immediately taking himself up to third place, from 10th, with a time of 1:24.265. Dani Pedrosa (Repsol Honda Team) saw himself in 19th finishing the day yesterday, so he also was quick to improve and moved up to 11th at the beginning of the session with 1:25.002. He then went into the final minute battle to continue to try and secure a top 10 position, and after much swapping around, he finished the session in 10th by the skin of his teeth.
Just as it seemed like the day was looking up for Honda, Marquez lost control of the bike at turn three almost taking out his team mate towards the start of the FP3. As it appeared he may be injured after holding his shoulder, he was able to get up and walk away heading back to his pit box. A bit later on he was seen leaving to go to the medical centre to get checked out, but exited the truck looking in good health when the chequered flag came out. But just as everyone thought he looked well, it was later reported he had headed off to the Leoben Hospital in the ambulance to get checked out, especially as he took a bang to the head.
Yamaha sit quietly, but seem to be showing good pace
With cold conditions yesterday, it looked like Jorge Lorenzo (Movistar Yamaha MotoGP) was going to struggle again at this circuit. But with the warmer track coming into play today, and only a few minutes in, he had started to improve on his times already. He took himself up into the mid 1:24's with a time of 1:24.712. We saw him make continuous stops to his pit box possibly trying different settings, and putting a new tyre in towards the end. As we saw his time keep getting fractionally quicker each time he crossed the line, he ended the morning in fourth place with 1:23.843, over a second quicker than yesterday.
It was clear that Valentino Rossi (Movistar Yamaha) was trying different things as with 20 minutes left of the session, he still had not improved on his time from yesterday. Towards the end, as we entered the last minutes, we saw him go onto improve his time but could not reach the 1:23's. He finished the morning in sixth place with 1:24.026, setting a good race pace.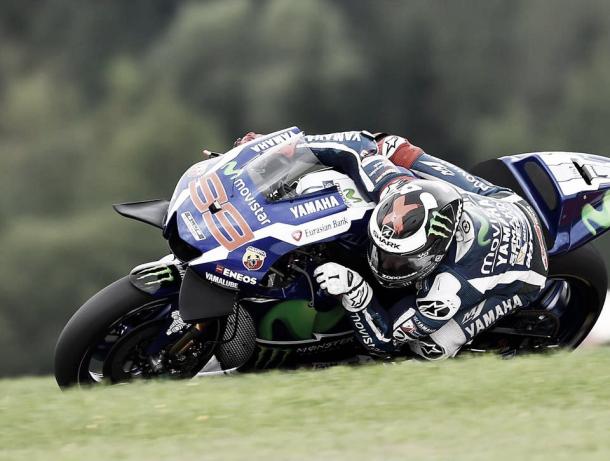 Iannone is determined to keep improving
The Ducati's continued to show that they are strong here, with the two factory riders dominating the top spots throughout the morning. With 20 minutes to go the only Ducati's to improve were Scott Redding (OCTO Pramac Yakhnich), Eugene Laverty (Pull & Bear Aspar Team) and Loris Baz (Avinta Racing) leaving Iannone and Dovizioso yet to show a quicker time.
As the final minutes began to tick down on the clock, Dovizioso had yet to improve on his time from yesterday, 1:23.617, and finished with a time of 1:24.170 as he practiced his race pace. As only three other riders managed to reach into the 1:23 zone, this gave him a secure place in the top 10. But as he held on to the fastest time throughout the majority of the session, it took until the last final minutes for Iannone to take over.
As the chequered flag was being prepared, Iannone took on Dovizioso's time and we started to see faster times coming in from the Italian. Suddenly he took the plunge and we saw him smash his team mate's time by scoring 1:23.327, making him the fastest man of the weekend so far.
Ducati is having a party here
It wasn't only the factory riders having a blast, as the Pramac boys were also going head to head. Redding appeared to not make a show in the timings yesterday, as he struggled to take to the cold track. He also sat back in the time sheets in the early stages of this morning, but mid-way through started to put in quicker times. When the chequered flag came out, he put in a brilliant time of 1:23.962 going nearly two seconds quicker than yesterday, and putting him in fifth place. Danilo Petrucci (OCTO Pramac Yakhnich) also made a few appearances in the top 10, but unfortunately had to settle for 11th place, meaning he will have to fight it out in Qualifying One.
Hector Barbera (Avinta Racing) slotted himself into the top 10 towards the end of the session, but had his time removed due to exceeding track limits. But the Ducati rider came back with a vengeance re-slotting himself into the top 10, and ended in eighth position with 1:24.170. Laverty finished his session in 13th, after putting in a personal best.
As Honda continued to fall, Suzuki picked back up
It looked like it wasn't all doom and gloom for Honda as Cal Crutchlow (LCR Honda) seemed to be enjoying himself on this track. After putting on a good performance yesterday, we saw him slot his time into the top 10, which was important with the change in temperature today. He continued to have fun as we saw him make continuous stops in the pits seeming to be testing different things, and tyres. But as he began to push even harder for the final minutes, he sadly took a fall at turn four but was up and walked away unhurt. As he was unable to improve on his time from yesterday, he was pushed out of the top 10 into 12th place, so will also have to fight it out in Q1.
Vinales has been outstanding from the moment he left his pits on Friday morning, even leading the session in FP1. It's clear that the rider enjoys the track as he has seen himself in the top 10 all weekend, and continued to improve today. With around 20 minutes to go he pushed himself into third place, pushing Marquez into fourth. As he continued to throw in constant times, we saw him put himself in third position to end the session with 1:23.755.
After his injuries yesterday, Aleix Espargaro (Suzuki Ecstar) had a slow start to the day. But as the chequered flag was raised he put in a quick lap putting him safely into the top 10 in seventh position, with 1:24.108, going over a second quicker than his previous time.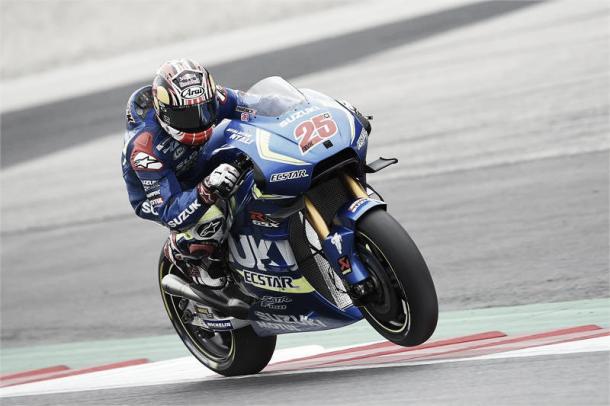 All the riders in the top 10 will compete in the Qualifying Two for the pole position, whilst the rest will fight in out in Q1.
Moto GP Free Practice Three Top 10

| | | | | |
| --- | --- | --- | --- | --- |
| Position | Rider | FP1/FP2 | FP3 | Bike/Nationality |
| 1 | 29 Andrea Iannone | 1:23.855 | 1:23.327 | Ducati / ITA |
| 2 | 4 Andrea Dovizioso | 1:23.617 | 1:24.755 | Ducati / ITA |
| 3 | 25 Maverick Vinales | 1:24.471 | 1:23.755 | Suzuki / SPA |
| 4 | 99 Jorge Lorenzo | 1:24.988 | 1:23.843 | Yamaha / SPA |
| 5 | 45 Scott Redding | 1:25.140 | 1:23.962 | Ducati / GBR |
| 6 | 46 Valentino Rossi | 1:24.483 | 1:24.026 | Yamaha / ITA |
| 7 | 41 Aleix Espargaro | 1:25.945 | 1:24.108 | Suzuki / SPA |
| 8 | 8 Hector Barbera | 1:24.956 | 1:24.170 | Ducati / SPA |
| 9 | 93 Marc Marquez | 1:25.039 | 1:24.265 | Honda / SPA |
| 10 | 26 Dani Pedrosa | 1:26.130 | 1:24.422 | Honda / SPA |